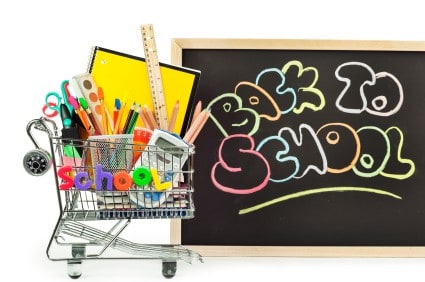 Here is a round up of the best back to school deals this week, it will include the items that are at the best price point for you to stock up on. As we get closer to back to school starting the deals are going to get better so the list will be longer.  You will also see deals for things like Photo paper, this is the best time to stock up on photo paper as well. Make sure when you see the "Penny deals" you get them because they are often for different things each week and having a stockpile of them will help you not have to pay full price for them this school year.
Staples:
Staples has an Easy Rebate program, that will help you score deals on back to school supplies and it is easy to do, just purchase the item and then come home and go to the website that is listed on your receipt, fill our the rebate information and your rebate check will be on its way.Limit one Staples Rewards account per person or at any mailing address. You are able to request your rebates to come back as either a check or as a paypal payment.  Staples Rewards are issued monthly when the value of the Reward is at least $10. Monthly balances of less than $10 will roll over each month until the minimum is met for that calendar quarter. If the $10 minimum for the quarter has not been met, the balance will expire at the end of the quarter. For full program details, visit StaplesRewards.com Staples accepts manufacturer coupons, Staples store coupons and Internet printable coupons. At this time they do not double and there is no limit on how many you use of like coupons. Some items require a $5 minimum purchase but that is easily doable by buying the free after rebate items to get your total above $5 at purchase and then submit your rebate making everything the best price you can get.
Don't forget to print your $5 off a $50 purchase Staples Coupon
2 pocket folders .01 each (limit 10) with $5 minimum purchase
Staples brand paper clips 100 count @ .01 ( limit 2) with a $5 minimum purchase
Pocket tissues @ .01 (limit 6) with a $5 minimum purchase
1 inch Avery Binders @ $1 (limit 2)
BIC mechanical Pencils 5 count pack @ .25 (limit 4)
Prang Chalk Assorted colors @ .25 (limit 4)
Staples composition books and 1 subject notebooks @ .50 (limit 6)
Staples Multi-purpose Paper @ $1 (Pay $6.99 get $5.99 Easy Rebate) (limit 2)
Rose Art crayons 24 count pack @ .50 – Use $1 off 3 Rose Art coupon in 7/29 inserts = .17 a box!
Office Max:
Office Max has a rebate program, the MaxPerks Bonus Rewards. Make sure you sign up for a MaxPerks card , it is 100% FREE To sign up for the card and for every $500 in qualifying purchases that you make you will get a FREE $25 to spend in Office Max. It also allows you to get the cheap after MaxPerks Rewards on the back to school items such as multi-use paper.
Select backpacks from just .01 after Max Perks Rewards or do the online deal and get 2 backpacks for FREE + $11.63 money maker!! 
Office Max glue sticks 4 packs .50 (limit 3)
FREE Paint, Eraser and Glue – limit 2 when you spend a minimum of $5
Avery 5160 Address labels 3,000 count pack @ .01 (Pay $26.99 get $26.98 Max Perks back)
Office Depot:
Personal care hand sanitizer @ .25 (limit 3)
Office Depot brand composition books @ .25 (limit 3)
Scholastic crayons 24 count pack @ .25 (limit 3)
Office Depot 10 count pen packs @ .25 (limit 3)
Office Depot Brand Folders @ .01 (limit 10)
Target:
Rose Art Glue Sticks 2 pack – .25
Norcom 1 subject notebooks @ .17
Rose Art Crayons 24 count packs @ .25
Walgreens:
Wexford 5 inch hard handle scissors @ .49  (limit 2)
Wexford mini highlighters @ .15 (limit 6)
Penway colored pencils @ .69
Toys R Us:
Crayola Crayons 24 count pack @ 4 for $1
Best Buy:
Single subject notebooks @ .50