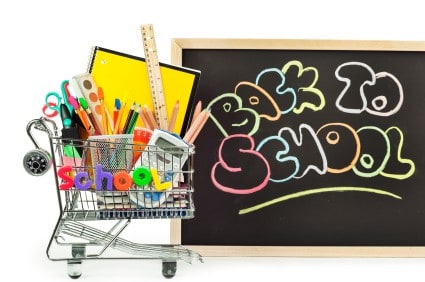 Here is a round up of the best back to school deals this week, it will include the items that are at the best price point for you to stock up on. As we get closer to back to school starting the deals are going to get better so the list will be longer.  You will also see deals for things like Photo paper, this is the best time to stock up on photo paper as well. Make sure when you see the "Penny deals" you get them because they are often for different things each week and having a stockpile of them will help you not have to pay full price for them this school year.
Staples:
Staples has an Easy Rebate program, that will help you score deals on back to school supplies and it is easy to do, just purchase the item and then come home and go to the website that is listed on your receipt, fill our the rebate information and your rebate check will be on its way.Limit one Staples Rewards account per person or at any mailing address. Staples Rewards are issued monthly when the value of the Reward is at least $10. Monthly balances of less than $10 will roll over each month until the minimum is met for that calendar quarter. If the $10 minimum for the quarter has not been met, the balance will expire at the end of the quarter. For full program details, visit StaplesRewards.com Staples accepts manufacturer coupons, Staples store coupons and Internet printable coupons. At this time they do not double and there is no limit on how many you use of like coupons.
Rose Art Crayons – .01 (limit 2)
Staples Glue- .01 (limit 2)
Bic Round Stic Pens 8 pack- .01 (limit 2)
Mechanical Pencils 5 pack – .25
Staples 8.5 x 11 Multi-purpose paper – .25 after Easy rebate
HP Everyday 8.5 x 11 photo paper- .50 after Easy Rebate
Wesscott 5 inch sissors 2 pack – $1
Office Max:
Office Max has a rebate program, the MaxPerks Bonus Rewards. Make sure you sign up for a MaxPerks card , it is 100% FREE To sign up for the card and for every $500 in qualifying purchases that you make you will get a FREE $25 to spend in Office Max. It also allows you to get the cheap after MaxPerks Rewards on the back to school items such as multi-use paper.
Spend $5 get 10 FREE folders
1 inch binders -$1 (limit 2)
Boise x-9 Multiuse paper – .01 after MaxPerks Bonus Rewards
All Schoolio Collage 100 page composition books – .50 each (limit 5)
Office Max glue sticks 4 pack .25 each (limit 3)
Duracell CopperTop AA or AAA batteries 20 pack – .01 after MaxPerks Bonus Rewards
Target :
1 Subject Poly Notebooks- .75
10 pack Room Essentials plastic Hangers – $1
Sterilite 18-gallon Storage totes – $4.50 each
Kmart :
1 subject 70 sheet notebooks – .50
2 pocket folders – .20 each
150 sheet notebook paper – .75
Best Buy:
Schoolio crayons 24 count – .35
This post may contain affiliate links. Please read my disclosure policy here