We have had two issues that have caused us stress since moving to the Poconos and buying a house on a mountain that we were not prepared for after leaving New Jersey. Creepy noises and no street lights outside and horrible internet service. Both have stressed me out since moving here but Best Buy and Netgear came to the rescue with two really great products that I am excited to share with you guys, the Netgear Arlo Smart Home and the Netgear® Nighthawk™ DST Router and DST Adapter.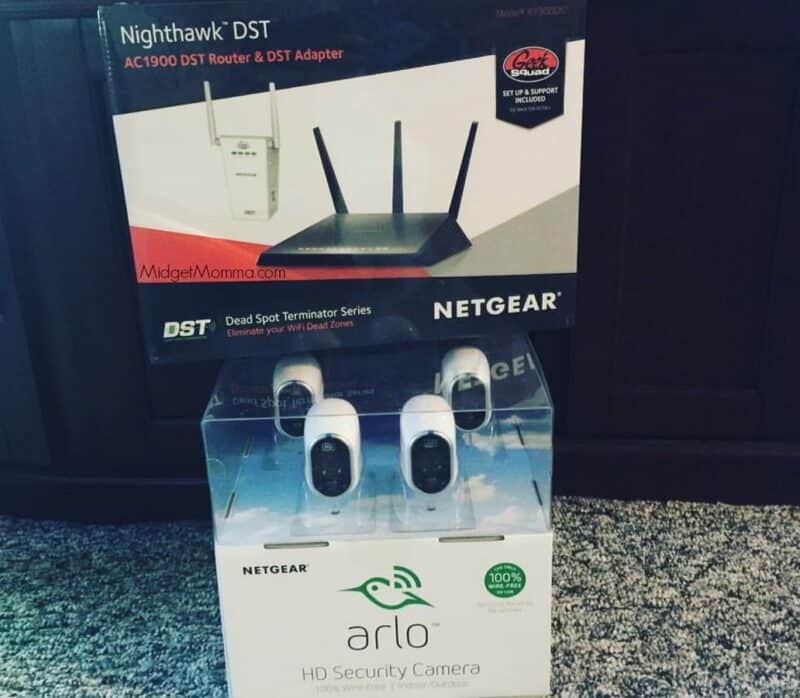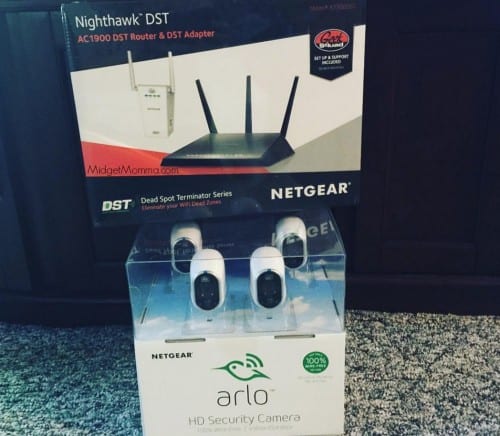 One drastic change when we moved from New Jersey to the Poconos was that the street lights I grew dependent on and did not realize I did while living there, were gone upon arrival. There are no street lights when you live in the woods. There is also a lack of being able to see thru the woodline. Our house has a really long driveway, that is surrounded by woods on either side and the front of the house has woods in front of it so you can not see it from the road, and you can not see the road from it. Then add in that there are parts of the outside yard that you can not see when you are in side and add in the large amount of animals and other creepy noises and you have some pretty freaked out people. Unexpected of course, since we assumed nothing would be different since we grew up here. We were wrong, wrong, wrong.
The creepy noises outside freak me out, the not being able to see the road freaks me out, not being able to see all areas outside of my house freaks me out and I keep hoping that sometime soon street lights will be happening. That is wishful thinking though, because my parents have lived in their house for almost 30 years and they still do not have street lights. They can however see all parts of their yard from inside the house.
It came down to either getting a security system of some sort so I could easily see the places in my yard and drive way from inside my house or have a dog who could bark at any noise that was made outside. After thinking about it I knew the option of a dog would just drive me crazy because it would be more responsibility and no one really wants a dog to bark at every little noise. So security system it was.
There are so many different types of security systems out there and looking at them can get totally over whelming. I learned that there is a security system that is wireless, uses a router and I can view the camera views from my phone! Perfect!


This system is the Netgear Arlo Smart Home, that you can only purchase at Best Buy. This home security system enables you to safeguard your home or business with a 4-pack of motion-activated NETGEAR Arlo Smart Home security cameras.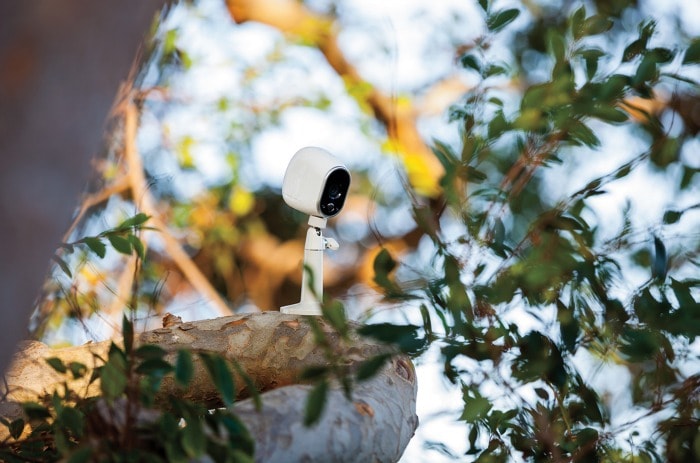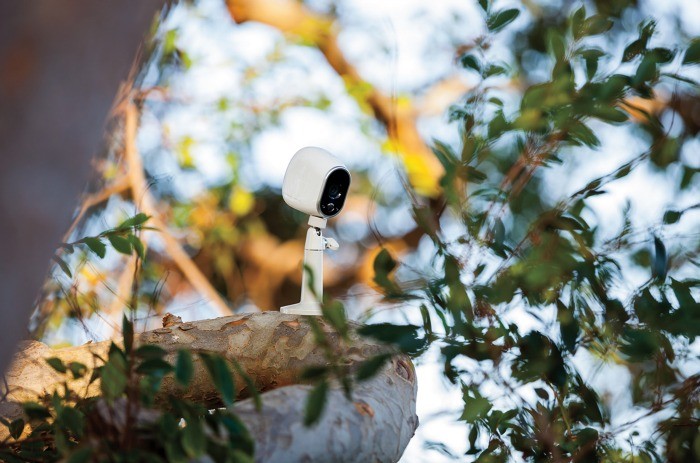 You can place them where ever you need to, inside or outside, and they are weatherproof for temperatures ranging from 14° to 122°! They capture 720p video footage both during the day and at night and have a 130° field of view.
What I really like is that when you use them they are not constantly running, they are motion-activated and automatically record motion once it is detected, then it sends an e-mail or app notification so you can see what is going on.
Another struggle I have living in the mountains is the horrible internet service. I have called the internet provider more times then any person should have to. Sadly at times using my iPhone as a hotspot got me better internet then using the internet I pay for monthly. We needed a solution, with blogging being how I make money to provide for my family I can not afford to have horrible internet service. Then we found a solution, the Netgear® Nighthawk™ DST Router and DST Adapter. This router and adapter enhances the internet that my internet provider gives us.
I was quite shocked at how easy the set up was and how quickly the internet went from being horribly slow, to amazingly fast! With the simple plug in of the router and then the adapter, with setup in minutes and no need to configure or install software I was ready to go! That was the best part, ok so the best part is that I now have internet that is actually fast, actually works but it is amazingly fast. We pay for 60 Mbps and before adding the router and adapter I was lucky to get 20 Mbps, now we get at a minimum of 45 Mbps and many times I do a speed test and it is at 57Mbps! Never did I think that was going to happen living on a mountain in the Poconos!
This high-performance router was built to support 10+ connected devices – you can also prioritize devices for streaming videos or music, and included advanced features for lag-free gaming. The AC1900 comes with one DST, or "Dead Spot Terminator," adapter – to eliminate your Wi-Fi dead zones; place it in an area where you get little/no reception, to improve Wi-Fi access. Additional adapters can be purchased for other dead zones.
Many households may experience slow Wi-Fi, dropped calls, or experience "dead zones" – which could be improved upon with an "AC" router, Wi-Fi extenders and expert help. Even if you do not live in an area like I do, you can easily experience internet slowness when there are to many people using the internet, however these issues could be improved upon with an "AC" router, Wi-Fi extenders and expert help! Which is exactly why I am loving the Netgear® Nighthawk™ DST Router and DST Adapter!
The reviewer has been compensated in the form of a Best Buy Gift Card and/or received the product/service at a reduced price or for free