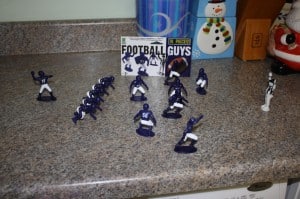 Our house is a Penn State house! My grandfather went there, my dad went there and I went there for a year. When I saw these football action figured from Kaksey Kids I loved them! My son has had a ton of fun playing football with these little figurings. Not only have they played football, but they have also befriended Barbie in our house as well, so both Little Man and Princess Pretty Pants have enjoyed playing with them.
Another great use for these sports action figures is for table decorations for Birthday parties and Football themed parties like the Superbowl!
 You can find these football characters on the Kaksey Kids website, they have all different teams to pick from along with different sports themes well.
Disclaimer: I was provided product for review. I was not compensated for this review. All opinions are honest and my own.
This post may contain affiliate links. Please read my disclosure policy here