Snow day number 2 brought the kids a nice surprise, getting to play Tangled on the Wii! On Sunday I took the kids to see the Movie Tangled (we had a coupon for a free movie ticket to see Tangled that was expiring that day so of course I could not let it 🙂 ) and they loved it. They knew we had received the Wii game a few weeks ago but they did not know that it was for them to play(and they don't know that mommy got to play it first)
My kids are still a bit new to the whole Video game deal, but they seem to be able to catch on to the different ways the controllers work for each game. It did not take them long to figure it out, Princess Pretty Pants played as Rapunzel and Little Man played as Flynn (one thing I really love is that they can play together since the game can have upto 4 players or if only one of them wanted to play they can play alone too). With in a few minutes and asking me some questions as to what button was what soon Rapunzel was twirling her hair and Flynn was bashing things and then came the sword fighting between Rapunzel and Fynn( as you can see in the picture)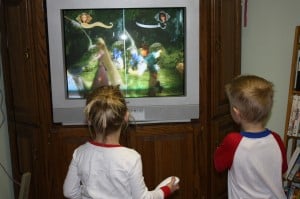 It did take them a little bit to get used to having to work together to get things done in the game and not leaving the other person behind, and there were a couple of times that they did ask daddy for some help. But for the most part they were able to do it themselves. The main issue that they had playing was if the characters got to close together and one of them accidentally hit the key to swap who was what character, they could not figure out how to get them back the way they were.
Overall we enjoy this game, the kids loved it and when it was time to shut it off they asked if they can play again tomorrow, Little Man even said he hoped for a snow day again so they could play. The skill level is still slightly higher then my kids(Princess Pretty Pants is 6 and Little Man is 4) but as they get more comfortable with how the Wii works they better they are becoming. I enjoyed playing the game, and yes it is for kids I am a Disney lover and love all things Disney, and did not have much challenge with it I still enjoyed playing it. I am hoping to get another controller so the kids and I can all play together.
Disclaimer:I recieved this product free of charge to facilitate my review, I was not compensated for this review. All opinions are homy own.
This post may contain affiliate links. Please read my disclosure policy here