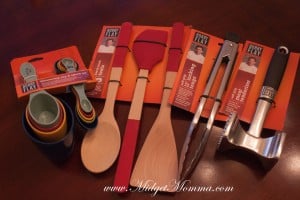 It's time to get in the kitchen with Bobby Flay. Exclusively at Kohl's, Bobby Flay has his own line of kitchenware. His products are designed for professionals and beginners. I want to first talk about Bobby Flay's measuring items. These have one the greatest aspect to them unlike traditional measuring cups that are normally strung together by a plastic ring and you have to unhook him anytime you just want to one. These click together by the handles. They are also shapes in oval instead of round so they can fit into canisters and spice containers with ease. I wish I had these before I went out and bought the gigantic flower container I have that I can never fit a measuring cup and now that I have these I have no need for such a large flower container. The measuring spoons have both a traditional rounded side and the oval side to fit into the smaller containers.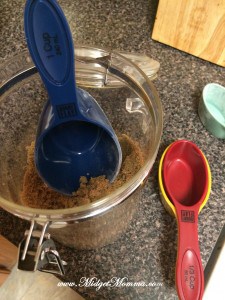 All of Bobby Flay's tools are very sleek and stylish. The meat mallet has a great handle that makes it very easy to grab ahold of. His tong has a cool and fun locking system. To unlock then all you do is tap end on the counter. The three piece wooden spoon set is so useful. They all have silicone handles to help ensure a good grip and a little extra style. I own nonstick pans and I've scrape them a few times using the wrong utensils. These are great for that because the wood is gentle enough on the nonstick coating and they also have great shape to help stir. Head to your nears Kohl's to check out Bobby Flays kitchen collection. I know someones little hands cant wait to her her hands of them!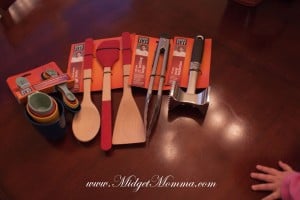 Disclaimer: I was provided this product to facilitate my review. No compensation was received and all opinions are 100% my own.
Join the newsletter
Subscribe to get our latest content by email.
This post may contain affiliate links. Please read my disclosure policy here