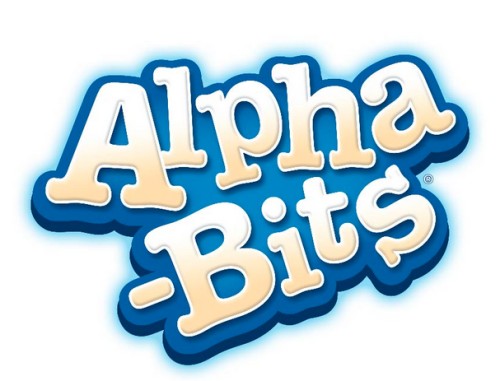 With school back in full swing and Alyssa home with me during the day coming up with fun activities for her to do while I get work done is important. When Alpha-bits said they were going to send me some boxes to try out I was all for it.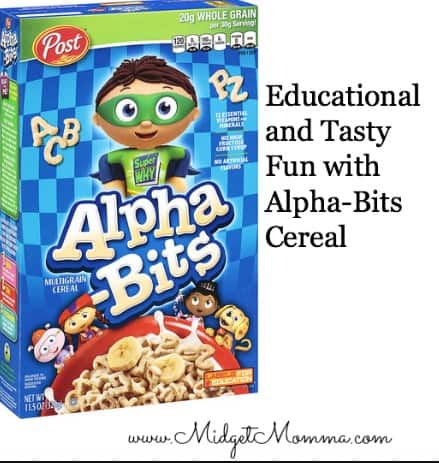 When they arrived Alyssa was excited for a new cereal and when I told her we were going to use it to to learn letters and have a snack at the same time and she seemed excited. The next day she and I took the older two kids to school and then I sat her down to get started. We poured the box on to a baking sheet and started pulling out letters. As we pulled them out I had Alyssa guess and tell me what letter it was. While she did not get them all right it was fun to work with letters in a fun way and then after we were done it was snack time! As she ate them she tried to tell me all the letters she was about to eat!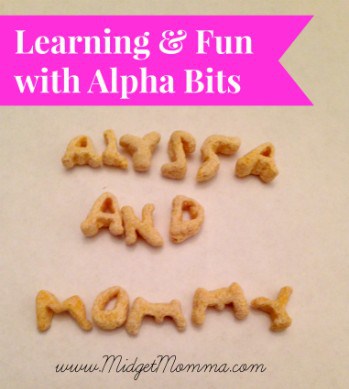 If you are looking for an easy activity that is educational and tasty grab a box while you are grocery shopping and bring these home for the kiddos. Our next project with them is going to be using them to spell out words, which I am going to do with the older 2 kids!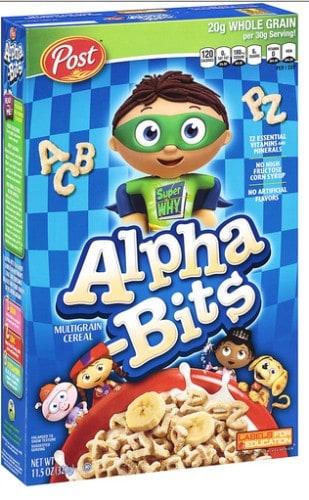 Important things to know about Alpha-Bites
• Alpha-Bits is a nutritious, delicious breakfast for children. With 20g of whole grains and 12 essential vitamins and nutrients per 30g serving.*
• The shaped pieces can help little ones become familiar with the letters of the alphabet.
• Little ones love playing with their food and Alpha-Bits can help make breakfast and snack time educational!
• Alpha-Bits contains nutrients to support healthy brain development, like zinc and iron.**
• Involving your child in making snacks and fun recipes with Alpha-Bits can be a bonding experience, as well as a learning moment.
*Nutritionists recommend eating 3 or more servings of whole grain foods per day (about 16g whole grains per serving or at least 48g per day).
**Post® Alpha-Bits® cereal is fortified with nutrients that help support healthy brain development in children. Iron helps deliver oxygen to the brain & body. Zinc helps brain & body cells grow and develop. Vitamins B1, B2, B6 & B12 help support a healthy nervous system.
Disclaimer: This post is sponsored by Alpha-bites. All opinions are 100% my own.