I have always been a fan of Tom Hanks movies, Forest Gump has always been one I enjoyed as a kid and even now as an adult I love watching it. The movie BIG and of course Toy Story, which you all know I am a big fan of Buzz Lightyear but Tom Hanks played Woody, Buzz's best friend so that makes him awesome in my book 😉 It is also no secret that I love Steven Spielberg movies so them coming together and another movie with the two of them working together is on that tells me it should be a good one so I am looking forward to their newest, Bridge of Spies.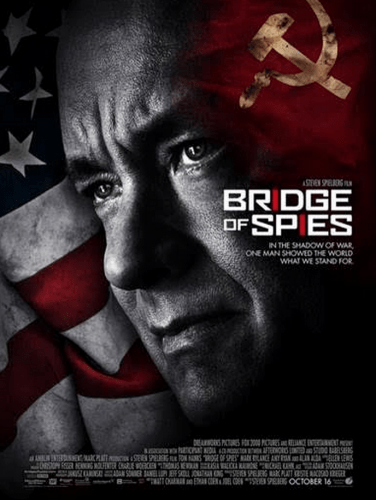 Tom Hanks and Steve Spielberg have worked on other movies in the past, and as a fan of both of them I am excited that they are working together again for a new movie, Bridge of Spies. A coming to theaters dramatic thriller that tells the story of an ordinary man who is placed in extraordinary circumstanced.
Watch Tom Hanks in the trailer for DreamWorks Pictures' BRIDGE OF SPIES, directed by Steven Spielberg, which comes to theaters on October 16, 2015.
Bridge of Spies Movie Official Boilerplate:
A dramatic thriller set against the backdrop of a series of historic events, DreamWorks Pictures/Fox 2000 Pictures' "Bridge of Spies" tells the story of James Donovan, a Brooklyn lawyer who finds himself thrust into the center of the Cold War when the CIA sends him on the near-impossible task to negotiate the release of a captured American U-2 pilot. Screenwriters Matt Charman and Ethan Coen & Joel Coen have woven this remarkable experience in Donovan's life into a story inspired by true events that captures the essence of a man who risked everything and vividly brings his personal journey to life.
Get Social with Bridge of Spies Movie
Like BRIDGE OF SPIES on Facebook: https://www.facebook.com/BridgeOfSpies
Follow BRIDGE OF SPIES on Twitter: https://twitter.com/BridgeofSpies
Visit the official BRIDGE OF SPIES website: https://www.bridgeofspies.com/
Bridge of Spies Movie Trailer
This post may contain affiliate links. Please read my disclosure policy here