At the begining of the school year we had the chance to check out the D-Signed line from Kohl's and the kids got to meet Sabrina Carpenter (From Disney Channel's Boy Meets World.) Ever since then McKenzie has been in love with the D-Signed line and the pieces that she had as her "go to" items when getting dressed.
When the spring time weather started peeking its head out she asked me if there was a spring time D-Signed line as well as the fall line she had been currently loving. What was awesome was that same day Kohl's had reached out to me about working with them on something for spring. Perfect timing and I had one very excited little girl!
McKenzie and I sat down to to check out the Kohl's website and she was in all her glory while picking out the new D-Signed pieces to add to her wardrobe. After picking out hers she was an awesome big sister and told Alyssa that she saved some of the gift card so she could get something too.
The count was on for the package to arrive and when it did, Kenzie couldn't wait to try on and model her new clothes! I do have to say, I love the clothing, I love that they are flattering, age appropriate while being fashionable for her age, being clothing that I am comfortable having her wear (even if they make her look like the 10 year old she is and it makes me have to face that she is getting older and no longer a "little girl" ).
Because we have pieces from the fall line we were able to easily mix and match them and use the new spring line pieces and make awesome outfit combinations.
The white top and jacket are from the D-Signed fall line, and paired with the black skirt (that comes in a 2 piece set with a black top), McKenzie paired it with black flats that she had and pulled off one amazing look that is fashionable, age appropriate and makes us both happy.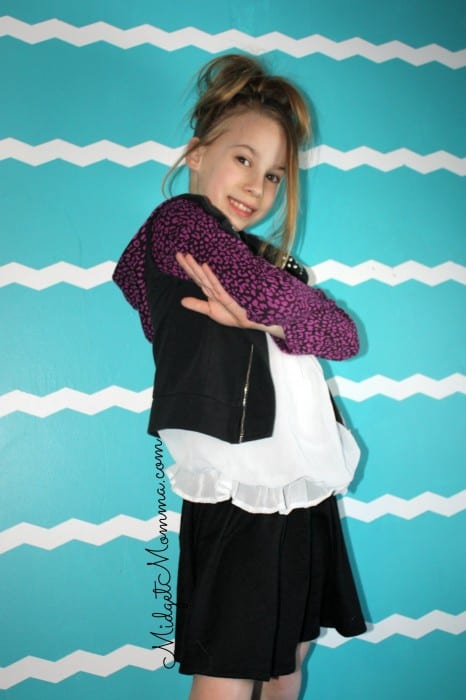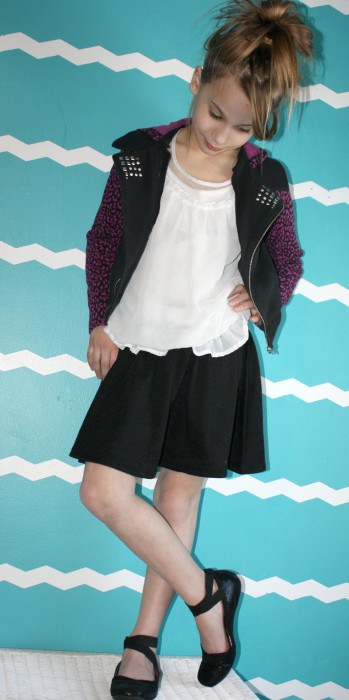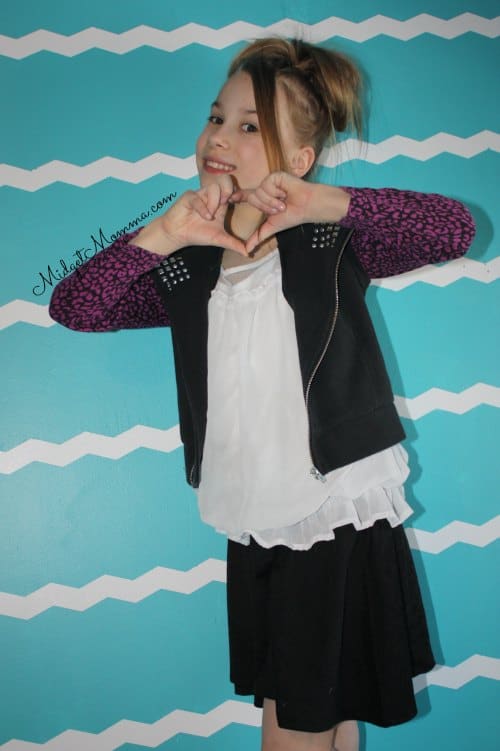 Next up was the Disney D-Signed Aztec High-Low Dress, McKenzie paired it with a pair of sandals and a pair of black tall boots that she has to see which one looked better and they both looked amazing, so there are a few different ways you can rock this dress with using shoes they already have in the closet!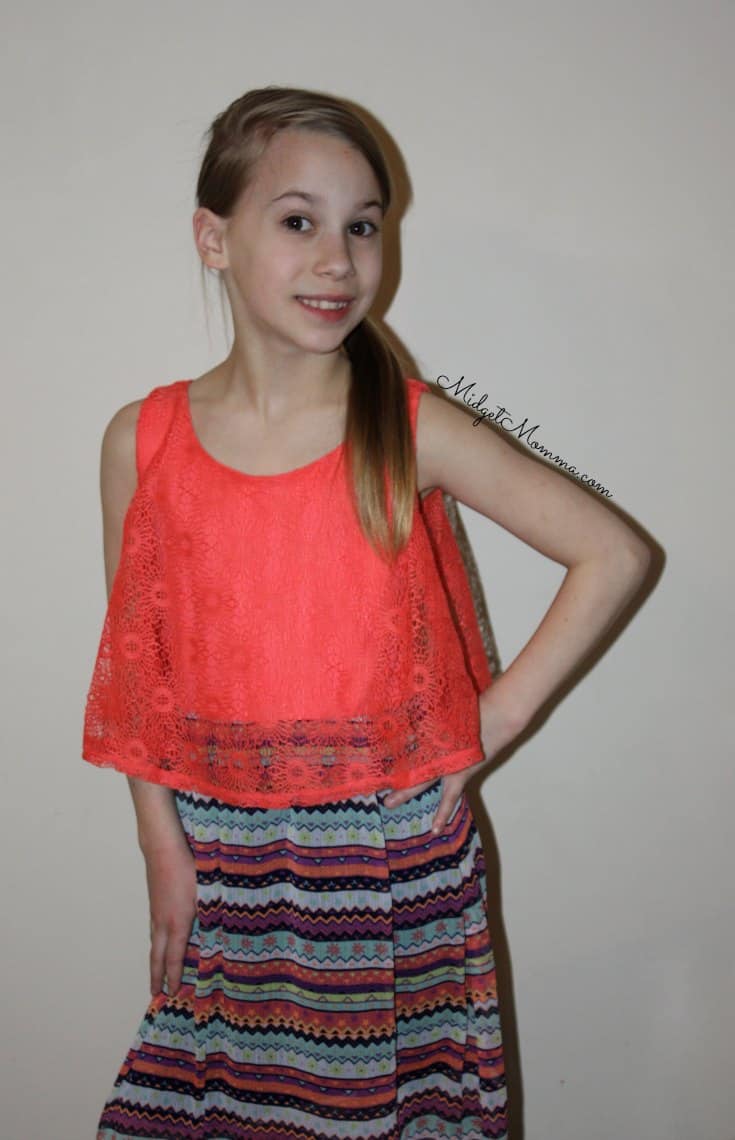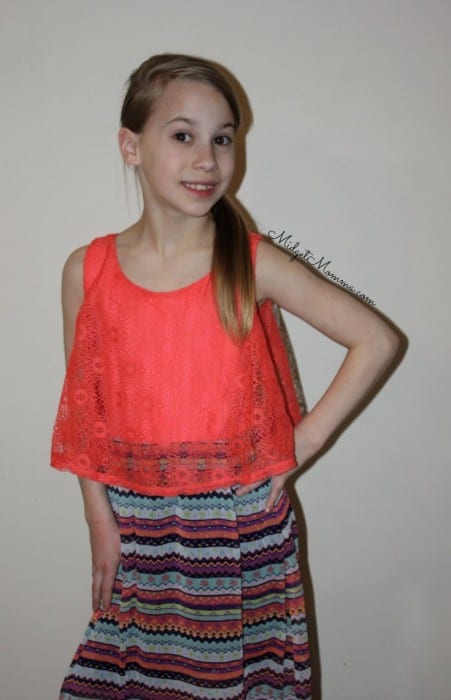 Using the white top from the fall line, McKenzie paired it with the Disney D-Signed Arrows & Hearts Leggings. Super cute and comfy outfit that she said she will be wearing her grey boots with, but could also be perfect with a pair of black flats! If it is a chilly day adding the collard jacket from the fall line that she loves and is wearing with the black skirt above would also work well.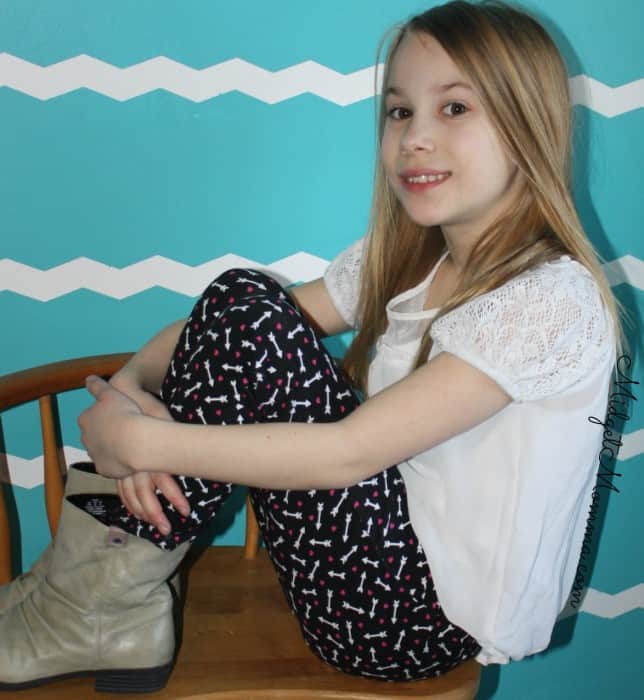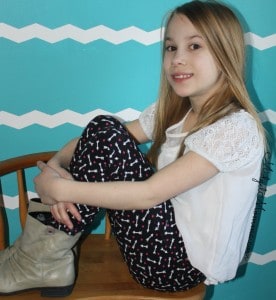 The Disney D-Signed Butterfly Chiffon High-Low Skirt is one that as soon as she saw it on the Kohl's site McKenzie said it was a "must have piece". Once she put it on, she said it was perfect and she loves it more then she even thought she would when she saw it online. She told me "It looks awesome online, but even better in person!". She paired it with the white shirt and her tall black boots.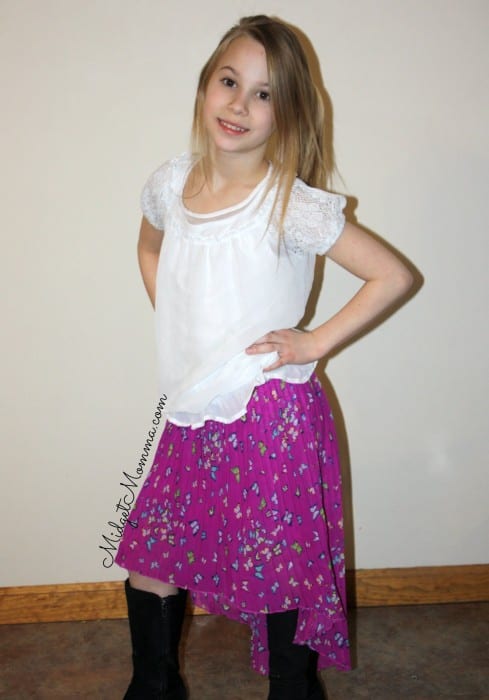 When it comes to Alyssa's style McKenzie has a lot of input and Alyssa being the little sister enjoys having her big sister help her pick out what is the "it thing to wear" and loves when McKenzie helps her pick out outfits (apparently the time has come where big sisters opinion matters more then moms lol). We pieced together this super cute outfit for Alyssa, who loves it because it is "a style like McKenzie" as she calls it 🙂 It really is super cute on her too, and even though the line is geared for the older tween aged kids, the younger kids can still wear it and look their age, along with being dressed age appropriately. I can not express how much I love that as a mom because it means both big sister and little sister can shop in the same section and both have clothing that is right for their age.
Alyssa is wearing the Disney D-Signed Hatchi "Love" High-Low Top with the jacket and pants that are from the fall line. You may still be able to find them in the stores but they are currently sold out of the pants and jacket online.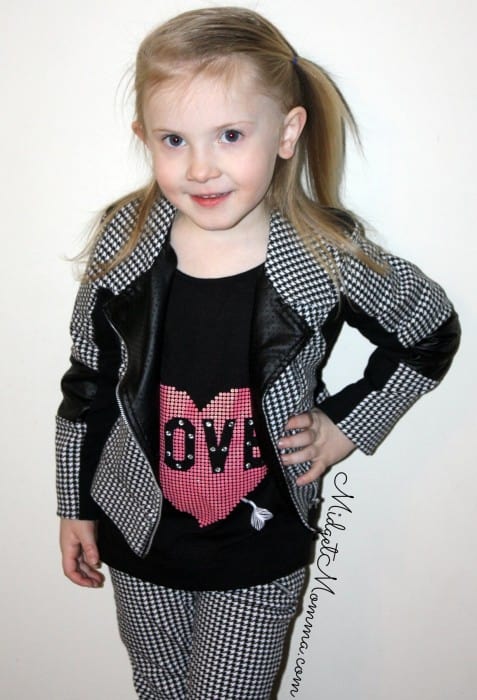 I have always been a huge fan of Kohl's not just for my kids clothing but for things for the house, the prices, the deals, and of course the savings (who doesn't love having a bunch of Kohl's cash to spend!?!). Over the years as the kids have gotten bigger and shopping for them has gotten harder I have always found that I can head to Kohl's and find a brand or a line that fits with the kids style, comfort and with in my budget.
You can check out the full line of Disney D-Signed clothing that Kohl's has here.
Disclaimer: This post is sponsored by Kohl's. All opinions are 100% my own.