We took a trip to Target tonight and they have TONS of baby stuff marked from 15%-50% off! My favorite find was the Britax Roundabout that was 15% off, not I know that doesn't sound like a big deal but finding a deal on a Britax is difficult so when I found them with my kids seats I got them as soon as I saw the deal. My youngest's seat was bought when I was just a few weeks pregnant and the seat was pink but for the price I couldn't say no, we just hoped she was a girl lol and seriously if she had been a boy I would have used the seat anyway 🙂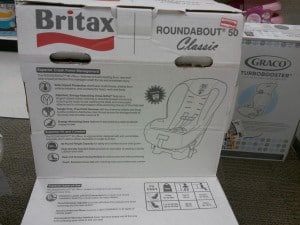 This Roundabout 50 is on clearance for $132 from $155!
They also had other baby needs like Graco Highchairs, potty seats, Pack and Plays, Carseats, booster seats clothes and tons of shoes on clearance too!  This is one of my favorite sales each year at Target with the exception of the Target Toy clearance!
Check out your local Target to see if you can score any deals on Britax carseats and baby gear! If you find any come back and share so others who need them too can know where to look 🙂
This post may contain affiliate links. Please read my disclosure policy here