No one really likes to cook after a long day of working, then getting the kids homework done and all the other craziness of getting in the back to school routine when school starts and take out tends to be something that we jump on because it is easy and a stress saver.
Right now through Buca Di Beppo is having a 4 for $40 dinner deal, when you print out this coupon here. That means that 4 people can eat for $40, they give you the large sized meals and it is served family style when you dine in.
This was our first visit ever to Buca Di Beppo and I have to say I was VERY impressed. First that you could make reservations online, and if you are running late like we were you can log in and modify your reservation! I was able to do it right from my phone to by the email they sent confirming our reservation! That would be a total life saver if the night is already a mess and you are running late from an after school activity!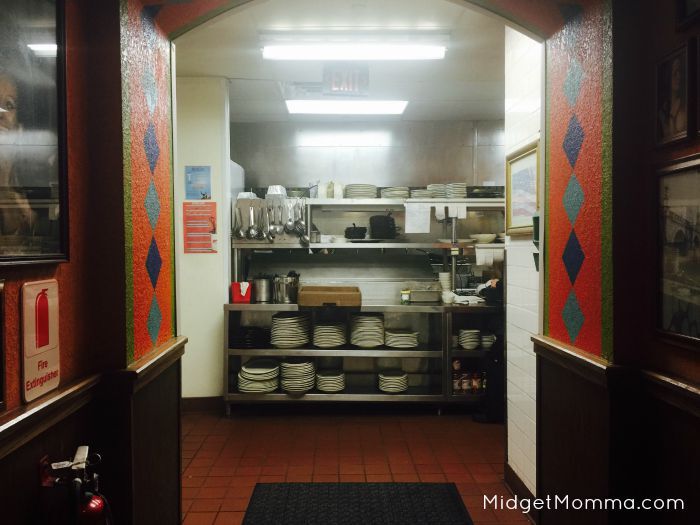 Then when you get there before you sit down they take you on a tour of the restaurant. First taking a peek at them making the bread, then a walk through the kitchen. Which my kids thought it was totally awesome that they have a table that you can make a reservation at and eat right in the kitchen! Apparently next time we visit the kids said "we HAVE to sit there", not sure I am in love with the idea of eating in the kitchen, but the kids want to so I'm willing to give it a chance for them.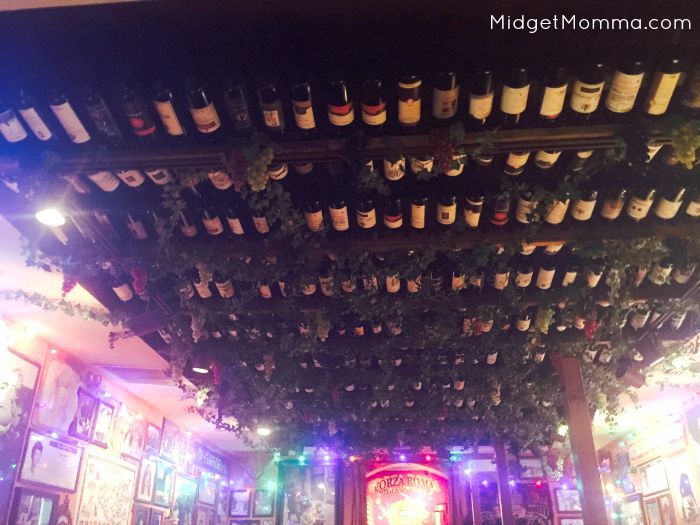 Then they showed us the wine ceiling, the spinning head table and then we were off to our table. Anyone who comes to the restaurant gets the tour and I think that is a fun way to get the meal started. The seating and decor of the restaurant is fun, while you might be a little off about the bathrooms as they have some quite obscure photos in the bathrooms that we got quite the kick out of and caused lots of laughter during dinner.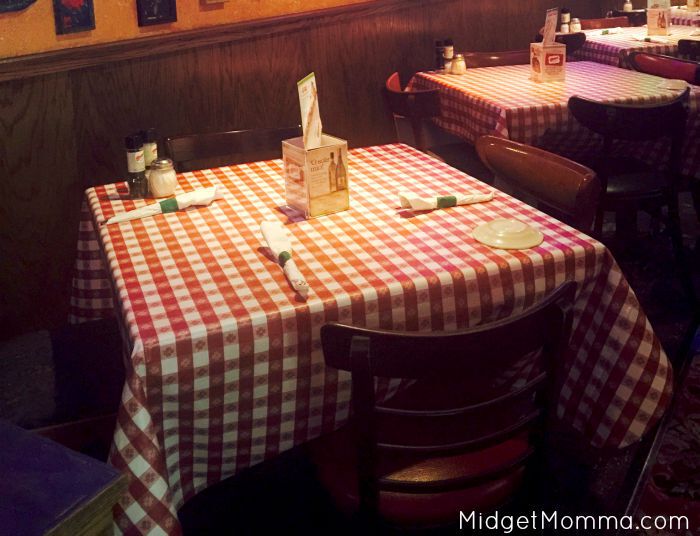 Buca Di Beppo 4 for $40 deal
Then it was time to order and WOW! The new Buca Di Beppo 4 for $40 deal is awesome! The 5 of of us and WOW! The amount of food is HUGE, so between the bread, the salad and the entree you could easily feed 5 people if not 6 people with this deal! The amount of food was AMAZING for the price and well worth it! Not many places can you go and feed a whole family AND have left overs for $40!
We picked the Cesar Salad, the baked Ziti from the Buca Di Beppo 4 for $40 deal and we also got an appetizer and Tom wanted Chicken Parm and we got a small plate of that as well. We ended up having to take quite a bit home, enough came home in fact that it was enough to be lunch for the kids the next day! There are 2 different salads and 5 entrees to pick from with the Buca Di Beppo 4 for $40 deal. The Buca Di Beppo 4 for $40 deal gives you garlic bread which is amazing!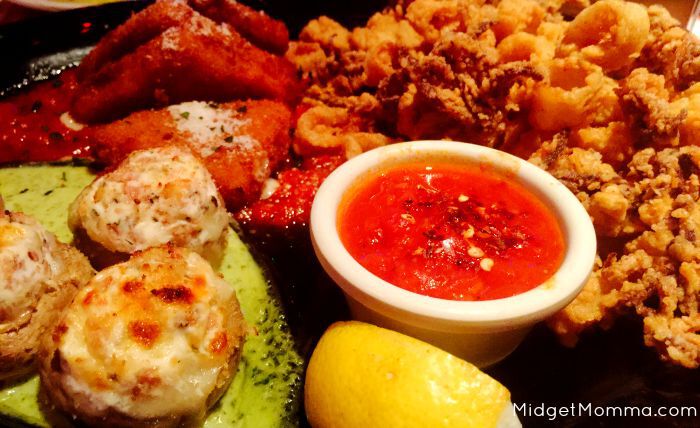 The food was also delicious! I was pleased to see that with the fried calamari they included the legs and not just the rings. I know that most people might not be a fan but in our house the legs are what the kids like best and they fight over them so I was happy to see them included in the appetizer!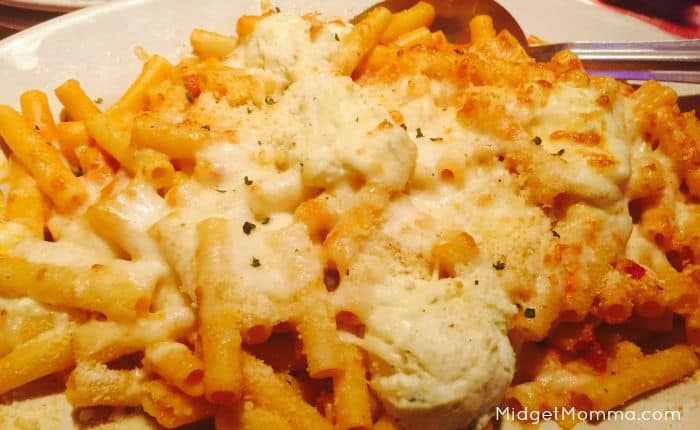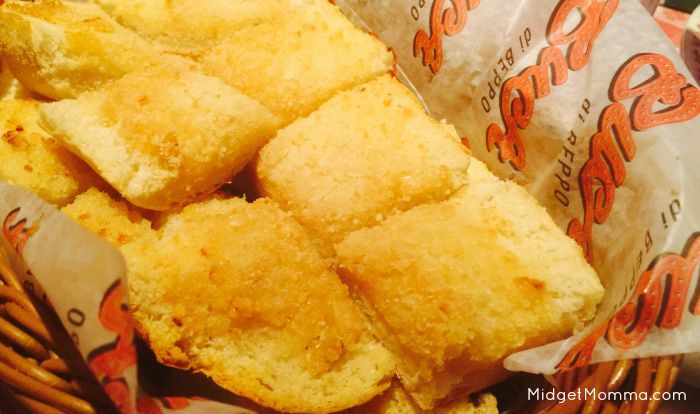 The portion was HUGE! Next time we go I think we will be skipping the appetizer and the extra meal and going for the dessert along with the Buca Di Beppo 4 for $40 deal. After reading that dessert menu I am still thinking about the Brownie Sundae they have!
The kids enjoyed it, as a family I think we enjoyed the family style meal more so then we do when we all get something different. Normally it takes my kids what seems like forever to pick what they want to eat, but with the family style meal we all had to come to an agreement on what we we are all eating. The Buca Di Beppo 4 for $40 deal made it so we also spent less money then we normally do when dining out. Now not every time we opt to eat out will family style dining be the way to go but I think it added a sense of closeness while we all ate the same thing. And to be honest as the one who cooks just about every meal in our house the break from cooking is always welcomed and when we are all eating the same thing it brings a sense of closeness like we have when we are eating at home.
Logan of course for his photo had to get as much on his fork as he possibly could, and then the big open mouth grin that I love so much! Of course you all know we don't expect anything less from Logan then to make taking a photo fun even when we are out to dinner 🙂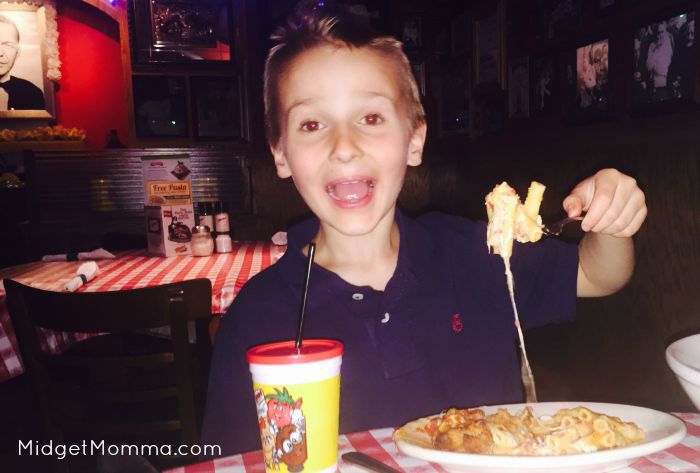 McKenzie was the most excited about the calamari legs and she downed as much of them as she possibly could! That's my girl, except next time I hope she shares a few more with me 😉 Gotta love my girl though who insisted on an action shot when I told her I was taking her photo 🙂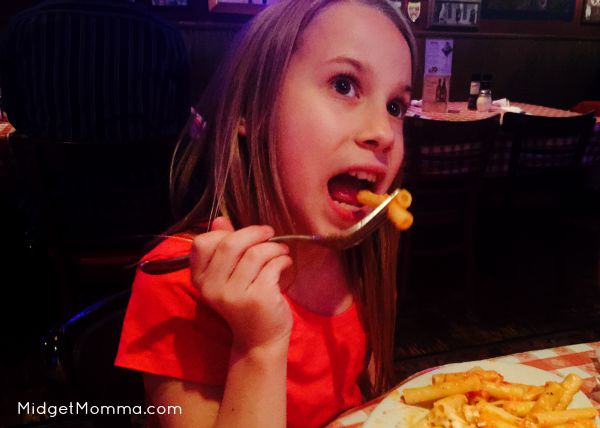 Alyssa was in heaven, she is definitely my carb and cheese loving child and always has been. When we go out about 80% of the time she picks a pasta dish and after what seemed like after every bite she told me, "we have to come here again". Of course for her she combined the action shot with the funny so she could "be like McKenzie and Logan at the same time" for her photo.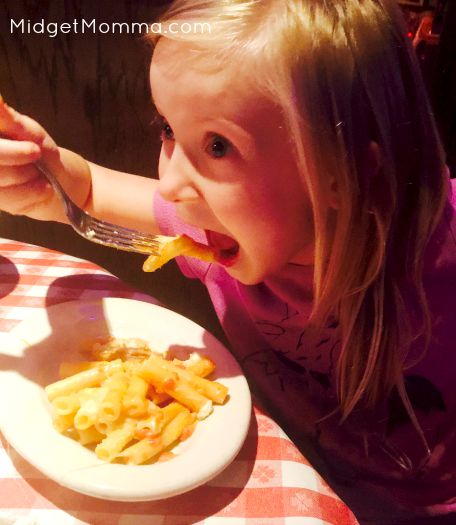 All in all it was a great time for us all, I also think that this would make a great place for dinner during the busy school year when us moms are about to pull our hair out with everything that we have to get done. The Buca Di Beppo 4 for $40 deal is a great deal, plenty of food and the atmosphere is one where you can feel like you are eating at home and you get some amazing food!
This is a sponsored conversation written by me on behalf of Buca di Beppo. The opinions and text are all mine.