The little girls are going to want to drag their parents to Build-A-Bear, because things just got more exciting at Build-A-Bear Workshop with their newest product line the Honey Girls. When I was contacted to work with Build-A-Bear and share the news with you all I was excited, I am a big fan of Build-A-Bear and the new line is oh so perfect for girls! BUY YOURS HERE! 
I am loving the story that the 3 friends, The Honey Girls – Teegan, Risa and Viv – met at school and formed their own band. Music brought the Honey Girls together, but their friendship keeps them together. Each of the Honey Girls has her own strengths and talents that help the friends "be brighter together." Teegan is the fearless and bold lead singer. Risa is the guitarist, and she is all about music and being creative. Lastly, Viv is the drummer, who's not only a great friend but also a talented inventor.
Children can customize their Honey Girls character with a special plush star, which represents a positive, aspirational trait that complements the Honey Girls empowerment theme.
The stars, each a different color, include the traits creative, confident, talented,
The stars allow children to further personalize their Honey Girls, making the
Each Honey Girls character comes with one plush star to stuff inside during smart, fearless and strong. connection with their new friend even more special. Build-A-Bear's signature heart ceremony. However, guests can purchase as many additional stars as they want.
Each Honey Girls character has her own original song along with the group's debut song titled "Everything is Better." Listen in for a "sneak preview" starting June 15!
Viv arrived at our door the other day and isn't she a beauty! Bright colors, fun outfit and I am loving the new box they come in! The kids have not seen her yet since they are hanging with the grandparents right now but I have a feeling that once Alyssa sees her she is going to FREAK out with excitement! Personally I am loving that while girly she is blue so even if you have a girly girl who doesn't like pink or purple then they can have one that they love too!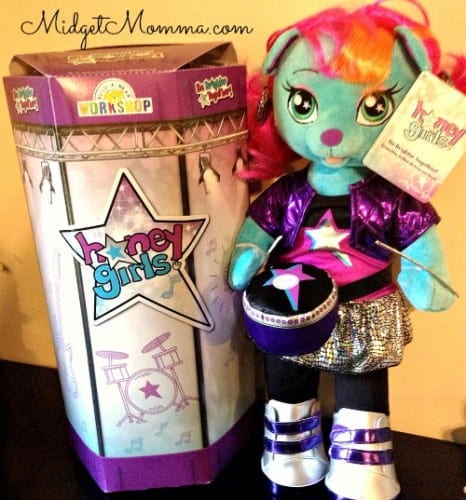 Not only are the girls awesome, the fun expands even further! The kids can interact with them and following their journey as a band through their exclusive, interactive Honey Girls Studio App. The app will be available for download in iTunes and Google Play in July!
The three Honey Girls friends will be available for purchase online starting July 8 at BuildABear.com/Honey-Girls and in-store at Build-A-Bear Workshops starting July 10.
Stay up to date with Build-A-Bear
Honey Girls Build-A-Bear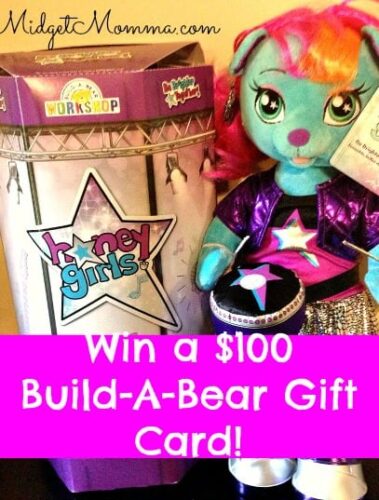 Build-A-Bear $100 Gift Card Giveaway
Plus one MidgetMomma Reader is going to win a $100 Build-A-Bear gift card that they can then use to get their own Honey Girl!
Prize: $100 Build-A-Bear gift card
Enter the$100 Build-A-Bear gift card Giveaway:
To Enter just leave a comment for each thing you do, if you are already following on facebook, twitter ect those count to, just leave a comment saying so

How to Enter:
Sign up for my daily newsletter so you never miss anything
Share the Honey Girls this post on social media via either Facebook or Twitter using the share buttons above – 1 entry for each
 Share who your favorite Honey Girl is on Twitter and tag @BuildABear in your post – 1 entry
Extra Entries:
Follow me on Pinterest – 1 entry
Pin any of my recipes here  to pinterest – 1 entry per pin
Leave a thoughtful comment on this post – 1 entry
Make me your personal shopper (FREE to join) – 1 entry
 Tweet- I want to #Win @BuildaBear $100 Gift Card from @MidgetMomma1200 @MrMidgetMomma http://goo.gl/I77txw #MidgetMomma – 5 entries daily tweets must be 2 hours apart
Follow Tom on Twitter – 1 entry
Follow Lauren on Instagram – 1 entry
Follow Tom on Instagram – 1 entry
Follow MidgetMomma on Facebook – 1 entry
Giveaway Rules:
No purchase necessary to enter, leave a separate comment for each entry method. This giveaway is not associated with any of the entry methods. This giveaway will run till 11:59 PM EST, June 24 , 2015. The winner(s) will be picked using And the winner is (a random winner picker) and will be announced in a new blog post. Giveaway is open to US residents who are 18 years or older. By entering this giveaway you are giving consent to be added to the MidgetMomma daily newsletter. Winner will be contacted and have 48 hours to reply to contact e-mail or the prize is forfeited. Prizing provided by Build-A-Bear
Disclaimer: This post is sponsored by Build-A-Bear. All opinions are 100% my own.