I live in a small town in Texas…and our tap water is AWFUL.  When we moved here, we were advised not to drink the tap water unless we filtered or boiled it first, it's that bad.  So we did what everyone else here does, we started buying massive amounts of water bottles.  We quickly realized that, not only was it rediculously expensive, even if we could get it on sale, but it was creating a massive amount of trash in our house having to throw all those bottles away.  So we switched to the big 2.5 gallon fridge containers, which were cheaper, lasted longer and were easier to throw away.  Only problem was whenever we took the kids to the park or I went to work out, I couldn't just grab a water bottle and go.  I had had several water bottles over the years, but I haven't liked any of them as much as this one from Cafe Press!  In fact, I've done everything from melting them in the dishwasher (oops!) to breaking the lid.  I've had some that (literally) fell apart…glued parts fell off or screw on lids took the rubber sealant with them…The Sigg water bottles from Cafe Press are awesome because they are stainless steel, which means I can't melt them and there's no rubber parts or glued on pieces.  Plus, I was able to pick whatever picture, design or saying I wanted.  I chose the white rabbit, maybe because I'm always late for an important date… You can even create your own and add pictures of your kids or your dog, whatever makes you smile!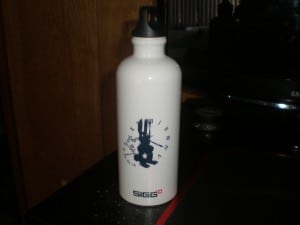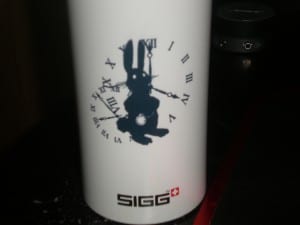 In fact, they have tons of things you can customize, from birth announcements to bags…and they just keep adding more and more unique options.  I made this sweatshirt for my father-in-law this last Christmas and he loved it!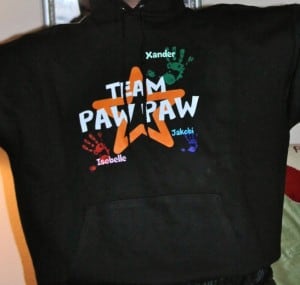 MY LATEST VIDEOS
Of course, if making a design of your own is too daunting, they have thousands of other options broken down into catergories (funny, cool, vintage, etc.) and once you find one you like, you can put it on just about anything on their site!  And one more thing I LOVE about Cafe Press?  Sign up for their emails and you'll get TONS of exclusive email discounts, from BOGO deals to straight dollar amounts off!
BUY IT
Head over to Cafe Press and pick out your own customized, all you gear!  There's a coupon code up on their site right now for 20% off your order of $50 or more!
WIN IT:
One lucky Luxury Living reader will win their very own Sigg water bottle from Cafe Press!
Mandatory Entry:
Visit the Cafe Press website and tell me what your favorite Cafe Press design is and what you would put it on!
Extra Entries:
Mandatory Entry must be completed, leave a separate comment for each entry; leave ID and links in comment
■Follow Luxury Living Frugal Style with Google Friend Connect-1 entry
■"Like" Luxury Living Frugal Style on Facebook– 1 entry
■'Like' Cafe Press on Facebook-1 entry
■Follow Luxury Living Frugal Style on Twitter and Tweet #giveaway for Sigg Water Bottle @CafePress @MidgetMomma1200 https://www.midgetmomma.com/?p=3887 -1 entry per day
■Follow Cafe Press on Twitter-1 entry
■Subscribe via e-mail (must verify)-1 entry
Giveaway Rules
This giveaway is open to US residents who are 18 years old This giveaway will end on April 24th at 11:59PM EST Winner will be selected at random and contacted by e-mail and will have 48 hours to reply to contact e-mail or a new winner will be picked. The sponsor of this giveaway is responsible for prize fulfillment.
Disclaimer: I was provided product to facilitate this review, I was not compensated for this review. All opinions are my own.
This post may contain affiliate links. Please read my disclosure policy here