Did you know that September is Baby Safety Month? As Moms we want our babies to be the safest that they can be, and we do not always know the answers to the questions we have. I had the opportunity to partner with Chicco and send in your questions on car seats to the Chicco Car seat expert to get the answers to the questions you all had. I am excited that I was able to get your questions answered for you.
YOUR Car Seat Questions Answered
Do car seats really expire? For example, I bought a car seat but never used it and it sat in the package for a few years. Can I use it if I have another baby, or can I pass it along to someone else to use or is it safest to buy a new one?
Yes, there is an expiration date listed on all car seats. Car seats expire for a few different, equally important reasons. First, over time, car seat technology improves and safety standards change. Additionally, materials used in car seats wear down with extended use, which could compromise safety features down the road. It's also important to note that car seat manufacturers stop safety testing seats after a certain period of time, meaning that past expiration, manufacturers cannot guarantee how a car seat will perform in an accident. Therefore, if a car seat has expired, even if it has never been used, you should not use it.
If I have the option to use both the LATCH system and the seat belt, why shouldn't I? Wouldn't using both make it extra safe?
As long as the car seat is installed correctly, using LATCH or a seat belt is safe. Learn how to install your seat correctly using whichever method works best for you, your car and your car seat. There is no evidence that using both systems in tandem provides additional safety, and using both can affect the car seat's performance in a crash.
Is the LATCH system proven safer than the old fashion way of using the seat belt?
As long as the car seat is installed correctly, using LATCH or a seat belt is safe. Therefore, you should use the installation method that gives you the tightest fit. Learn how to install your seat correctly using whichever method works best for you, your car and your car seat. It's also good to know how to install your car seat using different methods in case you travel in other vehicles.
What is the safest spot for a seat to be in the car, if there is no middle seat in the back?
The back seat is the safest place for your car seat, but there is not one side of a vehicle that is safer than another. The most important aspect is that you can install the car seat correctly in the seat. Before installing any car seat, it's important to read your vehicle's manual to understand if a car seat can be installed correctly in all seats.
Is turning forward-facing before two years old okay? Isn't it dangerous and uncomfortable when your child's legs are touching the seatback while rear-facing?
Keep your child rear-facing in their car seat until at least two years old. Are your kid's feet touching the seat back? Do they look a little cramped? That's okay. Kids are a lot more flexible than adults. Kids need to stay rear-facing for as long as possible to protect their head and neck in the event of a crash. Kids do not need to be turned forward-facing until they reach the maximum height or weight of the car seat. Kids are fragile, and they are best protected rear-facing, even if that means they have a little less leg room.
When should a child switch from high-back to backless booster?
When considering switching from a high-back to a backless booster, consider a few important things:

First, does your child regularly fall asleep in the car? If so, you should continue to use a high-back booster because it helps keep them in the correct position in case of a crash.
Second, is there a headrest in their seating position? If not, continue to use a high-back booster so that their head is properly protected in a crash.
It's confusing to know when you should switch your child to the various different types of car seats. Any tips?
You should switch car seats once your child has outgrown the height or weight guidelines for their current car seat. Check Chicco's Car Seat Safety website to find easy to use guides about the finding the right car seat for every age.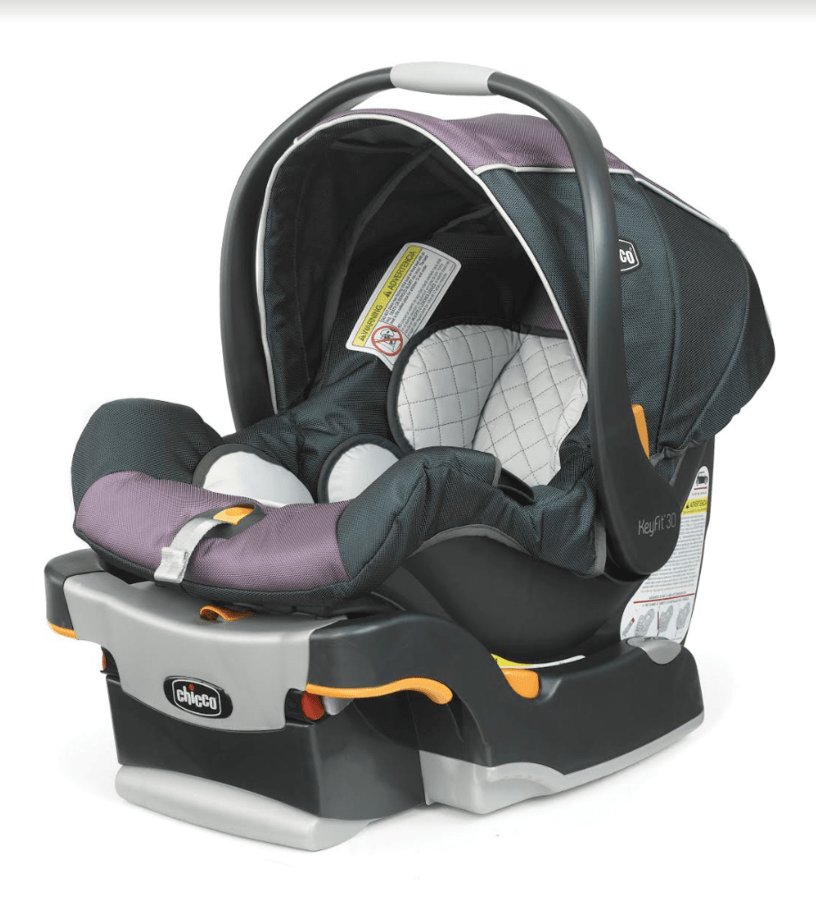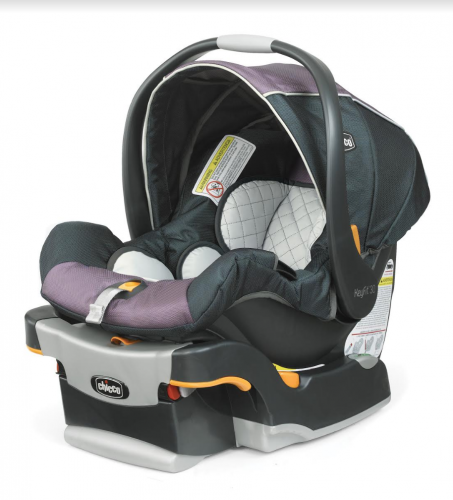 Plus we get to have some fun and one MidgetMomma Reader is going to win a Chicco KeyFit 30 Infant Car Seat!! A $200 Value!!
Chicco KeyFit 30 Infant Car Seat Description
Proper installation is the KEY to making your baby's world safer. #1-Rated Chicco KeyFit® 30 is the easiest car seat to install simply, accurately and securely. Every time.
ReclineSure® Spring-Loaded Leveling Foot adjusts to your vehicle's seat angle. RideRight® Bubble-level Indicators show when a proper base angle has been achieved, and to secure the base, SuperCinch® One-pull LATCH Tightener uses force-multiplying technology to make a tight, secure fit with a fraction of the effort!
Lined with energy-absorbing foam, the KeyFit® 30 is equipped with a five-point harness that quickly and easily adjusts for an accurate fit, using the one-pull harness adjustment. For smaller babies (4-11 lbs), an ergonomic infant insert provides extra support and helps create a snug and secure ride on baby's first trips in the car.
KeyFit® 30 Polaris features a radiant color combination that is fresh, fun, and modern. Rich, durable fabrics in a deep teal and classy silver are balanced by a contemporary white accent, creating a chic look that parents and babies love to show off.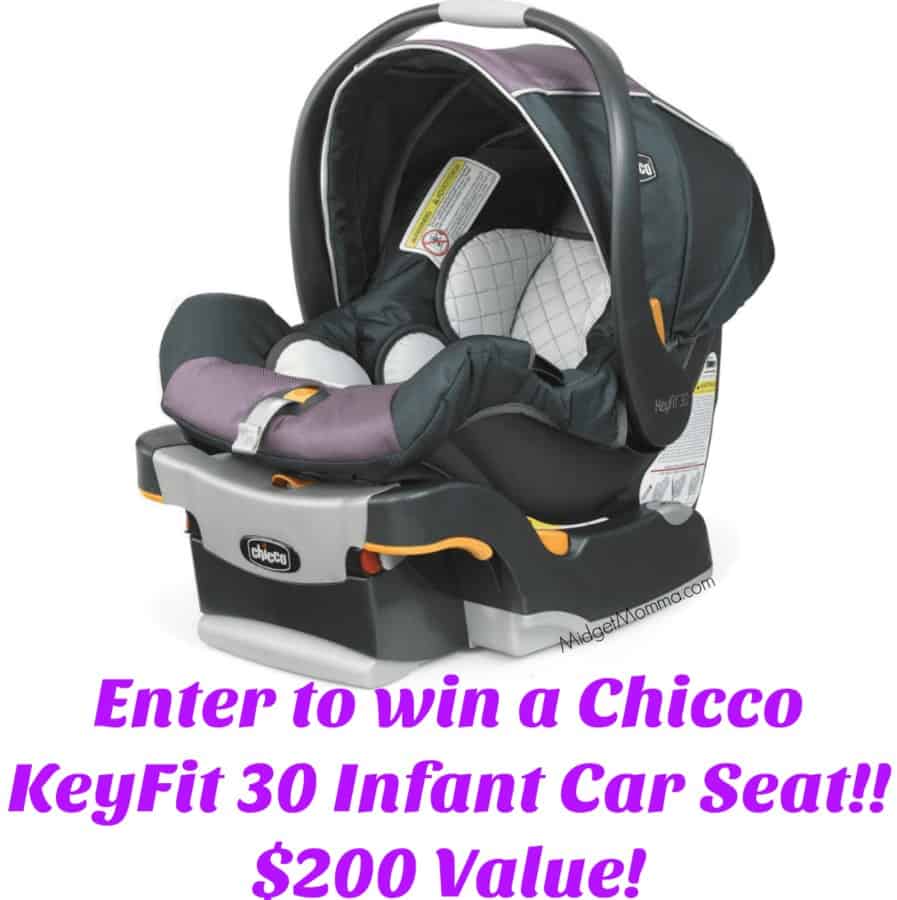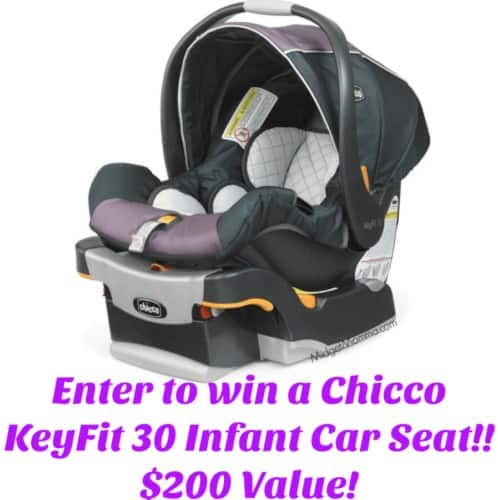 Enter to win Chicco KeyFit 30 Infant Car Seat
How to Enter:
Leave a separate comment for each entry.
Mandatory Entries:
Leave a comment telling me what you learned about car Seat safety from the answered questions above.
Sign up for my daily newsletter here  so you never miss anything
Extra Entries:
Follow me on Pinterest – 1 entry
Follow me on YouTube – 1 entry
Follow Me on Instagram – 1 entry
Tweet – I want to @ChiccoUSA KeyFit 30 Infant Car Seat! https://www.midgetmomma.com/?p=161580 #Chicco #MidgetMomma- 5 entries per day, entries must be 2 hours apart
Make me your Personal Shopper (100% FREE and I can help you save even more money) – 1 entry
Follow MidgetMomma on Twitter  – 1 entry
Follow MidgetMomma on Periscope – 1 entry
Follow Tom on Instagram – 1 entry
Follow Tom on Periscope – 1 entry
Follow Tom on Twitter – 1 entry
Giveaway Rules:
No purchase necessary to enter, leave a separate comment for each entry method. This giveaway is not associated with any of the entry methods. This giveaway will run till 11:59 PM EST October 15, 2016. The winner(s) will be picked using And the winner is (a random winner picker) and will be announced in a new blog post. Giveaway is open to US residents who are 18 years or older. By entering this giveaway you are giving consent to be added to the MidgetMomma daily newsletter. Winner will be contacted and have 48 hours to reply to contact e-mail or the prize is forfeited. Open to US mailing addresses only. Prizing and samples courtesy of Chicco.