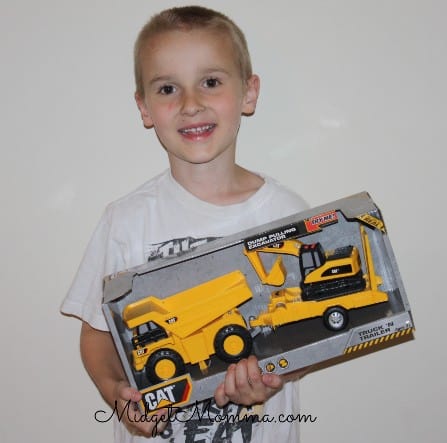 You have heard a lot about the Toy State toys and I have another fun group of toys to share with you.
The last batch of toys I would like to talk about are from the Road Rippers and CAT line. Let me start off with the Road Rippers Street Screamer. We got a Dodge Durango which is great since I love SUV's. This vehicle is also motorized. What makes this toy so awesome is that the longer you hold down the button on top the faster you go!! You can literally scream this one down the street!! The last Road Rippers from this set is the Rev-up monsters. My youngest got to test this one out. It came with a triceratops design. This is quite simple. You rev it up and let it go. What is awesome is that this simple concept can be hours of fun to kids! (and adults too!) The last toy I would like to tell you about it the CAT Truck 'N Trailer Dump Pulling Excavator. This is a dump truck with a bed trailer and on the bed trailer is the excavator. The Excavator lights up and also speaks like there is an actual person in it. This can be tons of fun especially if your child likes construction!!
Disclaimer: This post is sponsored by Toy State. All opinions are 100% my own.