When I was contacted recently to check out the new Halloween goodies that you can get for pets at Pet Smart we had a new first in our house with our cats…. costumes! We picked out Iron Man and Captain America as the two costumes for our 2 younger cats, Muffin and Jazmin to wear. Our oldest cat Tucker being a big giant baby we knew would not be up for costumes and so he will be himself for Halloween 😉
The cats have never worn a costume before and I was quite shocked that neither of them put up a fight to wearing them, they are light weight fabric and the velcro makes it easy to slip on and put on them.
Jazmin my 3 year old cat is going on Iron Man – doesn't she make a cute Iron Man? She is a peanut and was the runt of the litter so she is still really tiny height wise and has a little bit of chubby and the extra small fit her perfectly. She just doesn't like the hood part but doesn't seem to mind the rest of it so I am thinking that we might be looking at some clothing for her as well! Yes I said clothing and more so for the fact that because she is so tiny she shivers often when it is cold out and I never really thought of putting clothing on her because well she is a cat.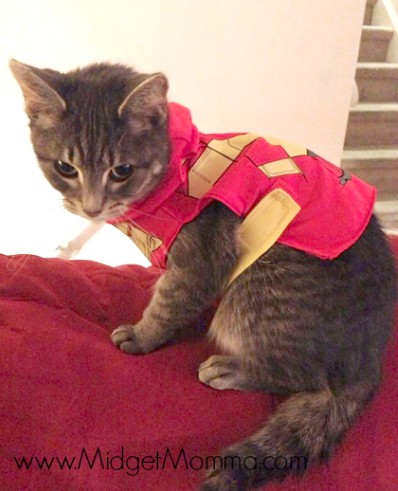 Muffin, who is about 4 years old will be Captain America for Halloween, he is about 12 pounds but he is tall and skinny and the extra small dog costume fit him as well. To bad he would not sit still for anything for me to take his picture 🙁
Tucker, who is 8 years old, was all into the toys though except for the one that they smack around, staying in true scaredy cat Tucker style he hissed at it and then ran away and hid under McKenzie's bed. Nothing unusual for him though as he is scared of anything that is new that comes in the house and has been since we got him 7.5 years ago so I was shocked when he did enjoy some of the toys. He is totally not a cat toy type of cat.
We also got a lot of great toys for the cats, to bad the ran off with a bunch of them before I could take the photo and I can not find them anywhere!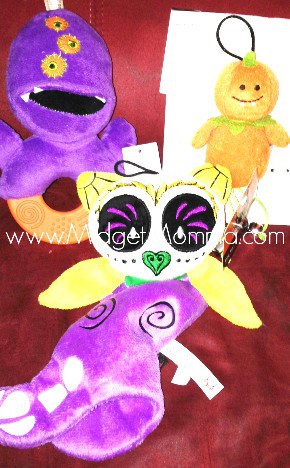 If you are looking for Halloween goodies for your pets from special treats, to costumes and toys Pet Smart is a one stop shopping trip for your furry friends 🙂
Disclaimer: I was provided products to facilitate my review, no compensation was received and all opinions are 100% my own.