As many of you know last week Logan and I headed to NYC for a day, not only was it a very special day because it was his birthday but we were attending the press junket for George Lucas' new movie Strange Magic. My review of this movie will be up in a few days but I am excited to share with you some behind the scenes information about this movie and this part of our Birthday trip to New York City for Logan's Birthday.
I am one of those people who can never seem to get where I need to be on time and Logan was super happy when we arrived and we realized that we were 40 minutes early and that meant he was going to get a front seat, better then just a front seat Logan ended up with the front row, middle seat which put him with the best view point for all of the interviews and it meant that when George Lucas came in the room Logan was right in front of him, less then 5 feet away the whole time making it so we were able to get the best for all of you 🙂 (which of course you all know is my goal to bring you the best all the time 😀 )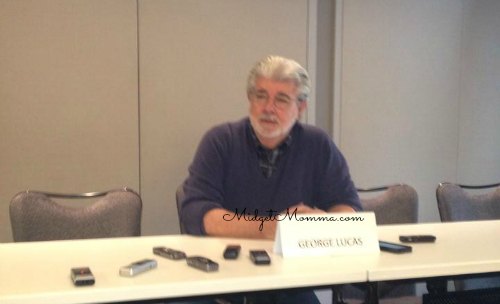 Interviewing George Lucas about The Strange Magic Movie brought some insight to the movie that I thought was fascinating as did Logan.
This movie has been a 15 year project, there was so much involved in making this movie and it really does show in the final product.
We all know of the Star Wars movies, and so many people love them but what you might not know is that the movies were originally made with the focus being on young boys and a movie for them (even though they took off and now everyone loves them no matter what age you are). Strange Magic was George Lucas' project to focus on the girls however just like his Star Wars movies, this movie will be one that everyone will love.
It is a musical, and done intentionally. The whole movie is song after song, ones that George Lucas loves and ones that he picked out to represent certain parts of the movie. With the intent that he would get to have all of the songs he enjoyed in the movie and there are songs from so many different genre's and different time periods over the last 15 years. Its amazing how it all came together.
George Lucas made this movie while working on the Star Wars movies and he made it because he just wanted to have fun!
Logan got to ask the last question of the interview (which he was so calm and collective when asking it and got right to the point 😉 )
Logan: Why did you make this movie?

George Lucas: "Because I wanted to have fun, I wanted to make a movie where I love music, and where if I make a movie with music I get to listen to music all day long. I don't have to say I have to go back to work and stop listening to music because I get to listen to music and work at the same time"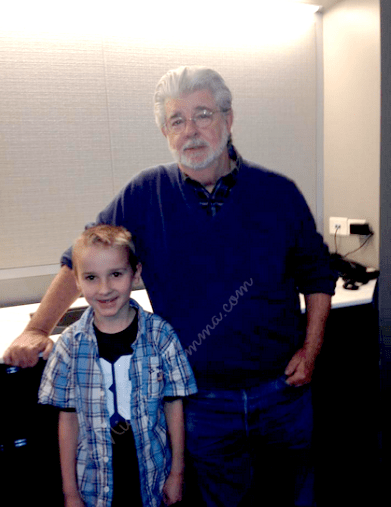 After talking with George Lucas, Logan got a great birthday gift and George Lucas took a photo with him 🙂
Then it was time to bring in the rest of the gang from the movie, which this was the first time that they all met because when recording an animation film they record alone and not with the people who are the other characters.
We spoke with:
Evan Rachel Wood (voice of "Marianne")
Alan Cumming (voice of "Bog King")
Elijah Kelly (voice of "Sunny")
Sam  Palladio (voice of "Roland")
Meredith Anne Bull (voice of "Dawn")
What was interesting is that when you look at the actors and then look at the characters from the movie, they resemble each other ALOT! When making the animation they made it so it looks like the characters are talking and by doing that features from the actors themselves end up in the characters. Looking at the actors you could tell who played each roll, and I have to be honest here Logan is the one who noticed that first.
All of the actors, said that making the movie was fun and that the whole process was an enjoyable time. Not all of them have even seen the final cut yet but that they are excited to see it.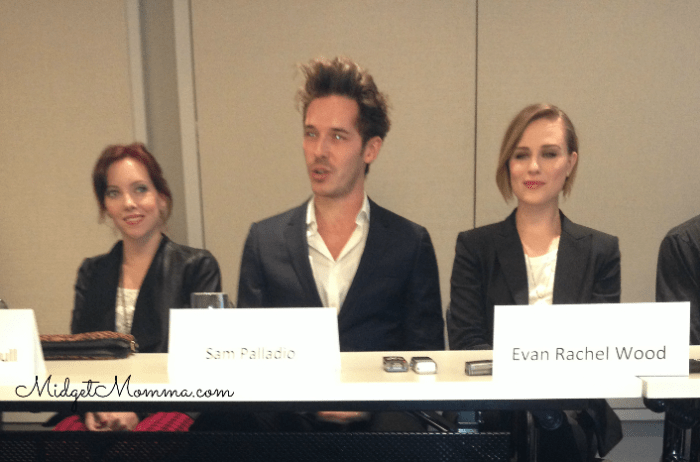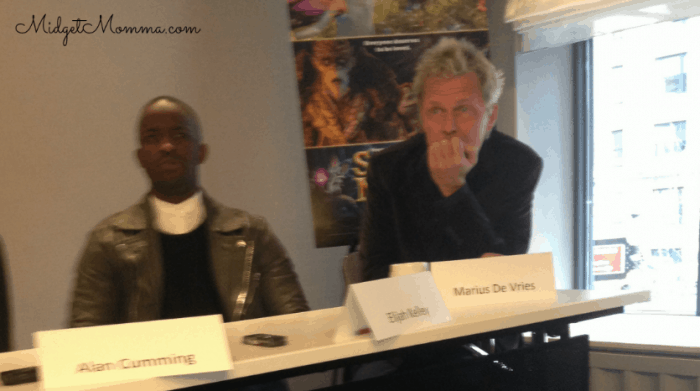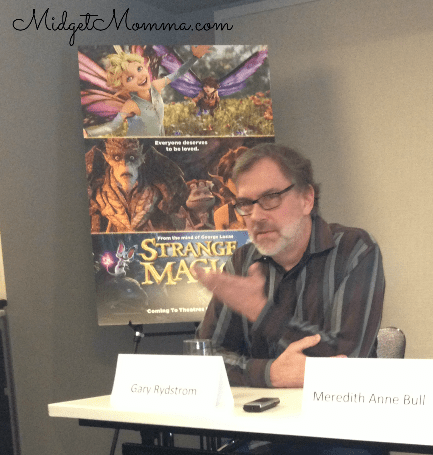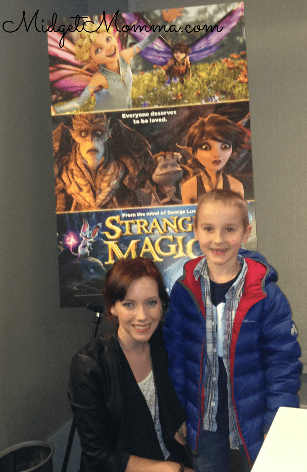 Make sure you also check out this awesome trailer to get a sneak peek of the movie. You are going to LOVE it and be on the look out for my review coming soon!
"Strange Magic," a new animated film from Lucasfilm Ltd., is a madcap fairy tale musical inspired by "A Midsummer Night's Dream." Popular songs from the past six decades help tell the tale of a colorful cast of goblins, elves, fairies and imps, and their hilarious misadventures sparked by the battle over a powerful potion. Lucasfilm Animation Singapore and Industrial Light & Magic bring to life the fanciful forest turned upside down with world-class animation and visual effects. Directed by Gary Rydstrom ("Toy Story Toons: Hawaiian Vacation," "Lifted") from a story by George Lucas, "Strange Magic" will be released by Touchstone Pictures on Jan. 23, 2015.
Like STRANGE MAGIC on Facebook: https://facebook.com/StrangeMagicMovie
Follow STRANGE MAGIC on Twitter: https://twitter.com/StrangeMagic
Follow STRANGE MAGIC on Instagram: https://instagram.com/StrangeMagicMovie
Follow STRANGE MAGIC on Vine: @StrangeMagic
STRANGE MAGIC opens in theatres everywhere on January 23rd!