Tom and I took the kids to Cow Appreciation Day a few days ago at Chic-Fil-A and we all had a blast! All 5 of us dressed up as cows. We printed out the pattern from the Chic-Fil-A site and the older 2 taped everyones parts onto their white shirts. We made head bands for Tom and Little Man's ears and the girls and I used bobby pins to keep them in our hair. We all got adorable stuffed cows and our FREE maels. Many Thanks to Chic-Fil-A for having Cow appreciation day. It really does make a great family outing. Did you dress up as a cow and get your free meal too?
Here is Tom and I dressed up (please ignore my exhausted looking face 🙂 ) I think my daughter did a great job with my "ears".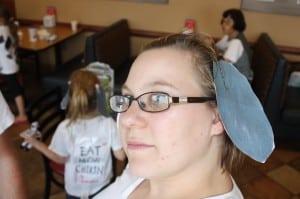 Join the newsletter
Subscribe to get our latest content by email.