It is busy busy busy in our house. Some days I have no clue what is for dinner until it is dinner time. Then I am running around like a chicken with no head trying to figure out what to feed everyone. I have been trying really hard to keep ingredients in the house that make a quick, easy and tasty dinner done in no time. I joined forces with Bird's Eye to share with you this Chicken Alfredo Veggie Pasta, that is SUPER QUICK to make!
Recently Bird's Eye came out with a new veggie item, Veggie Pasta! Veggie Made Pasta from Birds Eye is the perfect pasta. It has the great taste of traditional pasta, the goodness of vegetables and comes in a convenient microwavable package.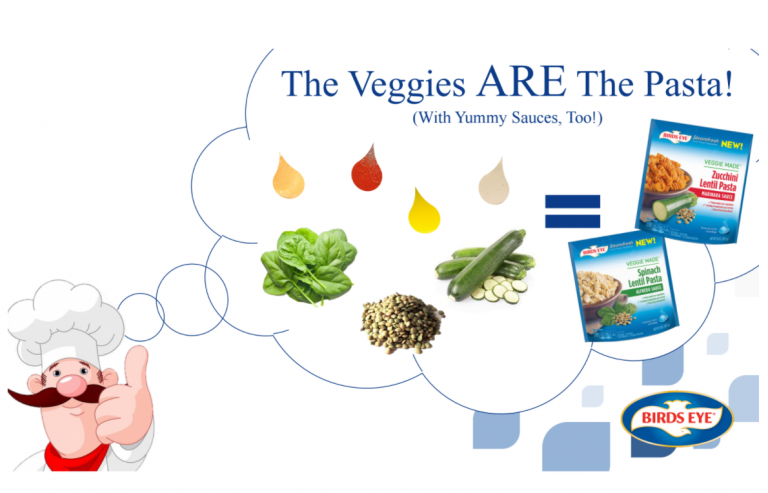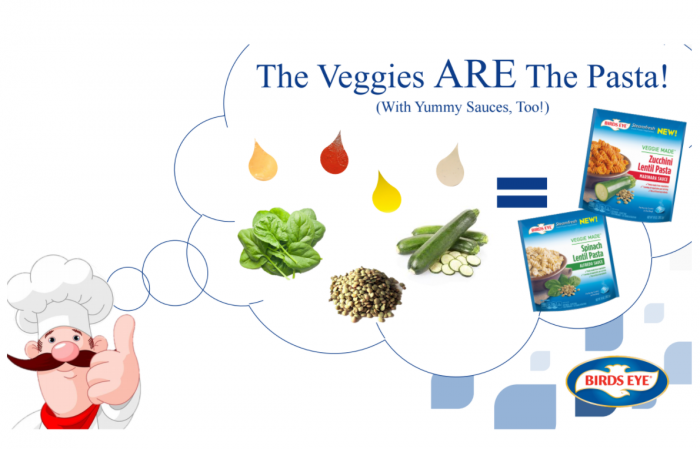 Even better then the Veggie Pasta tasting amazing, no one in my house even realized it was made with veggies! Veggie Made Pasta tastes, looks and feels like traditional pasta, while offering a full serving of vegetables – and unlike other
options, this pasta is easy to prepare and ready in minutes. They have plenty of different flavors to pick from, but we are HUGE Alfredo fans in this house so that is the one I have been keeping stocked in the freezer!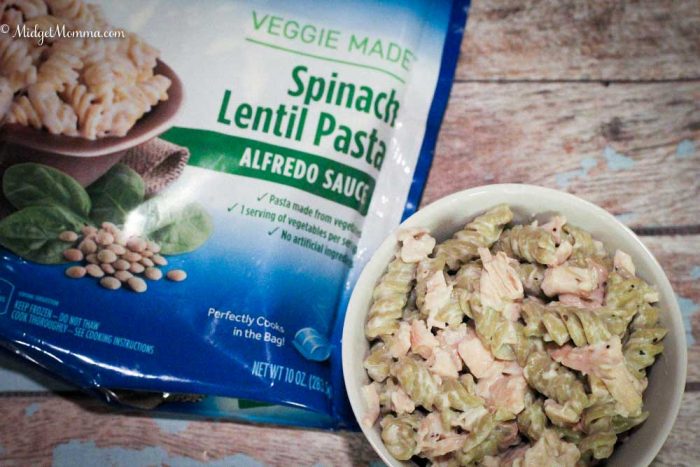 Oh and let me not forget this other awesome fact. There are NO preservatives! They only use flash freezing to keep them fresh!
I can make a quick run into the store and grab a rotisserie chicken and then add that into the Alfredo Veggie Pasta and have a meal done in under 10 minutes from the time I walk into the door! If you have cooked chicken already at home then you can use that too! I just haven't been able to plan that far ahead recently.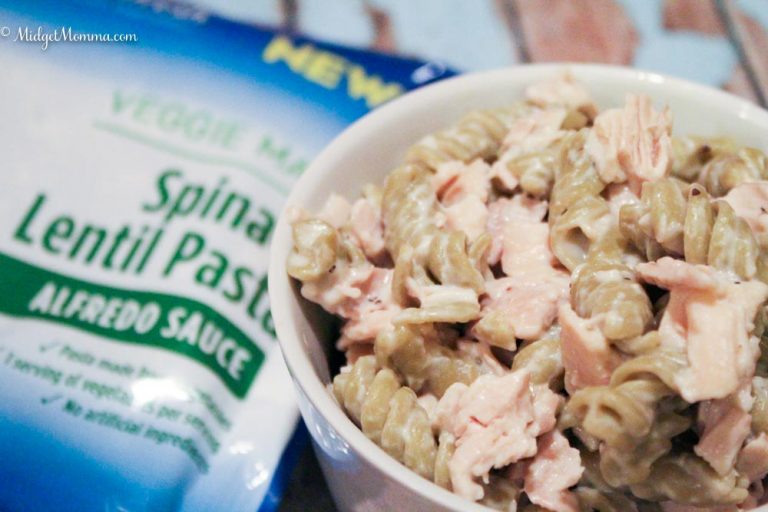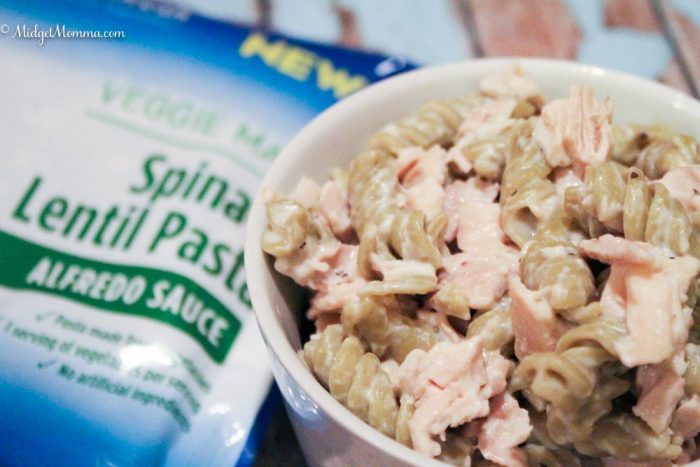 Chicken Alfredo Veggie Pasta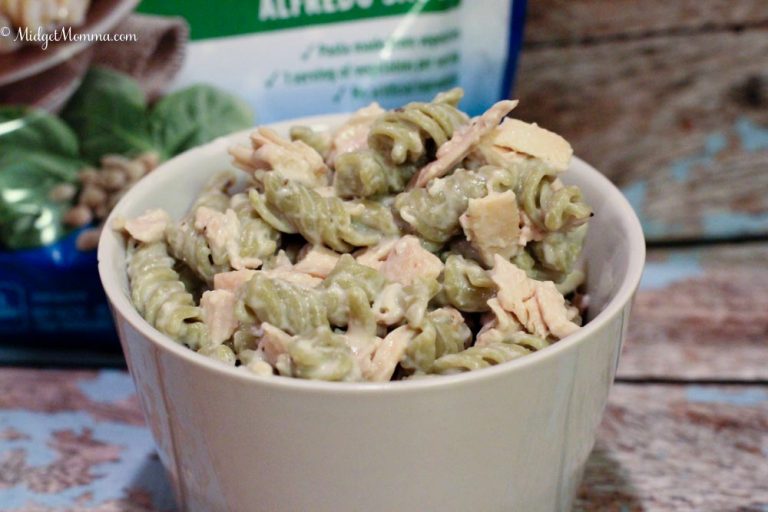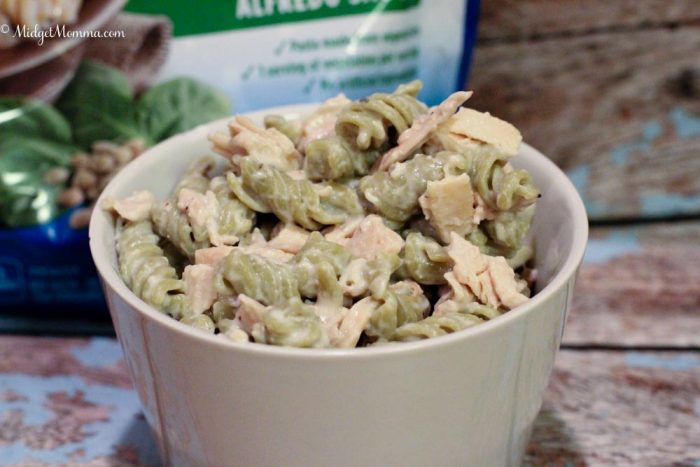 Chicken Alfredo Veggie Pasta Ingredients:
Bird's Eye Alfredo Veggie Pasta – For the 6 of us I used 3 bags of Veggie Pasta to make enough for a dinner meal.
Rotisserie chicken
Chicken Alfredo Veggie Pasta Directions:
Heat Bird's Eye Veggie Pasta according to package. While heating up your veggie pasta cut up your chicken. Use 1 cup of chicken per bag of Bird's Eye Veggie Pasta.
Once Veggie Pasta is cooked, pour into a large bowl. Add the chicken and mix well.
Serve with a side of bread and salad and tada! Dinner is done, quick and easy!
More Chicken Recipes to check out! 
Slow Cooker Parmesan Garlic Chicken Bake
Rosemary Garlic Chicken Meatballs