I LOVE reusable bags!  I've only recently started using them, but there's so many great things about them and it has very little to do with being greener, that's just an added bonus!  I did a post the other day on getting paid to use them, which I take full advantage of!  They're more durable (no tearing on the way into the house), easier to carry (even when filled to the brim with heavy groceries!), and super cute…especially when you've got Chico Bags.  They have tons of styles and patterns to choose from and they bunch up in their very own mini-bag with a clip so you don't forget to bring them with you.  I keep mine attached to my purse so I always have them.
I decided to do an experiment – I kept telling my mom that the large Chico Bag can hold three times what a plastic bag can and it's easy to carry heavier things.  I was estimating so I decided to try it out.  I took my Vita Chico Bag in Green Tea and filled it with random stuff from my pantry.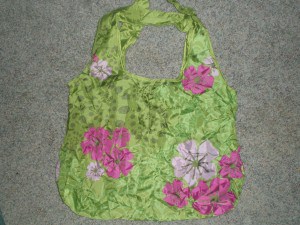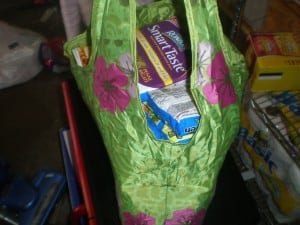 It fit: a box of pasta, 3 packages of ramen, a bag of flour, two boxes of cake mix, three boxes of baby cereal, three cans of Campbell's, a big can of baked beans, two cans of spagettios and two cans of refried beans.  I was able to carry it around my garage.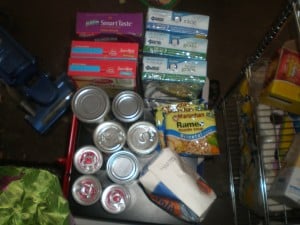 Then I put all that stuff into plastic bags.  Turns out…I was close.  I had to use a third plastic bag to fit it all, but it was only half full: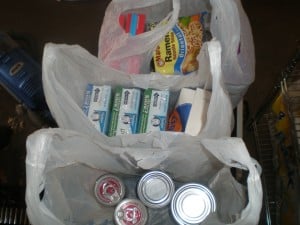 So I could carry two reusable bags into the house and it would be equivalent to about 5 plastic bags.  And its a lot taller so it fits big boxes of cereal and frozen pizzas without affecting your hold on the handle.  They also sent me a Sling Bag to try out and it's fantastic!  I use it for small trips – it doesn't fit as much but it is even easier to carry and its even great for when I take the kids for walks.  I can put a couple drinks or snacks in there and it lays perfectly on my hip and doesn't get in the way.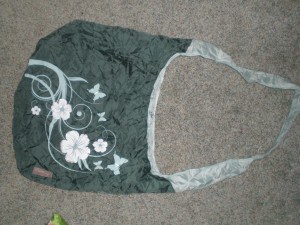 BUY IT
Visit www.Chicobag.com to find your own style or check out their facebook page!
Disclaimer: I was provided product to facilitate this review, I was not compensated for this review. All opinions are my own.
This post may contain affiliate links. Please read my disclosure policy here