It has been a while since I have given you guys a run down update post on how things are going here. I wanted and had high hopes of posting blog posts often of what is going on with us and what we are doing and the new things going on with Hannah and well life got in the way. I am going to try and try hard to be better to keep you all updated via blog posts vs just on the MidgetMomma facebook page.
So where to start…I can't really remember where you guys were "updated" to so I am going to start with Christmas! LOL
We had a laid back Christmas break – as in we actually did no traveling this break. Normally I cram in a lot of blog trips and stuff into this time but this year I just wanted to relax and have us all hang out so that is what we did.
Christmas we had Christmas Morning at our house and then after the kids opened their gifts from Santa we headed on over to my parents house to spend a few hours with them and my sisters, her husband and my nephew and then my other sister and her boyfriend were there also. I totally forgot this year to take the "must have" kids in front of the tree photo and didn't remember it until after Tom had already taken the tree down :/ well, I guess there is next year LOL. But I did get the kids photo in their Christmas pj's on Christmas Eve so I didn't totally fail in the mom department there 😉
I am thankful for this Christmas after the scary times with my Dad back in August and having him here for Christmas really made me think back to August when he was in the hospital and there was a chance he wouldn't be celebrating with us.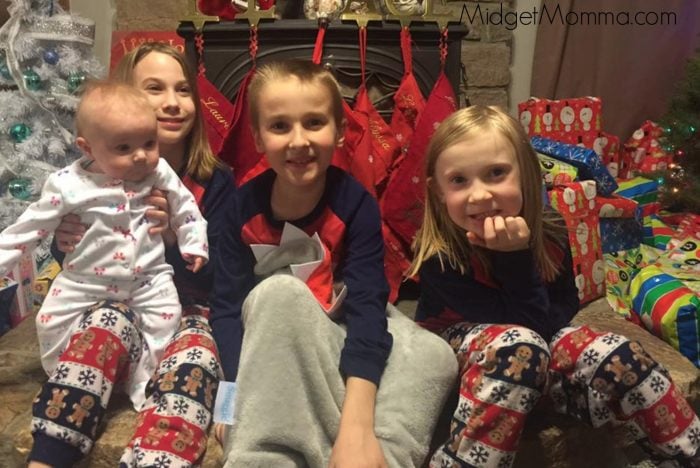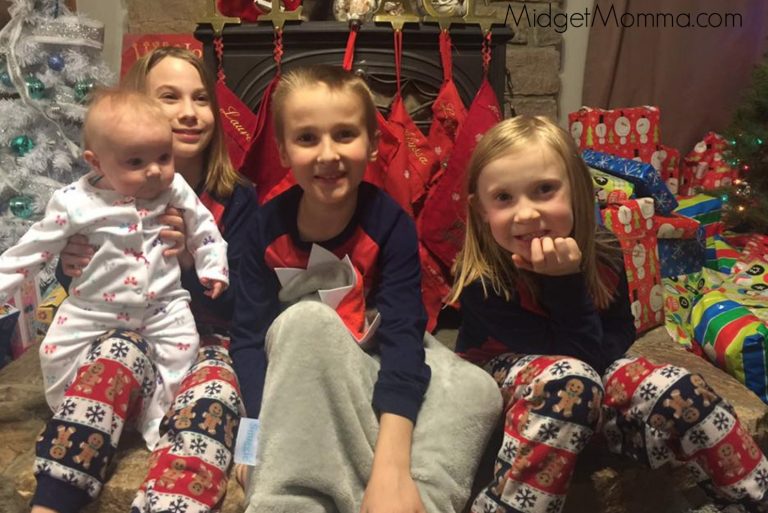 We got to see my Grandmother MiMi after Christmas as well and she got to meet Hannah for the first time <3 Hannah and I also took my MiMi out to lunch one of the days she was here. She lives in Virginia so we don't get to see her as much as I would like to and I can't remember when I had the chance last to go to lunch with alone. I need more alone time lunches with her as it was a great time and I am going to make sure that anytime my MiMi is up visiting that I take her out to lunch!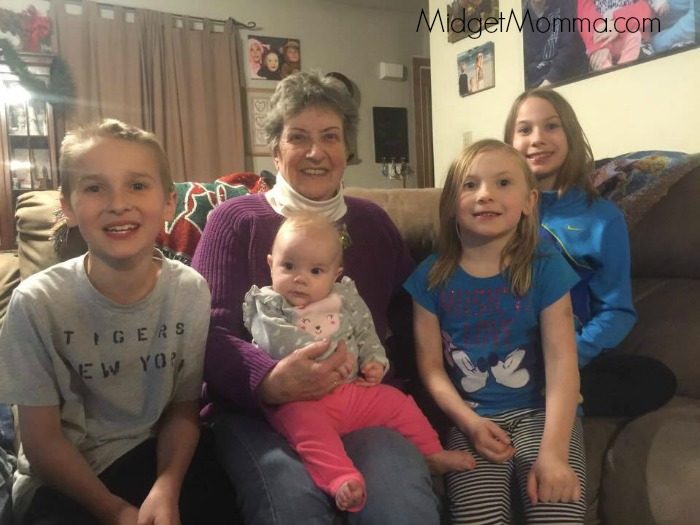 The kids and I went to see Sing the movie. My sister had to work so I brought my nephew along with us. Thankfully the theater that is close to us is small, there is never anyone there and so bringing 5 kids including a baby and a 2 year old is not as scary as it sounds 🙂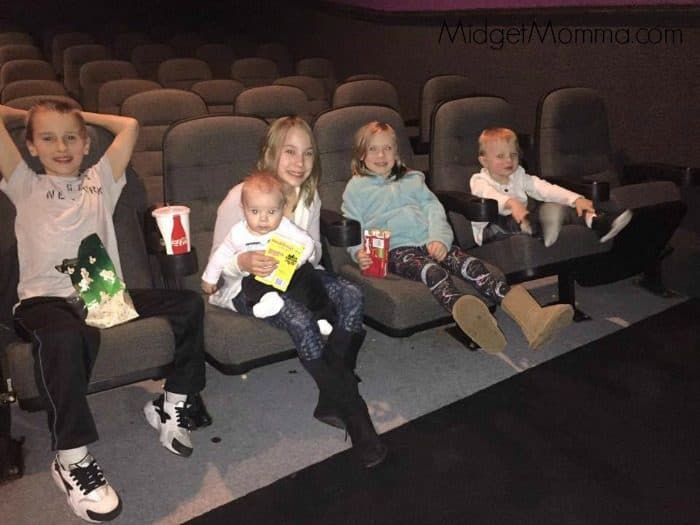 Logan's birthday was this week – he turned 10! I am not sure I am handling it all that well, I can not believe he is 10 already! We went out to dinner at Olive Garden and did what we do best to embarrass Tom while at dinner taking selfies and making faces 😉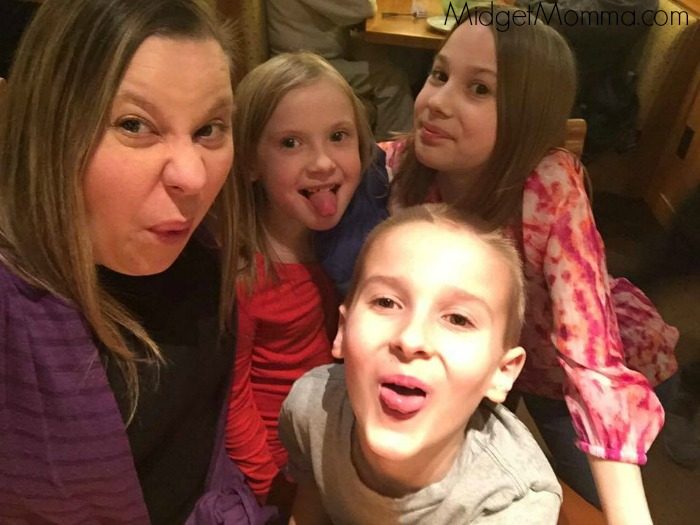 In the next few weeks McKenzie and Alyssa will also have their birthdays….HOLD ME! They are growing to fast and we are going to hit our last tween year with McKenzie this year when she turns 12!!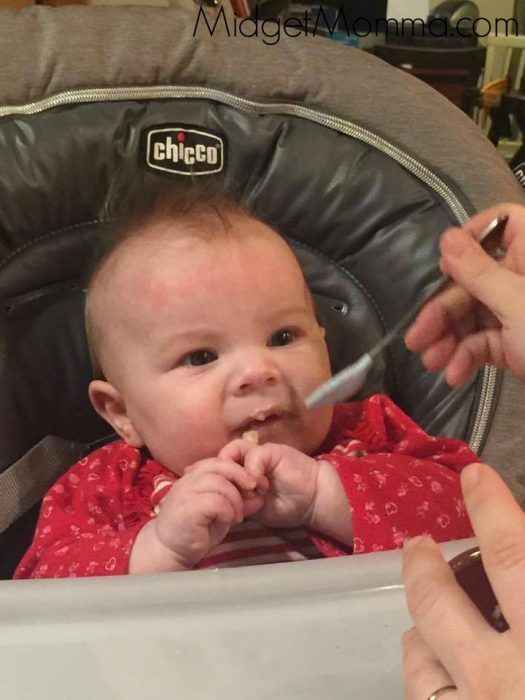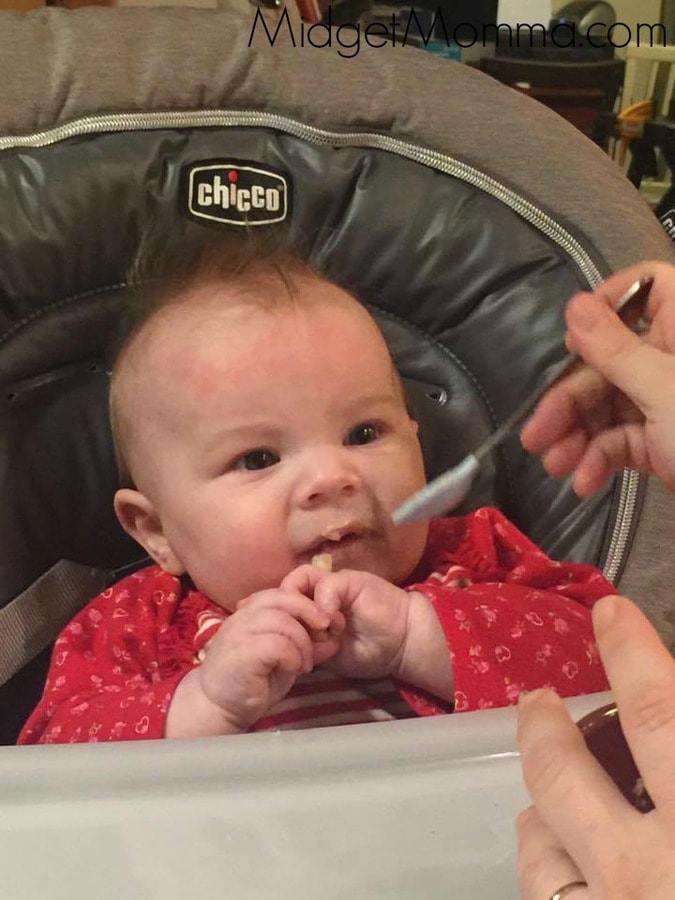 Hannah is now 4.5 months old and I wish time would slow down – she apparently thinks she should be growing up faster then she should. I planned on waiting until 6 months to give her any baby food but then she thought she should have some of our food by shoving her hands in the food on my plate so that was pushed up a little bit. She had cereal and loved it – then we tried some bananas, apples and then pears and she has loved them all. So at this point we are giving her TINY amounts of baby food just to keep her happy because other wise we all end up with a mad baby who is trying to grab our food.
AND the biggest news on Hannah is that she rolled from back to front yesterday for the first time!!! She has not been a fan of tummy time, was refusing to even try to roll over so I was a happy Mommy last night when I was getting the bath ready for her and then turned around and she had rolled over on the bathroom floor! We have been putting her in her walker and she had figured out how to scoot around the kitchen and dining room in it – that took her about 30 minutes after the first time we put her in it. I tried to get a video of her doing it but typical baby mood – she stopped once the camera came out HAHA
How is everything going on in your life? I am going to try, I promise to make sure I keep you all updated. Feel free to be like her Lauren wheres the update 😉