For ages, it has been thought that a clean house was a job that mom's did. This may have been true back years ago. Nowadays, more and more dads are helping to clean the home and in some cases cleaning it themselves, according to the Swiffer Cleaning Index, Dads today are pitching in nearly two times more than their Dads did! I do my fair share of cleaning in my home but I needed to learn more and so I was SUPER excited when the big green box from Swiffer arrived. Lauren told me that now I have what I need to get the house clean "the way she like's it". And she likes it clean clean. So I opened the big green box and what was inside? A Swiffer Wet Jet!!! The Swiffer Wet Jet allows you to retire the old fashioned mop and bucket! It's an all-in-one mopping solution that traps and locks dirt and grime instead of pushing it around, and I couldn't wait to show what I could do with this beauty!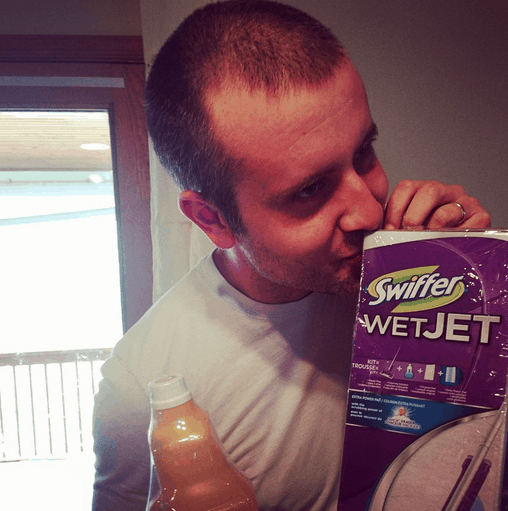 (I may have also kissed the Swiffer upon taking it out of the green box 😉 )
So as I said, the big green box had the Swiffer Wet Jet, extra pads, and some Swiffer cleaning solution. I took it out of the box and was excited to start cleaning. There is something else I should say, my kids always look to me to see how and what I am doing, they look up to me (and their mom too of course) even when it comes to cleaning along with everything else I do that they see. When I decide to show what I can do cleaning,  my kids will see it and are likly to follow. You could say I'm their cleaning role model! So what would they think when I cleaned the floors with the Swiffer Wet Jet? I was about to find out.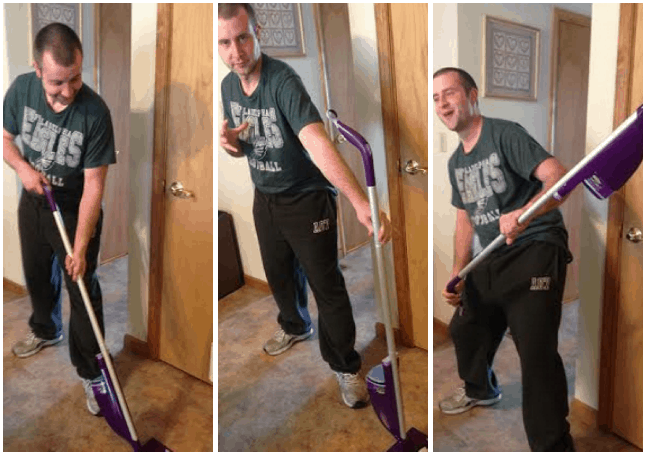 (Dance while you cleans, not only does it make it more fun but the Swiffer Wet Jet made a great dance partner!)
So let me tell you what happened after I cleaned with the Swiffer Wet Jet. First, it was super easy to clean the floors with. All you do is hit the button on the handle, the cleaning solution sprays out, and you move the Swiffer Wet Jet with the cleaning pad over the area where you just sprayed. It is the easiest cleaning you (and I) will ever do. After you use the Wet Jet, you can simply tear off the used Power Pad and throw it in the garbage, making clean floors simple and effective. I was very impressed with the ease of it. And the floors are the cleanest they have been since we moved in.
Now that I can clean the floors with ease, I think ill go and tackle the yard…. On second thought I think ill just go clean another floor with the Swiffer Wet Jet. That sounds more fun!
Disclaimer: I was selected for this opportunity as a member of Clever Girls and the content and opinions expressed here are all my own.