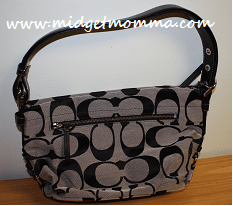 Wahoo! There is a 30% off Coach Outlet Coupon that you can print and head into your local Coach Outlet Store! Make sure you head to the clearance section of the store because you will be able to score some really AWESOME deals! Coupon is valid through July 24, 2012.
Here are some of the deals I have scored in the past at the Coach Outlet store with my 30% off coupon and the clearance section 🙂
$148 Coach purse for only $20!!!
Thanks a Few Shortcuts
This post may contain affiliate links. Please read my disclosure policy here