Do you remember back when you were in elementary school making paper snowflakes as your craft? Did you know that you can make them with coffee filters? This Coffee Filter Snowflake Craft is so much fun for the kiddos to make!
The material of the coffee filters makes a great medium to apply color too. I like to stick to tones in the blue family but you can let your child decide what color snowflakes they would like. You can let your child draw whatever kind of pictures they would like before you turn them into snowflakes.
This Coffee Filter Snowflake Craft turns into a small science experiment when they learn how water gets absorbed into the paper. They will watch the colors blend as the water slowly travels up the coffee filter. When we are done and have a few snowflakes made I allow them to dry and use them as decorations in our house for winter. My favorite spot to use them is on the windows with just a small piece of double-sided tape and they look like magical snowflakes falling.
I buy a big box of 200 coffee filters, this way whenever the kids want to make these we can! It is under $3 for 200 of them normally. 🙂
We also like to make Paper Plate Christmas Trees and new Night Before Christmas Foot Print Canvases to decorate the house along with our Coffee Filter Snowflakes!
Coffee Filter Snowflake Craft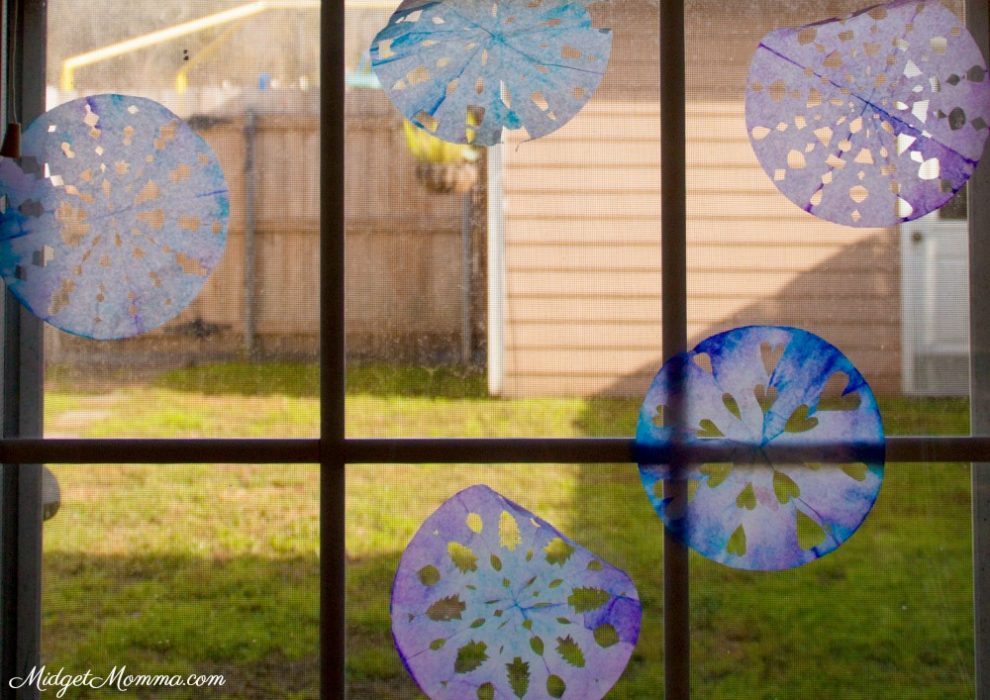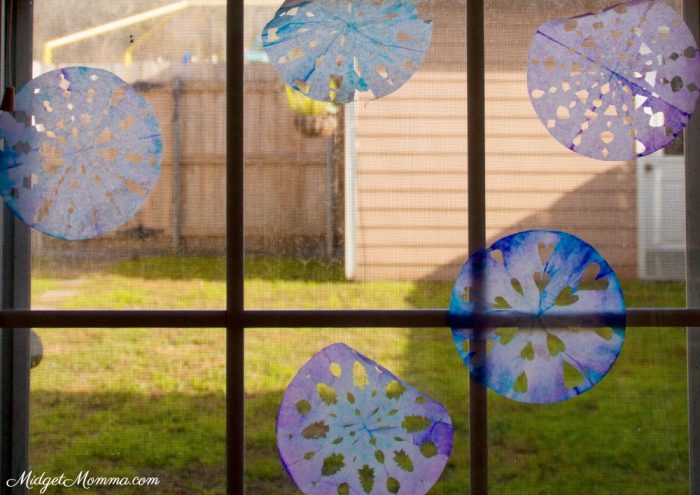 Coffee Filter Snowflake Craft Supplies
Coffee filters
Washable markers
Water
Cup
Paper towels
Coffee Filter Snowflake Craft Directions
Let your child color the paper filters anyway they would like to, I like to give them blue and purple markers to keep them around the same color tones.
Fill the cup with a quarter inch of water.
Fold your paper filter in half then in half again and once more in half. This way you end up with a triangle.
Dip the bottom tip of the triangle into the water and watch the water make its way up to the top of the coffee filter and blend the colors together.Remove the coffee filter from the water and place it on to some paper towels to dry. Repeat this with all of your coffee filters.
Once the coffee filters are dry make small cuts along the edges of the coffee filters in different shapes to create a snowflake.
Unfold the coffee filter and enjoy your snowflakes.
More Crafty fun for the kids! 
More Christmas Fun for Kids
You can Facetime Santa for a fun Santa Phone Call!
There are so many tasty christmas treats that the kids will love and they are all perfect for any kids Christmas parties that you might have. Some of our favorite Christmas treats are Santa Hat Cupcakes and Whoville Cookies ! But you can check out the full list of Kid Friendly Christmas Treats and pick out your favorites to make with the kids!
Does Elf on the Shelf come to visit your house? If so make sure you check out these awesome Elf on the Shelf Ideas!
If you are doing Elf on the Shelf, then be sure you also print out the Elf on the Shelf Rules and the Elf on the shelf Letter!
Looking for Christmas Crafts to do with the kids? We have lots of those too! So be sure to check out the Easy Christmas Crafts for Kids, for LOTS of fun Christmas Crafts Ideas to do with the kids.
If you are looking for cookie recipes we have you covered there too! Check out our Beautiful Christmas Sugar Cookies, and Christmas Tree Desserts Recipes!