Many of my cooking tips and tricks I can't take full credit for, they come from my dad and when I am stumped on something he is the first person I call (so you can really thank him for this awesome tip). When I was a kid my dad used to make huge batches of pancakes and then put them in the freezer for us. I now do the same thing for my kids, it not only is a time saver but a money saver as well. The one main thing I learned from him is that making pancakes can be very messy and if you use a spoon to put the batter in the pan you will end up with a HUGE mess.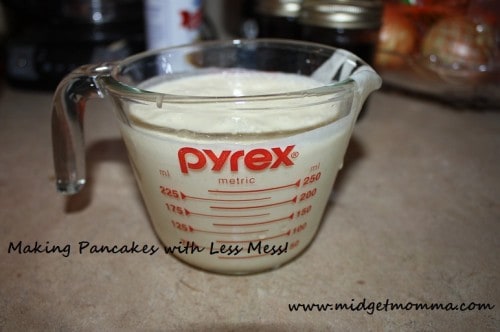 My dad used a pyrex measuring cup and it is really easy to make them this way, there is hardly any mess and it makes it easier to make different sized pancakes. All you have to do is use a large spoon and put the batter into the measuring cup and then use that to pour the batter into your skillet or in to your pan 🙂
Join the newsletter
Subscribe to get our latest content by email.