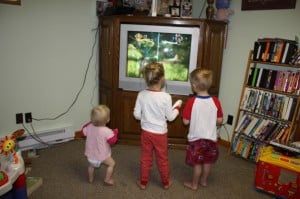 This a picture from a few months ago, when we had family Wii night and we plays different Wii games and we all had a blast spending time together and just having fun!
We have all been there, where we wanted to get in on a deal at CVS or the grocery store, got there and it was gone and it is a bummer to miss out on it. There are also times when life gets crazy and we miss deals and that stinks too, but it is important to remember that deals come and go with coupons and that there will be another deal and another coupon and that there are times that life is more important then saving .50.
I won't lie and say I have never been sad to miss a deal because I have been there but I learned a while back that while couponing and finding deals is how my house lives and survives to have the things we have there are things that I can not ever get again. Things like spending time with the kids, having a family movie night or just playing barbies with my daughter or trucks with my son are things that won't come around again because kids grow up way to fast and the time that they are little should be enjoyed. There is no deal that is worth missing quality family time and making memories for.
There was a time when I used to do my shopping late at night after the kids went to bed, for the sole reason of not missing out on spending time with them. I was in school, blogging and had just had our youngest daughter and the time I had with the kids was valuable to me so instead of doing my shopping with them awake and leaving them home with hubby (I am sure you all know the fun that it can be with 3 unhappy children and a few different transactions) I would wait until they went to bed. At the sametime as balancing life with kids and coupons it is important to not forget those others in your life such as your spouse, friends and family that memories can be made with and time be spent with.
I know I am rambling a bit here but my point is that a deal will come around again, you will have the opportunity to stock up and get deals again but the time with your family and friends is more important then any deal that comes around.
Join the newsletter
Subscribe to get our latest content by email.
This post may contain affiliate links. Please read my disclosure policy here