My total for all that was $21.90 and it is all name brand, in excellent condition clothing!
I know some people say eeek! A Thrift store but not only can you save money by going to the thrift store but in the end you can make money! Gymboree is a HUGELY sought after second clothing company, there are so many people on ebay and going to yard sale hunting down Gymboree clothes for their kids, and with such amazing quality there is no questions as to why people want Gymboree. Now you can get it at very good prices new at the store when you combine the clearance with a coupon but hitting up a thrift store you can score even bigger (and the same goes for all brand name clothing)
The challenge with shopping at a thrift store or second hand store is that you do have to sort through lots of clothes and it is not all going to stuff you want to buy but trust me it is well worth it, there are many times I have found brand new name brand clothes with the tags still on it for $1 or $2!
A few days ago I hit up our local thrift store, just to see what I could find and I scored awesome! (another tip is find out when your thrift store has discount days, ours has certain days where certain color tags are 50% off!)
Here is what I got that is Gymboree, all of it looks brand new, no stains, tears or anything wrong with it
Last year I had my eye on the blue and brown hoodie for my son, but I was never able to find it at a price that I was willing to pay so I was excited to find that at the thrift store and my favorite find of the day is the knit skirt you see in this picture, it is from a few years ago and it never made it to the sales rack and I had fallen in love with it so when i saw it i screamed at hubby and he thought I was crazy lol.
My Gymboree Score- total at the thrift store : $9.47
Knit Skirt- .50 (originally .99 but had a 50% sale)
Brown and Blue hoodie -3.99
Brown Sweater- 1.99
Stripped sweater- 1.99
Jean skirt- .50 (originally .99 but had a 50% sale)
Long sleeved Blue  Shirt- .50 (originally .99 but had 50% sale)
Buying that all in the store at full price would have been around $170, yes it is not brand new lines from this year but that does not change the quality.
I also scored great when I found a baby Gap Polo brand new with the tags on it for $1.99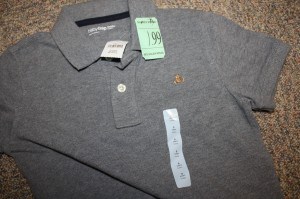 Now you may be wondering how I would be able to make money off this as well, it is easy after your kids out grow clothes you can resell it at either a consignment store, ebay or at a yardsale. Clothing like Gymboree sells very well at second hand stores and yardsales because of the quality of it. There are times that if you pay .50 for a Gymboree skirt that after your child wears it you can sell it and get quite a bit more then what you paid for it. This then helps your budget when you are buying more clothes for your kids.
When I shop at thrift stores I do not buy nonname brands, I can get them cheap if I wanted to at Walmart and the cheap brands do not last with my kids, so for me no matter if I am buying clothing at a thrift store, yard sale or at the store I always buy name brands because I know it will last and I am not wasting my money.
Do you shop at thrift stores or yardsales for your kids clothes? What are some of the best deals on clothes that you have found at a thrift store or yardsale?
Join the newsletter
Subscribe to get our latest content by email.
This post may contain affiliate links. Please read my disclosure policy here