You can really find awesome deals at thrift stores. Recently I took a trip to one of my local thrift stores and found a lot of awesome deals! Now you do have to sort through lots of clothes, but I found everything you see in the picture below for just $14.11 and it is all Brand name and looks BRAND NEW!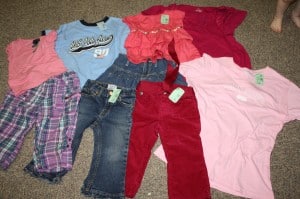 1 Pair Children's Place jeans @ .99
1 Pair Children's Place pink pants @ .99
1 Ralph Lauren shirt @ .59
1 Gymobree Shirt @ .59
1 Polo Association shirt @ .99
1 Pair Children's Place Capris @ 1.99
1 Children's Place jean skirts @ 1 .99
1 Penn State Nike Shirt @ 2.99
1 Old Navy Shirt @ 2.99
Not bad at all for $14.11, especially since it all Looks BRAND NEW!
Tips for Shopping at Thrift Stores:
Many thrift stores use colored price tags and on certain days certain colors are on sale. Look for items that are on sale that day to make the price even cheaper
Sort through everything, you never know what you are going to find
Have the time, Do not go in to a thrift store thinking it will be a really quick trip. There are racks and racks and racks at my thrift store and you have to sort through them to find the good deals.
Shoes:The one thing (other then underwear, socks and swimsuits) that I refuse to buy at the thrift store. I do not recommend buying shoes that are used unless you have to only because people's feet are different and cause shoes to wear differently and it can hurt your child's feet.
Clothes are not the only bargains you can find at thrift stores, many have home decor, couches, furniture, toys and much more
If you are looking for something unique a thrift store is the first place to look, you never know what you will find!
Some Well Known thrift stores are The Salvation Army and GoodWill
Do you know of any good thrift stores near you?