The supplies needed to make this cute little snowman are 3/8″ white grosgrain ribbon for the snowman body, 3/8″  brown for the arms, 5/8″ and 3/8″ black for the hat, 3/8″ ribbon of whatever color or design you would like the scarf.  I also used a thin white and silver ribbon to add some detail to the hat.  You will also need a glue gun, lighter, and whatever you would like to use your snowman on. I attached it to clothespin with a magnetic strip glued to the back so it can be used on the refrigerator.
To make the body cut 7  strips of white ribbon. Each strip should be a little bit smaller than the one before.  Glue each strip into a loop by overlapping the ends and gluing it into a ring or O shape. Use the largest loop for the body of the snowman and the second largest loop for the head. Place the other loops inside of each other. There should be a total of 4 loops for the bottom and 3 for the head. Hold it all in place by one drop of glue between each loop. The snowman body is now complete.  I then wrapped one small piece of ribbon around the center for extra support and to cover where all the loops were connected.
To make the scarf  wrap one ribbon around the neck making a loop with the overlapped ends towards the back. With a second strip of ribbon I cut the ends into a "dove tail".  The easiest way to do this is to fold the ribbon in half lengthwise and cut in an angle from the folded side back to the ends giving a perfect V shape.  Fold the ribbon like you are making an awarness ribbon and glue it in place.
The arms are a 3/8″ brown ribbon cut in half lengthwise and then heat sealed with a lighter to keep it from fraying and then glue them to  the back of the snowman.  You can also heat seal the ends of the scarf if you wanted. If you don't they will fray, but that is totally fine because it will end up looking like fringe on the end of the scarf and that would be really cute too!
To make the hat cut a small piece of 5/8″ black, heat seal, and then glue a 3/8″ strip on top to make the brim of the hat. I then glued on a small strip of decorative ribbon to add a little sparkle.
Then glue the hat on the snowman either right on top or off at an angle and you have a very adorable little snowman.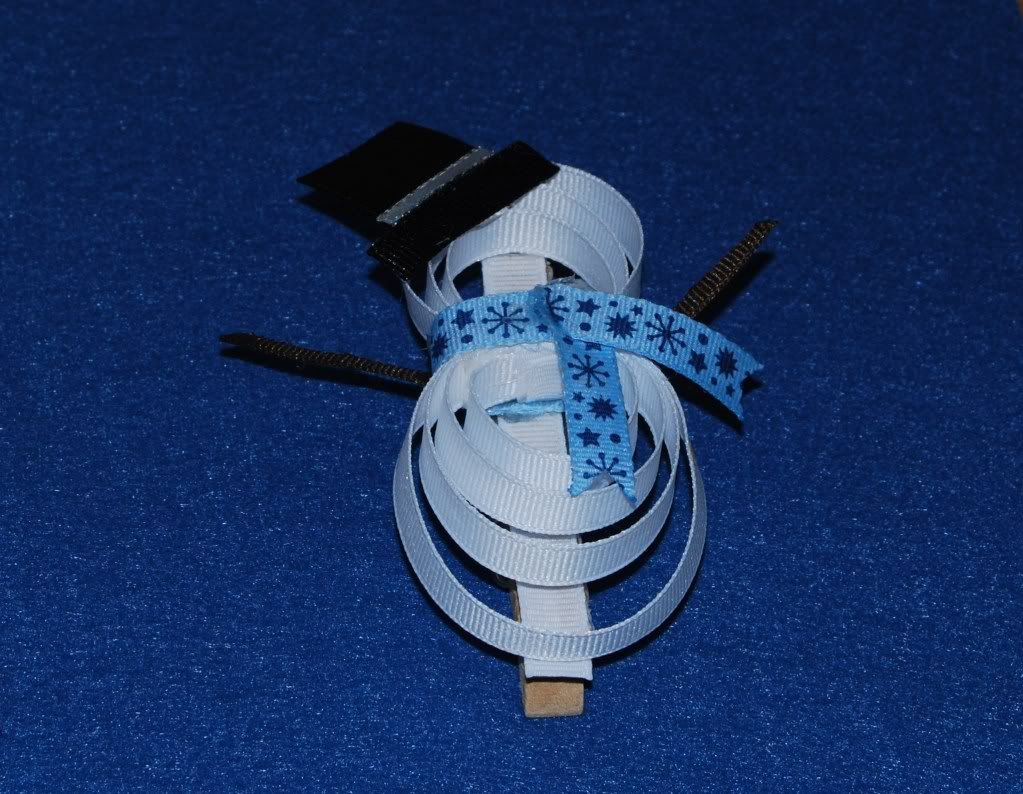 I glued a strip of the white ribbon onto a clothespin and then glued a magnetic strip to the back so it could be hung on the refrigerator. Other options are to glue the snowman onto a lined hair clip or attached to a wire or hanging ribbon to hang on the tree as an ornament.   You can use the snowman instead of a traditional bow on a present or clip it to a gift card to give to those hard to shop for people. 🙂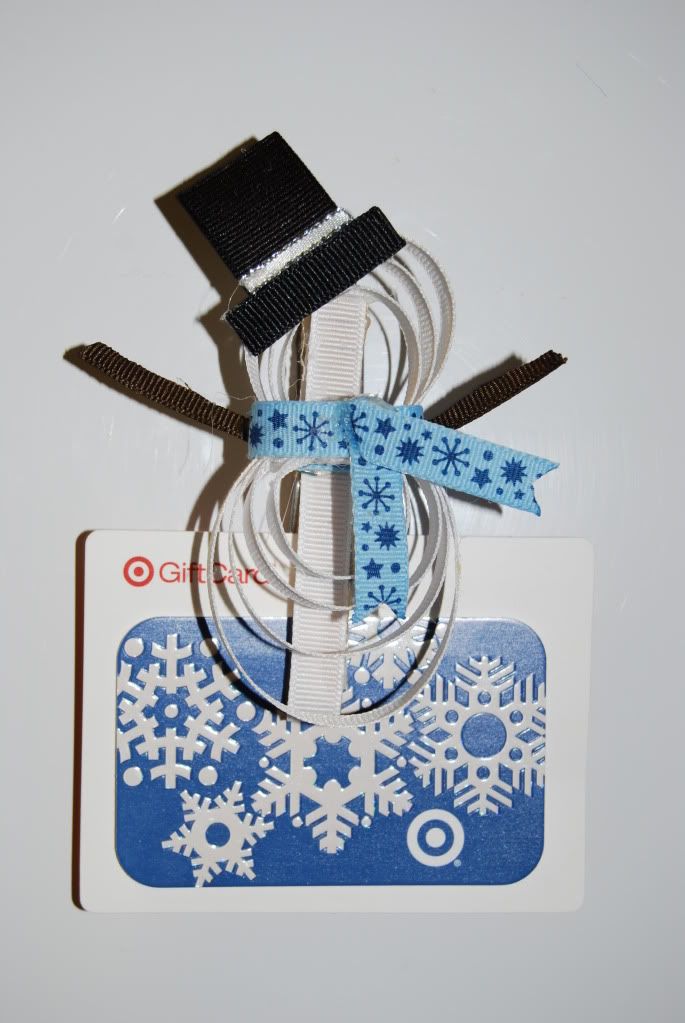 This post may contain affiliate links. Please read my disclosure policy here