My kids love when I have fun with their lunch and have been enjoying the fun fruit salads that I have been giving them in their lunch boxes!
My daughter's favorite is the Flower Fruit salad and it is super simple to make!! Even  better is it does not take that much longer to make them fun then when you normally cut up fruit 🙂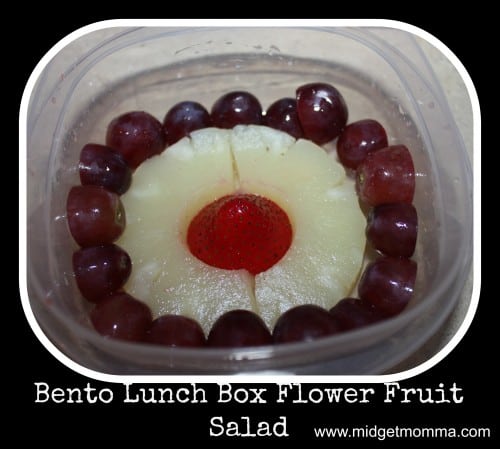 Ingredients:
1 Pineapple ring
9 grapes
1  strawberry
Directions:
cut 9 grapes in half
cut pineapple ring in half
cut strawberry in half
Place the pointy part of the strawberry in the middle of the container
Place the 2 pieces of pineapple around it
put the grape halves around the pineapple ring
Make sure you check out my Teddy Bear Picnic Fruit Salad for another fun idea 🙂
Join the newsletter
Subscribe to get our latest content by email.