You all know I am a big hoarder fan of cute kids clothing. When I get my kids dressed I want them to be so cute and stylish, because well they are kids and I only get to pick out where they wear for so long and then their opinions come out too. Like right now McKenzie is very vocal about what she likes and what she doesn't like and many times her choices and mine do not always mesh well, I am sure that is how every mom of a 9 year old feels. However this weekend we took at trip to Kohl's in Quakertown to meet Sabrina Carpenter (who plays Maya in Girl Meets World) and check out the new tween line of clothing, D-Signed.
I think this may be the first time all back to school shopping involved that McKenzie and I both were in love with a clothing line. Of course it was at my favorite store which makes it even better! But everything in the line can basically be mixed and matched. If you are a huge fan of Girl Meets World like we are then you have seen the 2 girls Riley and Maya dress in some totally adorable outfits or as the tweens like McKenzie say totally awesome and fashionable, but which ever wording works for your house works :). This clothing line brings the fashion from the show to our kids, and none of it is "to adult for kids". Many clothing lines tend to have what you would expect a 20 something to wear in sizes for little kids this line is completely modern fashion, for tweens, in tween styles and perfect.
There are so many pieces that getting McKenzie to pick out just a few was quite the challenge, I am not sure I have seen her this excited for a clothing line ever before, but I think much has to do with the fact that there is nothing in the line that I as a parent who wants my kid to dress in style but her age would say no to. Nothing shows skin, nothing is skimpy, nothing is to old for her style wise, or even the opposite of making her look to young for her age (which tends to happen sometimes because she is a tiny, short little girl).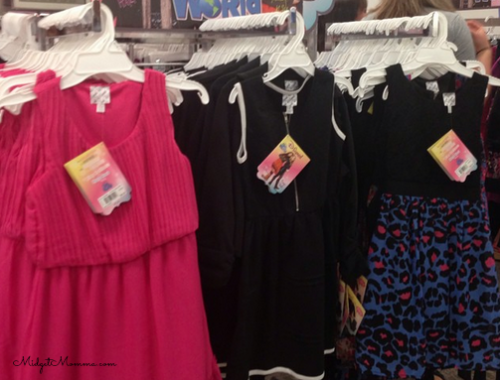 With multiple dresses that are able to be paired with this the awesome Disney D-Signed Blazer they have in the line you can wear the dresses in the warmer months with out the jacket and in the colder months with the jacket. They have adorable skirts that are paired with multiple different shirts in the line that will give many awesome outfits with just a few pieces of clothing! That makes this momma happy and gives McKenzie the ability to make a fashion statement with out my correcting her on what works and what doesn't.
The collection includes skirts, leggings, tops, pants, sweatshirt and more along with more dresses then just the ones I pictured above!
Check out the outfit combinations that McKenzie came up with from this line: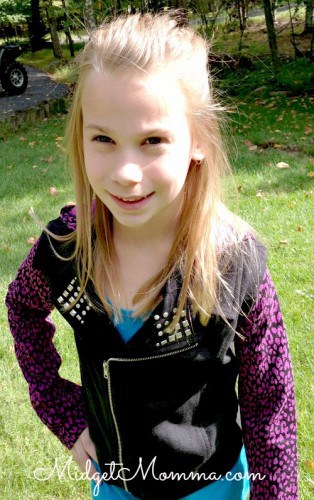 Pictured: Disney D-Signed Cheetah Hooded Moto Jacket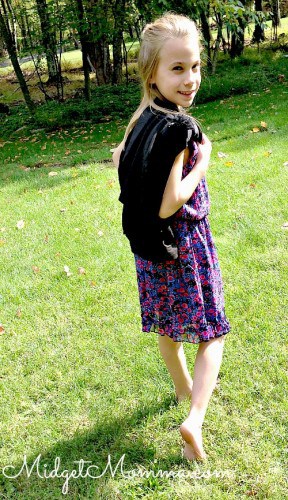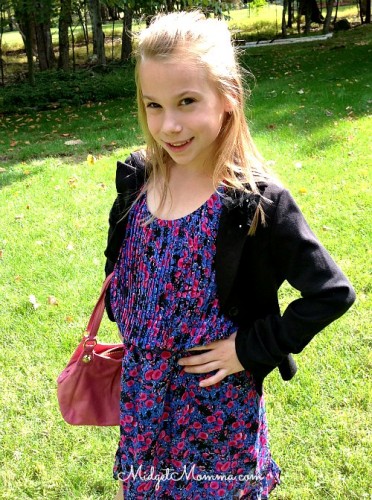 Pictured:Disney D-Signed Blazer  and Disney D-Signed Pleated Chiffon Dress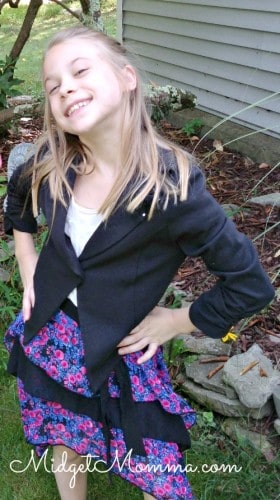 Pictured: Disney D-Signed Ruffle Bow Tee , Disney D-Signed Tiered Handkerchief Skirt  and Disney D-Signed Blazer 
No matter if your child is a casual fashionista, who would want to rock these Disney D-Signed Abstract Leggings and this Disney D-Signed Cheetah Hooded Moto Jacket or a chic fashionista who would be in all her glory dressing up with this Disney D-Signed Ruffle Bow Tee  and Disney D-Signed Tiered Handkerchief Skirt  you will both be happy when shopping and your girls are getting dressed for school.
Finding a clothing line that makes McKenzie and I both happy and excited is not easy, and two of my favorite brands, Disney and Kohl's have done it with the new D-Signed line, which makes my love for them even more!
Disclaimer: We were invited to the event hosted by Kohl's, Kohl's provided us a gift card to shop the new line. No compensation was received and all opinions are 100% my own.
Join the newsletter
Subscribe to get our latest content by email.