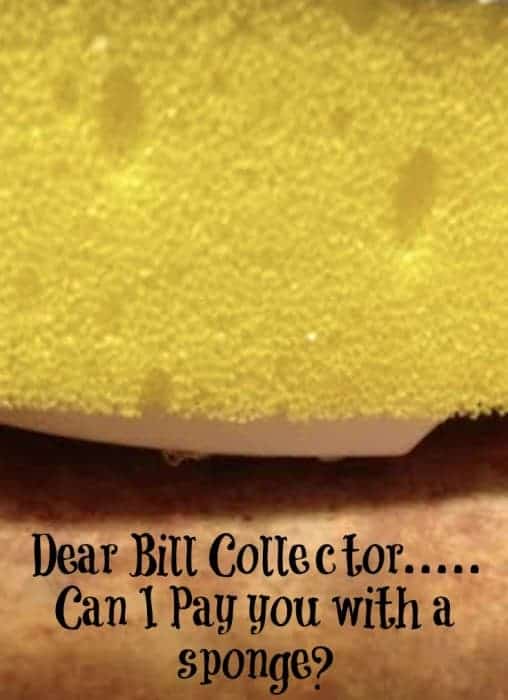 Or maybe not a sponge, how about some toothpaste, a bag or rice, oh wait I can not pay you with that I am supposed to cook it and then spend 3 hours advertising about it, so I will only have the box from the rice, is that ok?!?
Oh? No I can not pay you with those items?
Oh, you need me to pay my bills with cash?
What about a picture, can I send you a picture of money and pay the bills with that?
You want real cash you say?
Yes that is what a bill company would say to me (probably while laughing) if I asked them if I could pay my bills with those items and sadly this is what some companies expect me to work for and think I should advertise their brands for.
I have made it known here that this is my job, this blog allows me to also make it so other moms can have jobs and while I love what I do it is a full time job that I can not afford to do for free. Today is just one of those days where I have received so many emails about working for free and they want me to share their products with all of you so you spend your hard earned money on their products and make money while I get nothing more then "the satisfaction of sharing a product". I am not even just talking about testing out a product I am talking them wanting what would take me 3-4 hours to do and they want to give me a $3 product.
I know I don't normally blog about these things here but I do know that quite a few of you are bloggers yourself and I want you to know that you do have a voice, you do have an audience and you do deserve to be paid when you work just like anyone else who works.
No one would go to work for 4 hours and tell their employer "you know what, you don't have to pay me for the hours I worked today" and as bloggers we shouldn't have to either.
This is not to say there are not times you do something for free, but it really is not free if it is a brand or a pr rep you have a relationship with. One that is mutually beneficial to you and the brand. But daily I get companies wanting me to do hours of work for nothing and most of the times it is people I have never worked with or talked to before.
Oh wait, before I end this post let me not forget one of my favorites that I get often that I think I should try with my bill companies…
Hi yes can I send you my money and then you send it back to me?
aka. Can we send you a product, have you use it, write a post share on social media, us not pay you and then you send the item back to us so we can have someone else use it?
Yes please send me a product and I will put hours of work into it just for you to then have me mail it back so someone else can do the same thing and you get more advertising with out of any cost to you. That seems like a great idea…
(sarcasm)
Ok now back to our regular schedule posting 🙂
Ps Yes there are times when product is enough to cover the time invested in advertising and it is good to give 100% honest reviews but $2 – $3 items when being asked for 3-4 hours of work and then sharing with their readers is not valuing someone's time nor the work that they have put into their blogs and to be honest it is quite rude to tell someone they are only worth a $3 product and that their time is not valuable enough to be compensated.
Pss This is not every brand, there are MANY very awesome brands out there who understand the time that goes into a project that a blogger is doing and the value of that bloggers work.