Dear School,
I get it as a mom that runs my household's financial budget that in order for a budget to work that there needs to be incoming money. I get it that just as I need to raise money for my household, you need to raise money for your school. PTO, field trips, or a new playground all of those things cost money and you are needing the help of parents to make these things happen.
I get it that these things are needed, the fundraisers are needed. The raffles are needed. The car washes are needed. Whatever other way you are trying to raise money for the school is needed. I get it. I really truly get it.
BUT
STOP! Making me be "the worst mom ever". 
Stop telling my kids about how much "cool stuff they will win if they sell 200 items" when it is all JUNK! Stop telling them the prizes are worth 100 times more then they are! I hate to burst my kids bubble and have to make their day a downer but when you tell them an Ipad costs $1,000 you are LYING to them, then I have to go and correct them. It causes a fight, a google search to show them it is not really $1,000 to buy one and then a crying kid who tells me "You are the WORST Mom EVER" when I tell them "No we are not going door to door to sell stuff because there are 6 other kids on the same street who brought home the  same fundraiser".
Stop telling my kids that you are going to give their class a prize if they make the most something (money, volunteers ect). As a working mom (who while I work from home, I am gone at times) I can NOT attend every tricky tray, every PTO meeting, every fundraiser. If I can not attend something because of other obligations like my job, then MY kid isn't helping his class and so they now see it as their fault that their class didn't have the most volunteers. If a parent doesn't have the extra cash to send in and the classroom loses then again the child feels like they are not helping their class win. and guess what, I am then hearing "You are the WORST Mom EVER".
Stop telling my kids to "tell everyone they know" about a fundraiser at McDonalds. Going thru the store with a kid walking up to people saying "if you go to McDonalds on ___ night it will help my school" gets annoying to not only myself, but the other people in the store (who are having TONS of other kids say the same thing to them) and when I tell them to stop I again here "You are the WORST Mom EVER".
Stop telling them that I need to go to the furniture store and buy furniture to raise money for the school when I have a house full of furniture, don't need anymore and then "You are the WORST Mom EVER" because I won't help raise money for the school.
I am FAR from the "WORST Mom EVER", in fact I think I am a pretty damn good mom! The comments you are making to my child about how they needs to do all these things that are either 1- not in my budget, 2-i don't need, 3- I can not physically do or 4- annoy the heck out of everyone we know NEED TO STOP! They are things that are out of my child's control and nothing that they can change yet you are putting the stress on them that in turn falls on me and ends up with my kid having the image that "I am the WORST Mom EVER", because I can not do it all. NO parent can, and you are making us parents look bad when in fact we are damn good parents!
Sincerely,
A Mom who would happily donate money, helps out when she can and IS NOT "The WORST Mom EVER".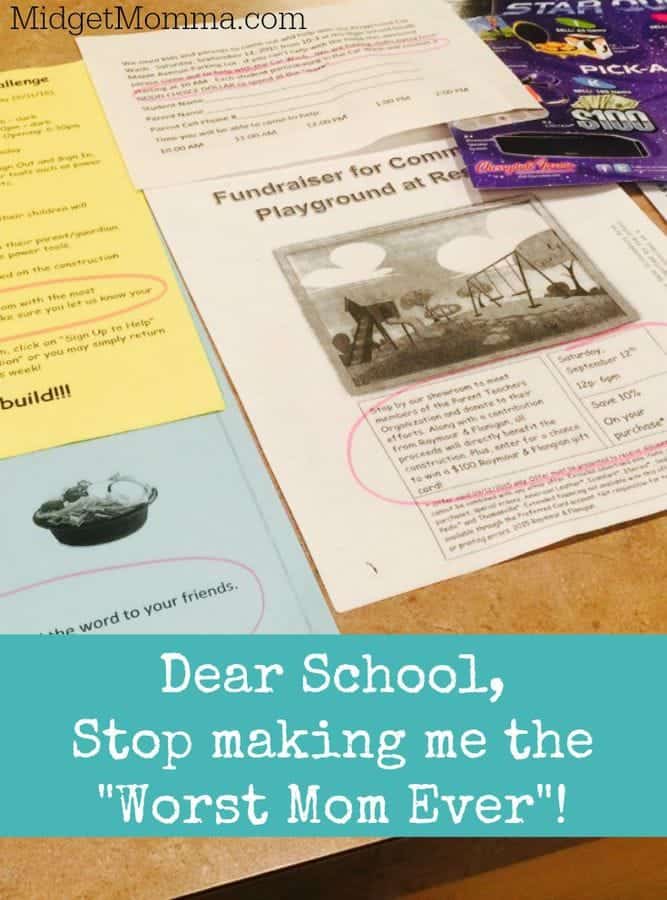 * My kids came home from school with these 5 things, all of which would be perfectly fine except the way they are putting the pressure on the kids to participate and have their parents participate by bribing them with treats and special things is NOT cool.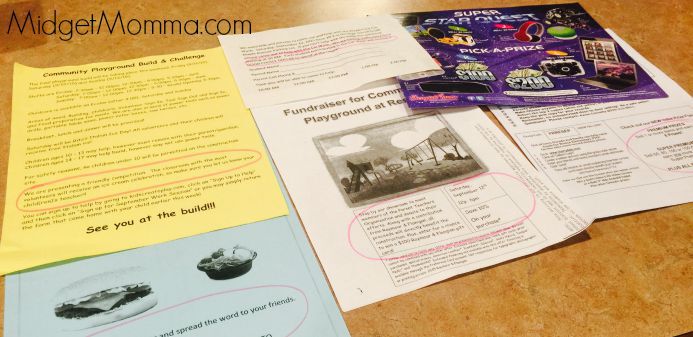 1 – Asking for help building the playground (which is now on year 2 with MANY other issues with how it has gone on) But is giving the class with the most volunteers an ice cream party
2- Asking for help at the car wash to raise money for the playground – Parent volunteers and child gets $1 to the school store
3- Go to the local furniture store (which is expensive) and then part of the profit goes to the school
4- Teachers working at the local McDonalds cooking food to raise money for the school
5- Cookie fundraiser that they had an assembly for and told the kids need to all sell 200 items so they can all have a Chromebook at home and that everyone needs to sell stuff to raise money for the school
All of these came home and all 3 kids screaming about how we have to do these things so they can win an ice cream party, or get a computer or I HAVE to make it so they get $1 for the school store. I can not do it all and no parent can but the school sure makes the kids feel like they have to and their parents have to and they are not showing support for the school and that makes them bad parents if they don't participate in everything!
It also makes me as a mom feel like I am not doing enough, I bust my butt as a mom as most moms do and there is only so much we can do. We do not need to have our kids making us feel bad for when we can not do it all!