Dinner time is important for our house because it is the only time that I can guarantee we will all be together and be able to sit down and have a conversation together. It has always been important to me that we do dinner because I want to make sure we as a family are connecting and keeping the relationship solid and grounded for us all. I want to keep the communication line between us and the kids because as they get older it is going to be even more important that the line of communication stays wide open.
Every night (with the exception of Monday's when Tom is at school) we all sit down for dinner together, on Monday nights  I still sit down with the kids and we eat dinner and we talk about our days. This gives me the chance to hear about what the kids are doing at school, what they are enjoying about school, what they are learning, what they are excited about, who their friends are and so much more. I enjoy the time talking to them, I enjoy hearing every detail of their day and the kids love hearing about what the others are doing. They even ask Tom and I what we did during the day when they are not home with us, even though it is a majority of just Tom and I working.

There are also nights that the conversation is extended when the kids join me in the kitchen to help me make dinner. The other night dinner was one of our easy meals where I could easily include the kids in helping me make dinner. Making dinner with them is a win win, I get more conversation with them and they get more conversation with me and it gives me the ability to teach them how to cook. It is important to me that my kids know how to cook when they leave my house, growing up my dad was the cook and he traveled a lot so learning how to cook was not a possibility unless he was home. When I got married I could only make steak on the grill, BBQ chicken and anything that came in a box, I want my kids to have more skills then I did so they do not have to take 5 years teaching themselves like I did.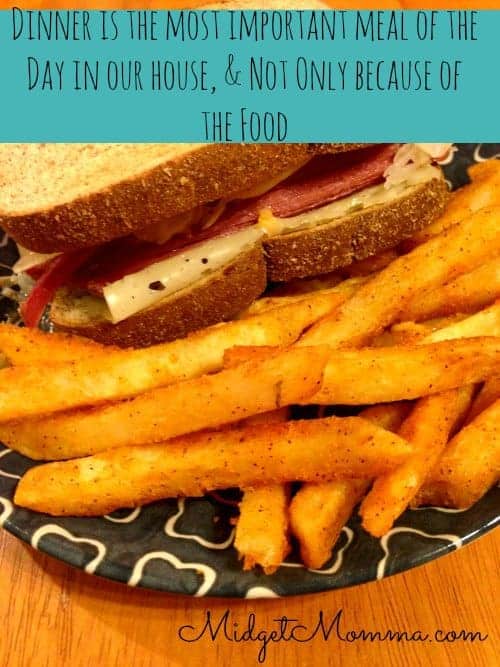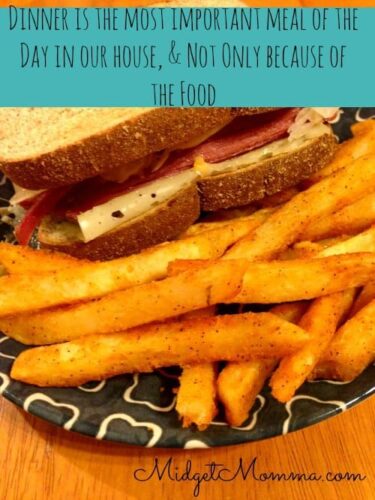 For our easy dinner night we made Rueben sandwiches (but since I was out of rye bread so we had to use wheat) and had veggies and Ore-Ida® Bold & Crispy fries. We normally just have plain fries and we decided that we were going to take a jump and be bold and try the Ore-Ida® Bold & Crispy Zesties! fries, normally we get the sweet potato fries for me and the kids and then Tom likes the crinkle ones. A bit of a change for the kids who normally have sweet potato but they seemed to enjoy them, considering they didn't leave any on their plates 🙂
For parents out there looking to add some bold conversation to your dinner table, I would suggest checking out Ore-Ida's #FindYourBold Pinterest board for conversation starters, too!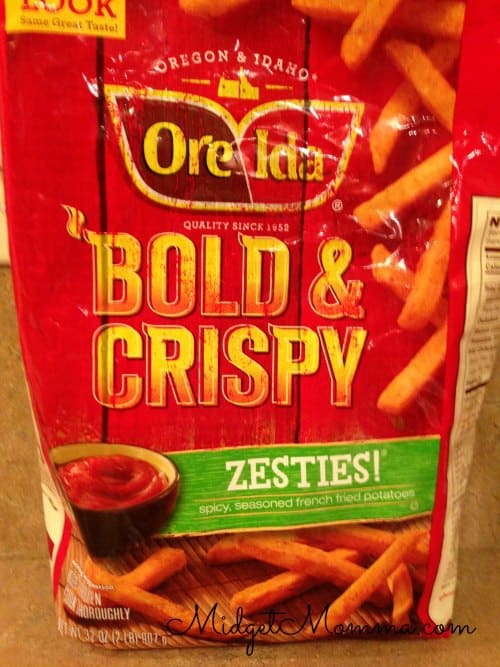 Plus you can grab a $1 off coupon here and save money when you are shopping at the store! There are 4 different flavors that you can grab right now in the store:
Garlic & Pepper Steakhouse Fries
Smoky BBQ Oven Chips
Zesties®
Spicy Sriracha Fries
Disclaimer: This post is sponsored by Ore-Ida, this sponsorship doesn't affect my opinion and all thoughts are 100% my own. Being a family that is open is important to me, so any way that I can help spread that message is a win to me 🙂