All Aboard!!!!!! The Dinosaur Train!!! Let's Celebrate Thanksgiving with Buddy and friends from Dinosaur Train! "PJ's, Slippers and Holiday Book" and have a giveaway!! All of my kids love Dinosaur train, not just the fun characters but learning new things about the world and dinosaurs. The show is a great way to teach kids and even I learn things when I watch it with them.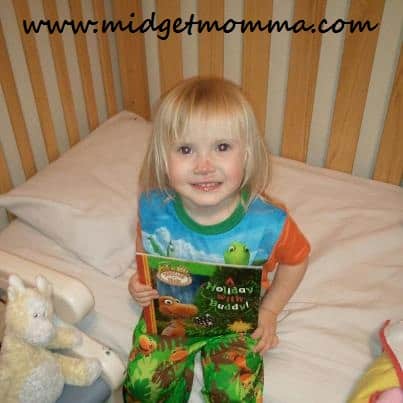 One of my favorite things to do at night is to snuggle with the kids and read books, they love having me read to them and I love the special time that we have. As the holiday season gets closer I start pulling out the Thanksgiving and Christmas themed books to add to our nightly reading. A new fun book to add to our nightly reading is the Dinosaur Train A Holiday with Buddy! (Dinosaur Train)
 Book. The Dinosaur Train gang is on a train ride to Troodon town and they are all excited about the winter solstice, while learning about the winter solstice and getting excited for the holiday they all learn about conifer tress and how they start out as seeds and then grow into HUGE trees. This colorful 32-page paperback book is great for read-aloud holiday fun as it follows Buddy and his family on their search for the biggest Cretaceous conifers, better known to us as Christmas trees, they can find to decorate for the holiday.
Of course when it comes to cuddling and book reading the kids are all in their snugly pjs and as you can see in the photo my 2.5 year old was super excited to show off her new pjs! I think the PJs are super adorable!!!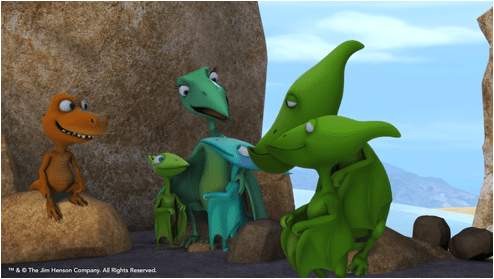 About Dinosaur Train
Dinosaur Train™ is an Emmy-nominated and Parents' Choice Silver Honor TV series, and is one of the top ten shows for kids ages 2 to 5.* Young viewers join Buddy and his adoptive family of Pteranodons on whimsical adventures through prehistoric jungles, swamps, volcanoes and oceans as they unearth basic concepts in natural science, natural history and paleontology. The Dinosaur Train is a colorful locomotive, customized to accommodate all kinds of dinosaurs, and it has the ability to visit the Triassic, Jurassic and Cretaceous worlds, while the Train's conductor, a knowledgeable Troodon, provides passengers with fascinating facts along the way.
The Dinosaur Train webpage has a fun family project called Hungry Herbivores that can be used to construct a Thanksgiving dinner for modern day animals that enjoy a plant-based diet (herbivores). This fun project can also be used to encourage your child to eat Thanksgiving dishes like squash, green beans and other vegetables, just like the animals in the project.
And now for the Giveaway! One MidgetMomma Reader will win a Dinosaur Train Prize pack that includes:
1 Size 2T Pjs (random Dinosaur design)
1 Dinosaur Train A Holiday with Buddy! (Dinosaur Train)
 Book

My giveaways are for my AWESOME loyal readers and the only way for me to do that is to check my subscriber list to make sure you are indeed a loyal reader, so if you are not signed up yet please enter your e-mail address in the box below

Thank you!
Mandatory Entry:
Leave a comment on my Lalaloopsy Silly Fun House Playset Review– 1 entry
Extra Entries:
Like MidgetMomma on Facebook-  1 entry
Like this post with the Like Button above- 1 entry
Follow MidgetMomma on Twitter  and tweet- #Win Lalaloopsy Silly Fun House Playset from @Kmart @MidgetMomma1200 https://www.midgetmomma.com/?p=44299 #HotToys #toptoys2012 – 2 entries daily tweets must be 2 hours apart
Follow MidgetMomma on Pinterest– 1 entry
Follow Dinosaur Train on facebook – 1 entry
Follow The Jim Henson Company on facebook – 1 entry
Follow the Jim Henson Company on Twitter – 1 entry
Follow PBS Kids on twitter – 1 entry
Follow PBS Kids on Facebook – 1 entry
Giveaway Rules:
No purchase necessary to enter, leave a separate comment for each entry method. This giveaway is not associated with any of the entry methods, This giveaway will run till 11:59 PM EST, November 26,  2012. The winner(s) will be picked using And the winner is (a random winner picker) and will be announced in a new blog post. Giveaway is open to those 18 years or older Winner will be contacted and have 48 hours to reply to contact e-mail or the prize is forfeited.  The sponsor is responsible for prize fulfillment.
Disclaimer: This giveaway is sponsored by the representing PR Firm.