The count down for the new Disney's Descendants has been on in my house for MONTHS! I have been waiting for what seems like forever to share my Disney Descendants Movie Review with all of you!
When I told the kids I was heading to California to learn more about it they were excited, and unfortunately they also thought that the day I got home the movie would air. However now after 6 weeks of waiting we are going to be having our family movie night tonight watching the Disney Descendants Movie!
I am sure many of you have seen a Disney Channel movie and know they are perfect for the whole family to enjoy and Disney's Descendants Movie doesn't disappoint! The whole family, no matter their ages will enjoy this movie!
Disney Descendants Movie Review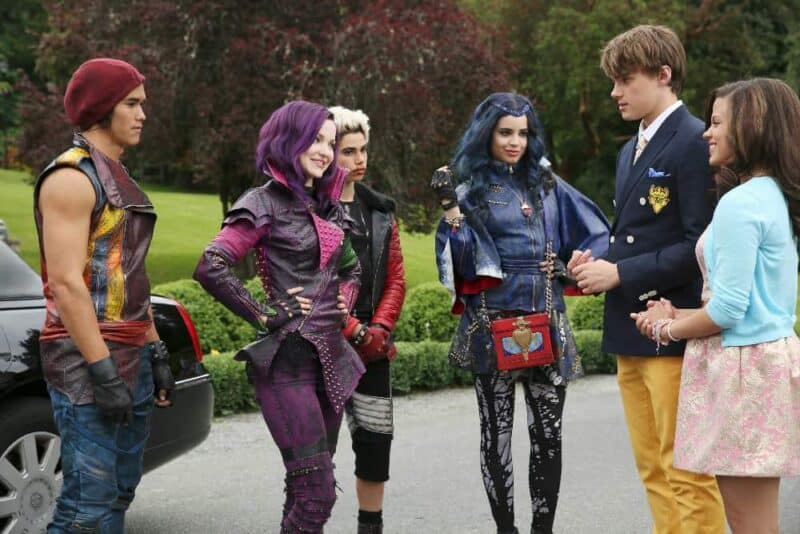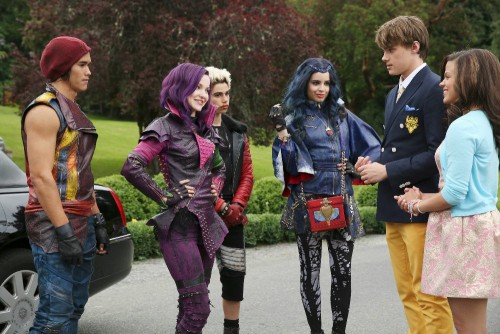 Disney Descendants Movie Review
Ok so now on to the Disney Descendants Movie Review that you have all been waiting for 🙂
Long ago after Belle and the Beast, oops sorry King got married they sent the villains from our beloved Disney movies to live in exile on The Island of the Lost, where they have lived for the past 20 years. Ben the son of Belle and the King has grown up with them with all of the other princesses and princes that we know and love from the Disney movies in Auradon. He has a loving heart just as you would expect and when talking with his parents about the children of the villains believes they should be given a chance to do and be more then their parents. With that he invites Mal, Evie, Carlos and Jay, the trouble-making offspring of Maleficent, the Evil Queen, Cruella de Vil and Jafar to come to Auradon, go to school and become more then their parents.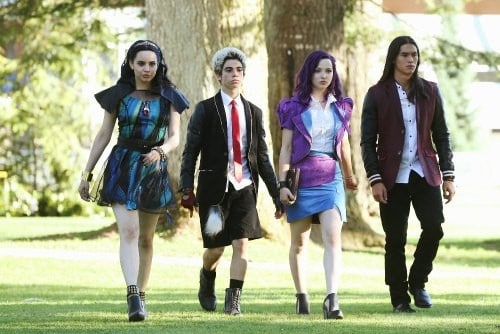 The kids set on their journey to Auradon wanting to make their parents proud, but when it comes time to make a choice on what is right and who they want to be or if they should follow in their footsteps the paths which will Mal, Evie, Carlos and Jay choose? Of course I am not going to tell you because that would totally ruin the movie tonight!
Along with meeting the children of the villains and princesses and princes we also get to meet some really fun characters like Doug, the son of Dopey and Jane the daughter of Fairy Godmother.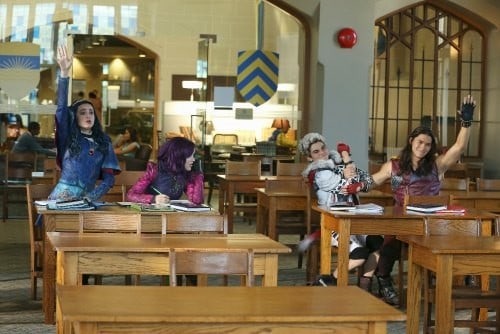 I also have to say that I LOVE the Disney bounding that goes on in this movie, just by looking at what they are wearing you can tell who their parent is 🙂
This movie is a great movie for telling the truth on how just because someone is raised a certain way doesn't mean that is how they are, how they believe or who they will turn out to be.
Of course with any awesome Disney movie, there is singing and dancing! There are six original songs ranging from electronic dance music to a ballad and an urban pop rendition of "Be Our Guest"! I can not honestly say that you won't find yourself singing in the shower the songs you hear in this movie, or that the kids won't be singing them nonstop after they have seen it. Not a bad thing though, as the music is fun and catchy and totally enjoyable!
Tune in to the Disney Channel tonight at 8:00 pm for the airing of this great Disney Channel movie, I know I will be snuggled with the kids watching it! I would love to know about you Disney Descendants Movie Review after you see the movie too!
More Disney Descendants Fun!
Descendants Under the Sea Short coming September 2018!
Secrets about the cast of Descendants Movies
If you love Disney, then make sure you check out the Free bed time messages from Disney Characters!