Disney Infinity 3.0 is coming soon and its all the talking my house right now! The kids are HUGE fans of the original and the 2.0 and I have a feeling that the 3.0 is going to be even better! We are HUGE Star Wars fans so having the Star Wars Characters that we love on the game is a big thing for us! The fact that there are LOTS of playsets that will make our Star Wars loving hearts be oh so happy in our house is a BIG plus too! I haven't spilled the beans to the kids on just how awesome these new Star Wars playsets for Disney Infinity 3.0 look but I am super excited to get my hands on the Disney Infinity 3.0 Star Wars Twilight of the Republic Play Set! I may even get it and not tell the kids about it right away so I can play it in peace 😉
While the Disney Infinity 3.0 ALL looks awesome, if you are a Star Wars fan the Disney Infinity 3.0 Edition: Star Wars Saga Bundle is probably the one you are going to want to get! Its got even more Star Wars goodies then the starter pack!
Set during the latter years of the Clone Wars, players will travel to four locations and explore open worlds of Tatooine and Coruscant, battle droids in Geonosis and partake in an epic boss battle in Naboo. Along the way, players will use the Force™ and master their Lightsaber™ skills as they fight alongside Ahsoka Tano, Anakin Skywalker, Obi-Wan Kenobi and Yoda to save the Republic and defeat the Separatists.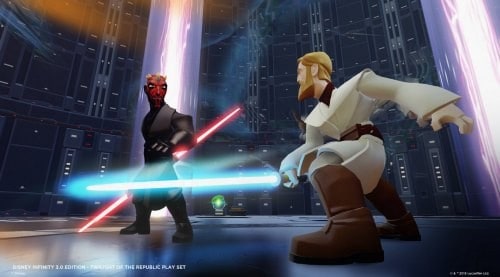 Each Jedi character is given specialized Force combat abilities and Force finishing moves, as well as unique Lightsaber forms with powerful combo attacks. As Jedi Master Yoda, for example, players will leap into action with his agile and acrobatic prowess. Jedi Padawan Ahsoka Tano uses her lightning-fast dual Lightsabers to carve up Battledroids, while Darth Maul uses his double-bladed Lightsaber and power in the dark side of the Force in a death-defying duel against the Jedi Master Obi-Wan Kenobi.
You really want to preorder the Star Wars Twilight of the Republic Play Set for Disney 3.0, it comes out on August 30 but I doubt this one will be in stock for long and we might be crying trying to find it when the kids put it on their holiday lists 😉
I mean seriously look at Yoda, he looks amazing and not just cause he is a tiny fella but because he rocks with that Jedi might and power!
You can preorder Disney Infinity 3.0 here and then preorder the Disney INFINITY Disney Infinity 3.0 Edition: Star Wars Twilight of the Republic Play Set here. Don't forget to also check out the Inside Out Playset for Disney Infinity 3.0!