From the time I saw Disney Nature's Chimpanzee I was hooked on the Disney Nature films. The look into the life of animals on our planet fascinates me along with how the movies are made. It astonishing how the life of an animal can be turned into a real movie with out having them do anything other then what they do on a day to day basis and by following them around. So when I had the chance to review this movie, I jumped on it!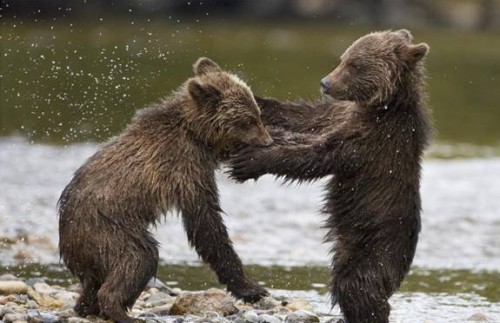 In Disney Nature Bears we meet many bears but the three this film focuses on are
Synopsis: 
In an epic story of breathtaking scale, Disneynature's new True Life Adventure "Bears" showcases a year in the life of a bearfamily as two impressionable young cubs are taught life's most important lessons. Set against a majestic Alaskan backdrop teeming with life, their journey begins as winter comes to an end and the bears emerge from hibernation to face the bitter cold. The world outside is exciting—but risky—as the cubs' playful descent down the mountain carries with it a looming threat of avalanches. As the season changes from spring to summer, the brown bears must work hard to find food—ultimately feasting at a plentiful salmon run—while staying safe from rival male bears and predators, including an ever-present wolf. "Bears" captures the fast-moving action and suspense of life in one of the planet's last great wildernesses—Alaska!
Make sure you check out this awesome video clip, and when you watch this movie do yourself a favor and have some tissues. The happy moments will make you bawl like a baby if you are like me 🙂
Fun Facts about the film
·       "Bears" is the fifth theatrical release for Disneynature, the first new Disney-branded film label from The Walt DisneyStudios in more than 60 years. The label was launched in April 2008 to bring the world's top nature filmmakers together to capture a variety of wildlife subjects and stories.
·       The first four releases under the Disneynature label—"Earth," "Oceans," "African Cats" and "Chimpanzee"—are among the top five highest grossing feature-length nature films of all time.
·       Walt Disney was a pioneer in wildlife documentary filmmaking, producing 13 True Life Adventure motion pictures between 1948 and 1960, including "Seal Island" (1948), "Beaver Valley" (1950), "The Living Desert" (1953) and "Jungle Cat" (1958). The films earned eight Academy Awards®.
There are also plenty of bonus features to keep you busy. You get to journey with the film makers and see how they got all the awesome footage. You also get some safety tips in another feature to safely interact with bears if needed. These are just a couple of the fun bonus features found in Disney Natures Bears. If you enjoy nature (and who doesn't), make this a must watch. Your family will thank you!!
MIDGETMOMMA.COM SCORE 10 out of 10
You can purchase this DVD on Amazon here
Disclaimer: I was provided this dvd free of charge to facilitate my review, no compensation was received and all opinions are 100% my own.