Last weekend my family got to experience something I have been longing to take the kids to, Disney on Ice thanks to Hallmark. I have alway been a fan of Disney and I introduced my kids to Disney movies and characters at a young at but with being in New Jersey bringing the magic of Disney to them in "real life" is a challenge. We are not close to any Disney attractions and so when ever I have seen that Disney something or other is coming near us I get excited, except for most time it ends up being on a day that we can't go or it is to far away.
This time when Disney on Ice was close to us I was super excited that we were going to get to go. Disney on Ice Rockin' Ever After was as magical as I could have expected and wanted and the kids did nothing but smile and dance the entier show!
As soon as we walked in and the show started the kids faces lite up! What a joy that was to see, and even hubby enjoyed himself (even though he told me before hand that he was unsure about how much fun this was going to be and afterward said it totally took him by surprise and that he thought it was an awesome show).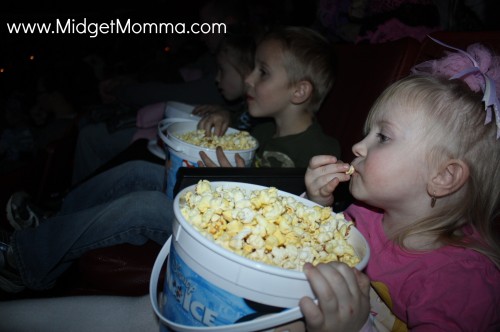 Disney on Ice Rockin Ever After shares some great Disney movies in a shortened version but adding style, fun and magic by having talented ice skaters preform. This Disney on Ice show featured the well known and loved Disney characters; Mickey Mouse, Minnie Mouse, Donald and Goofy along with 4 "shows". You head under the sea with Ariel and her friends from The Little Mermaid, Search for the glowing lanterns with Repunzel, learn to be brave with Merida and her mom from Brave and of course the awesome show of Beauty and the Beast. While my family loved all of the different Disney princess shows my personal favorite was Beauty and the Beast. My oldest said her favorite was The Little Mermaid and the younger two said Brave was their favorite.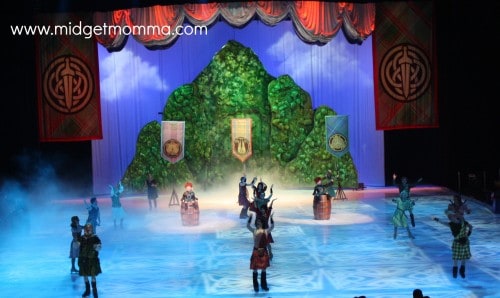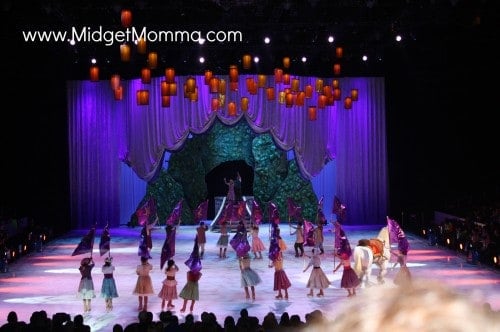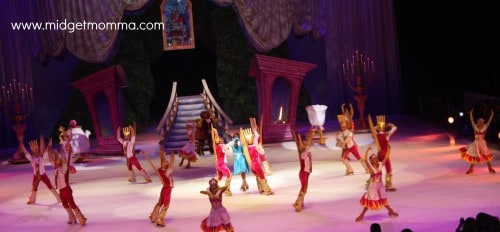 While you might think that it is geared toward little girls with so much princess, my son had a blast and I think that it is perfect for all ages and little girls and boys. All of my kids are still talking about it almost a week later and with just as much excitement as when we were leaving after the show and all of them were talking about it trying to share everything that they could.
The 15 minute intermission came at the perfect time, the show is 2 hours long not including the intermission and that 15 minutes came just as the kids were saying they needed a snack, a drink and to use the bathroom.
With any show like this you can get souvenirs that are a bit pricey,  like a slushi with a cup was like $16 (some where around that price) and so we tend to stick to popcorn in reusable totes that the kids then use for their little toys like Lego and get a drink for us all to share.
I would totally recommend Disney On Ice, Rockin Ever After to any household that is filled with Disney fans! The disney magic you can feel through the whole show and the kids will be talking about it non stop!
The Disney on Ice Tour is sponsored by Hallmark and is making its way around the country now 🙂
Disclaimer: I was provided tickets for my family to attend the show. No compensation was received and all opinions are 100% my own.