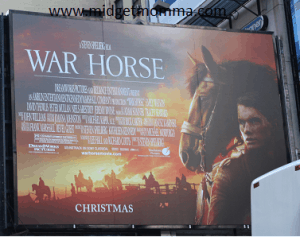 (An Ad I saw while in New York City) 
At the beginning December you all know that I went on my Trip to New York City for the War Horse Movie World Premiere event (You can see my War Horse Movie Review here)  thanks (A HUGE thanks) to Disney and I have been sharing with you what I did and things that I think you would enjoy if you ever get the chance to go to New York City. The third day (Monday) that I was there was busy but a ton of fun!
Even with starting my day running late because I lost my cell phone in my room and it somehow got put on silent and I was running around like a crazy lady in my room trying to find it and then running down stairs to meet up with everyone that did not put a damper on the day 🙂
We started our day by heading back to the Amsterdam Theater, where we had seen Mary Poppins on Broadway on Saturday night. If you are ever in New York City this is a must see, it is amazing and the actors really will blow your mind with their performance! You can see my review of Mary Poppins on Broadway to learn more about the show. The Tour of the Amsterdam theater was awesome, being able to see in depth the theater and the Disney Props room was so much fun (You can see my post here). After our tour we headed upstairs to the Disney Theater Offices that are in the Amsterdam Theater to have a round table interview with Emily Watson, from War Horse. It was fun getting to hear her thoughts and perspectives on the Movie.
After our interview with Emily Watson and getting a group photo of all us mommy bloggers with her we then had a round table interview with Steve Fickinger who is the VP of Creative Development and Licensing about Mary Poppins and then a new project that he is working on for Newsies. Newsies will start on Broadway on March 15, 2011! I am glad to be so close to New York City (just a 1 hour train ride away) because I want to plan a day for hubby and I to take a train ride into the city to see it:) I found the Newsies Facebook page, and you will be able to keep upto date on news about the show:) If you are in the local area you can also find that information on the Newsies website, tickets go on sale starting January 30, 2012.
We then headed to the Disney Screening Room in New York City to see the New Tangled Short, Tangled Ever After and Beauty and the Beast 3D (look for my review coming soon). I can not tell you all about it yet but I can say that you will love it 🙂
 (me on my way to the train station to go home)
After the screening it was time for us to all part ways and head home, while I was a bit sad to be leaving New York City because we had so much fun and meeting all the bloggers that I had not met before was a blast and I have a TON of awesome memories made on this trip, I was welcoming going home to see my kiddos and hubby.
A Huge thanks to Disney for giving me the opportunity to go on this trip. I was provided an all expenses paid trip to New York City for the War Horse Red Carpet Premiere event. All opinions are my own.
Join the newsletter
Subscribe to get our latest content by email.
This post may contain affiliate links. Please read my disclosure policy here