Make Way For Prince Ali coming out of the Disney Vault. You will be able to get your hand on the "Diamond Edition" of "Aladdin" now available on Disney Movies Anywhere and is coming to Blu-ray on Oct 13th, you can preorder your copy here
I know I have been waiting for this one with high anticipation, just as so many 90's kids have been. Aladdin was originally released to theaters on Thanksgiving day in 1992.
Disney's Aladdin Coming Out of the Vault
It is about a poor boy finding a magical lamp that held a genie who was helping him on his path on finding true love with a princess.
That genie was voiced by Robin Williams who passed away in 2014. This movie would not have been the same without him, he is what really brought the genie to life. I was able to meet Eric Goldburg who illustrated the genie. He told us how they would have one idea planned for the genie but Robin Williams would come in and just improve the whole scene.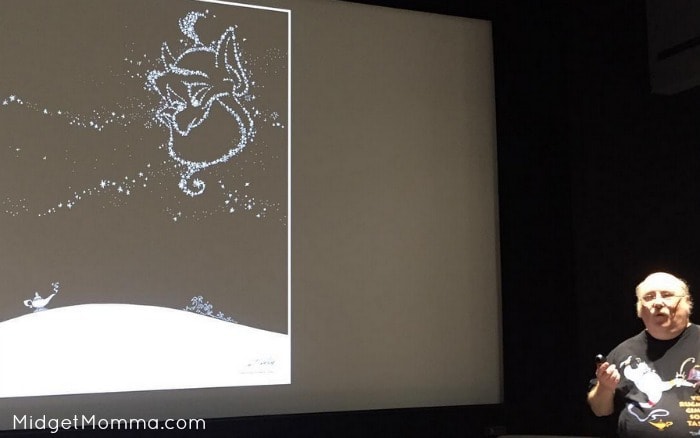 He gave them so much gold to work with but they only need so much of it. As a tribute to Robin Williams, Eric Goldburg put together a story board using over 16 hours of funny takes Robin had done. This tribute is called The Genie Outtakes and it can be found in the bonus features on the "Diamond Edition" of "Aladdin".
My favorite outtake is for the scene when the genie is telling aladdin that he needs to tell Jasmine the truth. Robin Williams impersonates president Nixon he is not a lier and Eric drew Nixon's face on the genies body.
Another great bonus feature is Ron & John: You Ain't Never Had A Friend Like Me. It is an interview with Ron Clements and John Musker the directors of Aladdin. These are the same amazing men who directed my other favorite Disney movie The Little Mermaid. During this interview they talk about their dynamic and how it helped bring their ideas together.
Exclusive Ron & John interview:

These are all the special features include on the"Diamond Edition" of "Aladdin":
The Genie Outtakes
Aladdin: Creating Broadway Magic
Unboxing Aladdin
Genie 101
Ron & John: You Ain't Never Had a Friend Like Me
Deleted Songs
Deleted Scenes
Disclaimer: I was invited to an all expenses paid press trip with Disney. All opinions are 100% my own.