Easy Painted Vases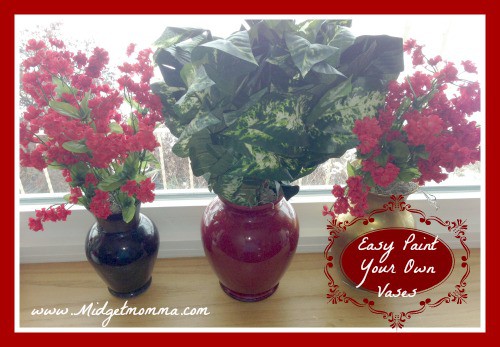 Don't forget to Pin It 🙂
I have odd colors in my living room when it comes to finding vases because the colors are red, black, brown and tan. They all look nice together but finding vases and decor to match the way I want it to is hard so I have gone to making it my self and it is super easy! I am also not very good at keeping flowers alive or plants for that matter so having fake ones that I don't have to take care of is the best type of plant for me.
How to make Easy Painted Vases
What you need:
Vases – I picked mine up at the thrift store for $1 a piece
Acrylic paint – only .59 a bottle at AC Moore get whatever colors match your room that you are wanting the vases to match. I got red, black and gold.
Fake Moss
Fake flowers – I got mine at AC Moore, get ones that will match your room. The red ones were only .99 each and the greens were 6.99 each but I saw them and knew they would be perfect in the room between the red flowers.
Newspaper
Total cost for all 3 vases in the picture above – $29.80 I could have gone cheaper on the greens but I really liked the way these looked. I also noticed while there that the fake plants like the greens that were already in vases in ac moore were around $20.
Directions:
Clean out your vases and then let them dry so you don't get water marks and you don't want to have the dust that is on them from when you get them at places like the thrift store
Lay news paper down where you are going to be doing this at.
Pour the whole bottle of paint into the vase and swirl it around, hold the vase on its side to get the sides and then when it gets to the top edges do it so some of the paint drops out. this is why you use the whole bottle so you dont have to worry about it coming out
let them dry for 24-48 hours. You will see paint pool at the bottom of the vase from the excess but it won't make an difference when you are done
add the moss into the vases
put the flowers in to the moss
tada! You have vases with flowers to match whatever room in the house you want.