If you are looking for an awesome DIY personalized Father's Day gift, this DIY Father's Day Hammer is perfect!
If you are looking for Father's Day crafts for preschoolers or Father's Day crafts for toddlers this one is perfect! I personally like easy Father's Day crafts because with a busy house we don't have time for crafts that take a long time to make.
Father's Day is right around the corner and if you are like me slightly behind in planning, then this is a great Father's Day craft to do. It is an easy Father's Day craft that will show Dad the kids awesome craft talents.
DIY Personalized Father's Day gift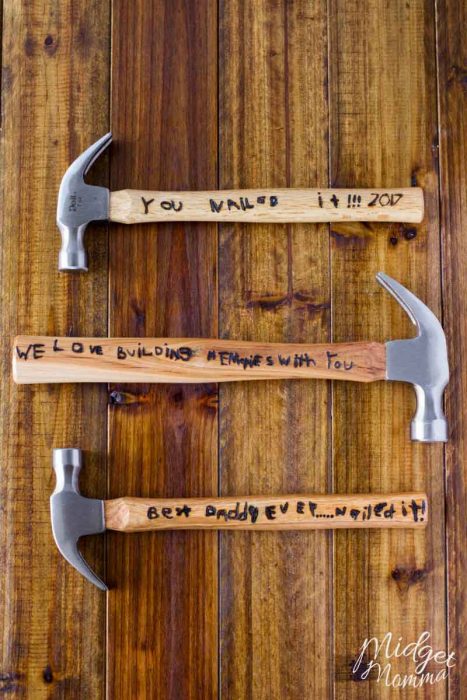 I like to make Father's Day craft gifts because I like giving personalized gifts whenever possible. Plus it is a lot of fun for the kids to make and they are always so proud of the work they have done.
The awesome thing about this Father's Day craft is that it looks like your child used a wood burner to make this they did not. The trick is to have them write on it with a marker first then you go over their writing with a wood burner.
If you have a younger child who is just learning how to write you should use a wipeable marker but if they are older a sharpie will work better. You could also use the wipeable marker and write what they want it to say and then have them trace over it with the sharpie marker so it is in their writing.
Make sure if you are using a sharpie you are only using a black one so if any marker is left over it will blend in to the wood after it is burned.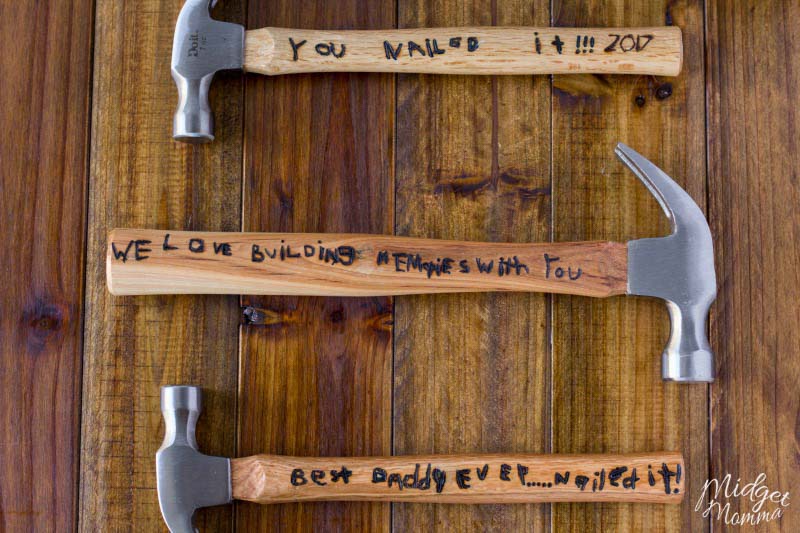 To make this easy DIY Father's Day gift you are going to need a hammer that has no writing on the handle like this one on Amazon. You will also need this Woodburner tool and a permanent marker to complete this DIY Father's Day Hammer crafts.
How to Make DIY Father's Day Hammer
Have your child write you favorite fathers day saying on the handle of the hammer.
Here are some great examples however you can have the kids write anything they want to:
"You Nailed It"
"We Love Building Memories With You"
"Best Daddy Ever…… Nailed It"
Carefully use the wood burner to burn right over the marker.
Dad will love this DIY Personalized Father's day hammer! Plus the kids will have fun creating their own Father's Day gift for dad!
Looking for More crafts? Check these out!
Frappuccino Slime recipe without borax
Fluffy Slime Recipe with Glitter
Join the newsletter
Subscribe to get our latest content by email.
This post may contain affiliate links. Please read my disclosure policy here