As an Amazon Associate and affiliate with other networks, I may earn a commission from purchases made through links within this post. For more information read my disclosure page here.
Ok so I know it is a bit late for Christmas and holiday projects but this one can be done sooo easily I thought I would share it now and then you can have an idea for next year 🙂
This DIY Holiday Vinyl Night Light took me all of 15 minutes, I know its the perfect amount of time isn't it 😀 That time frame works perfectly because as soon as I make one project all 3 of my kids see it and then they each want one for their rooms 😉
DIY Sleigh Design glass light block Night light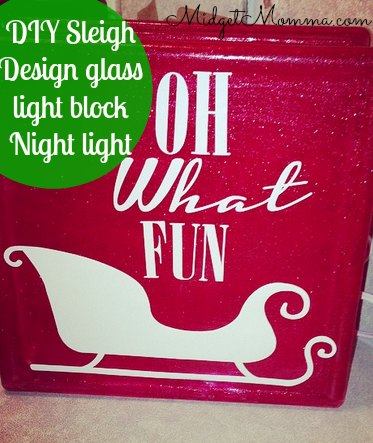 Supplies needed for  DIY  Sleigh Design glass light block Night light:
Silhouette Portrait
White Vinyl
Red acrylic paint
Light bulb cord (I found mine at AC Moore near the glass block supplies)
Glass Block
Directions for DIY  Sleigh Design glass light block Night light
First get your supplies, I used my Silhouette Portrait to cut the Vinyl which if you do not have one you can get one here
Then Go into the Silhouette design store and get the "Oh What fun" design and upload it to your silhouette library. Then get it all set up for the sizing you want, I made my 6.5 inches so it would fit on my block but it all depends on what size glass block you are using. Measure your block and figure out how many inches it needs to be to fit how you want it to.
After doing that get your red acrylic paint (I picked one with some sparkles in it) and then paint the whole block ( I did not paint the bottom, just the sides and top), let it dry (which took about 5 minutes) and put another coat on). If it looks pink going on don't worry it will dry red as long as the paint is red, but when I put the pain on my glass block it looked hot pink until it dried. While it is drying use this time to use the Silhouette and cut out your vinyl. I use the Silhouette Portrait Cutting Mat
 to put the vinyl on to cut it.
Once your vinyl is cut out and your block is dry put the vinyl in the set up that you want. Then put your light bulb cord in the bottom and the plastic closing piece that will keep the wires inside. Put it in the room you want and tada! You have a holiday night light in 15 minutes!
Join the newsletter
Subscribe to get our latest content by email.