A few months ago DOLE Fruit Squish'ems had a coupon and there was a sale and I was able to get the 4 pack for .50, total coupon score! Well that one coupon score turned into a need in our house. With the first taste the kids loved them, and told me I needed to get them more. Of course I try to scout out a sale or coupon but they are a must on my shopping list every week. The kids have one in their lunch boxes every day, when ever we go on a quick road trip anywhere they are what the kids request as their snack and now with summer coming and lots of trips and summer fun planned I am in the process of stocking up because we will need even more of them! While we were moving the kids had them every chance they got, which was about 2 a day because they were so easy to have on hand and to eat and no mess involved! Since we have moved the kids have been running around the backyard, since they now have a place to run around at and I have caught them each coming in and going into the snack cabinet and grabbing a DOLE Fruit Squish'ems and running back outside. So when this opportunity to work with Dole and spread the word about these awesome snacks I was super excited, so were the kids when the 2 boxes of DOLE Fruit Squish'ems showed up in the mail!!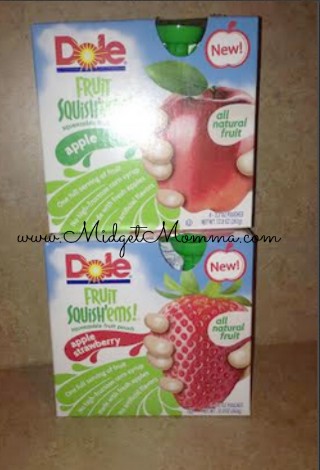 Seriously if you have not tried them with your kids, do it, your kids will love you even more for it! I also have to admit that I have had them as a quick snack myself, although I prefer them cold where as my kids much rather them warm. We are currently working on finding sports for the kids to join in and I know these are going to be in my bag with me along with the water bottles (I know if they are not my kids won't be happy with me 😉 )

Why we love Dole FRUIT Squish'ems:
Super Easy on the go snack that is not only healthy but tasty too
Each squuezable pouch has just 60 calories (for those adults like me who are trying to cut down on eating the high in calorie foods) and they are made from fresh apples and contain a full serving of fruit per pouch!!
They have no high fructose corn syrup or artificial flavors
They are packaged in GMO1 free packaging
They come in 3 great flavors, Apple, Apple Mixed Berry and Apple Strawberry. My kids favorite is the Apple Strawberry!
You can buy them just about anywhere, grocery stores or big box stores 🙂
DOLE Fruit Squish'ems has partnered with two-time FIFA Women's World Cup winner and mom, Brandi Chastain and the American Youth Soccer Organization (AYSO) to help soccer families across the country gear up for game days. Which we all know can be days that are long, hot and tiring for everyone involved but she has some really awesome tips I thought I would share with you!
Make sure you check out the awesome "Game Day Great" Facebook contest from DOLE Fruit Squish'ems, DOLE Fruit Squish'ems is also inviting moms and dads nationwide to share their own game day tips and pre-game rituals and have the chance to win $5,000 and a season's supply of DOLE Fruit Squish'ems for their kids' league. Ten finalists will also receive a season's supply of DOLE Fruit Squish'ems for their leagues. I am sure many of you have awesome tips for game day, weather it be game day snacks, staying cool while watching the kiddos play, fun ideas for teams parties ect, so make you enter 🙂 Remember you can't win if you don't enter!
Here are some tips from Brandi Chastain for game day, plus check out her video here for more great tips along with following on facebook and twitter where she will be sharing more great tips!
Kids learn to be a good sport just as much from the sideline and stands as on the field, so teach them by example to always be respectful to everyone on the field, offer encouragement, and be gracious whether you win or lose.
• It's important to be both physically and mentally prepared for game day. I always make sure my son has a good, nutritious meal the night before the game and encourage him to practice visualizing making great plays. When you've already imagined them happening, they're that much easier to recreate on the field!
• Practice does more than pay off on the field. It teaches us the importance of going out there and earning what we get. So always try to encourage your children and be supportive when they're putting in that extra effort to practice and improve!
Plus (this totally made my kids happy), when you enter you will score a $1 off DOLE Fruit Squish'ems coupon!!!
Disclaimer: I am part of the Mom It Forward blogger network. Mom It Forward and DOLE partnered in support of this campaign. Dole compensated me for participation in this campaign. However, all thoughts and opinions are my own.