When it comes to finding stocking stuffers for Tom's stocking it is quite the challenge. I could put a video game in the stocking, but I prefer to have higher cost items like that be gifts under the tree instead of in the stocking. I also have an issue with buying things just to buy them that will never get used and are just going to junk up the house. However this year I have the perfect solution! Dove Men+Care! Shampoo, Bodywash, soap and more will be Tom's stocking this year!
There is also a plus to putting these in his stocking, I can pick the scents – which means the ones that I think smell fantastic will be the ones he is using 😉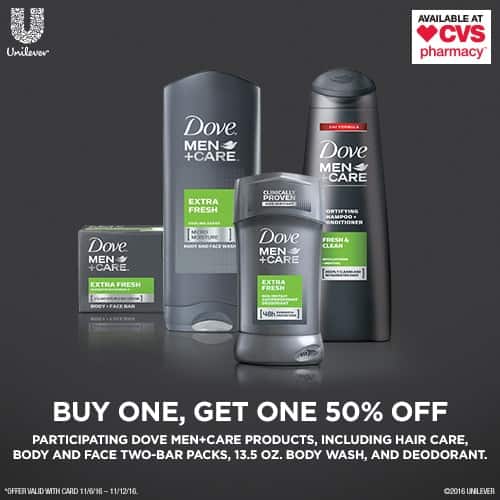 Plus I will be heading to CVS to grab them – they have some really great deals going on right now! They have a Buy One, Get One 50% off participating Dove Men+Care products, including hair care, body and face two-ˇbar packs, 13.5 oz. body wash, and deodorant. plus be sure you check your local paper for additional savings including the following awesome coupons:
• $1 off 1 Body and Face Bar and Body Wash
• $3 off 2 Body and Face Bar and Body Wash
• $2 off 1 Hair Care Product
Real strength is shown through the care you give to the people that matter – and that includes you. Whether you're looking for a deodorant to keep you feeling fresh and dry all day or you want a body wash to help keep your skin hydrated, Dove Men+Care products are designed to protect and care for your skin.
Disclaimer: This post is sponsored my Mirum. All opinons are 100% my own.