This is a sponsored post written by me on behalf of Daytona Beach Area Convention & Visitors Bureau. All opinions are 100% mine.
When we took our road trip this summer to Orlando we passed through Daytona Beach and I wish we had time to stop there because it was sooo pretty and we all wanted to hit up the beach but with the time constraints we had to get back home that was not possible. Now that we have the drive under our belt it doesn't seem to bad to go and drive to Florida again, but this time I really want to make a stop in Daytona beach!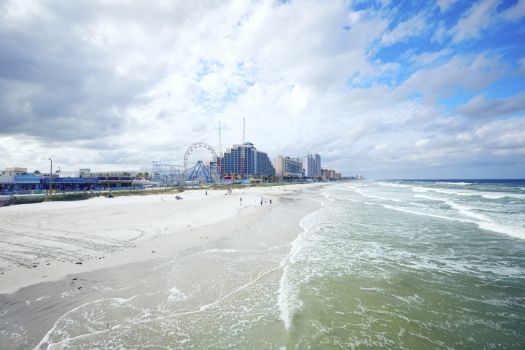 The Beaches are covered in gorgeous white sand that sits densely on the shore allowing for visitors to drive their cars right along the water's edge which will make for Outdoor Fun. The sand is lined with great options for your family's stay including hotels, motels, condo rentals, bed and breakfast inns, vacation rentals and camping grounds. If want more activity to your day than just lounging on the beach, there are tons of options all close by. You can go deep-sea fishing where some of the best bass fishing in Florida is offered, rent equipment for endless water sports or visit one of Daytona's historical sites. At night, chose from a number of Daytona's fine dinning and restaurants, bars or dance clubs. The beach awaits me and I hear it calling my name!!!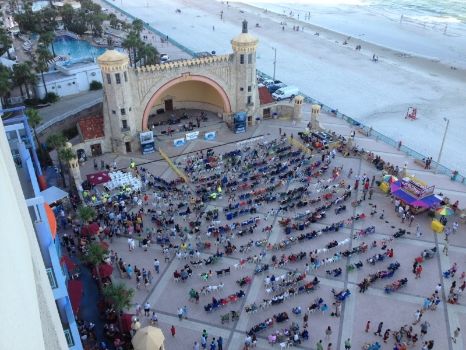 When we are looking for places to stay when traveling we look for Kid friendly options, from hotels to activities and more and Daytona Beach has lots of options for us as a family to go and visit and have a lot of family fun and make lots of family memories!!
If you are looking for things to do to stay with in your budget check out the Free Things to Do in Daytona Beach, this will bring lots of family fun and help you stick to your budget! Did you know Daytona is the Festival Capital of Florida? Fall festivals make this one of the best times of the year to visit Daytona Beach so that you can join in experiencing the fall festivals. Attend the Daytona Beach Blues Festival or find daily live music at Bruce Rossmeyer's. If you love art, you can attend the Halifax art festival or Daytona Beach's film festival. And there is always the Wings and Waves air show where over 40 different Air Force aircrafts give an astonishing aerial performance over the Atlantic Ocean.
Dreaming of taking a trip to Daytona Beach has me imagining all the fun stuff I want to do with Tom and the kids. Of course a day at the beach is a must, then checking out the local foods since anywhere we go we always eat what the locals eat and skip the fast food! The kids are still asking me to try alligator since we did not get to when we were in Florida the last time and so that is a MUST Find while we are there! Touring the Angell & Phelps Chocolate Factory Tour is a must on our list to, I love having the kids learn while we are doing family travel. Sun Splash Park looks like a TON of fun and that all of us could enjoy it! There is soo much to do and so much that I think we would all love to do that narrowing it all down onto a short to do list would be quite hard!
Have you ever been to Daytona Beach? What are your favorite places?