Guys I can not help wanting to get my home DIY and redoing done even more every time spring rolls around. For some reason when the warm weather starts my brain starts thinking of things I want Tom to help me get done around the house.
Recently I saw the new GE Black Stainless Steel Appliances and oh my gosh!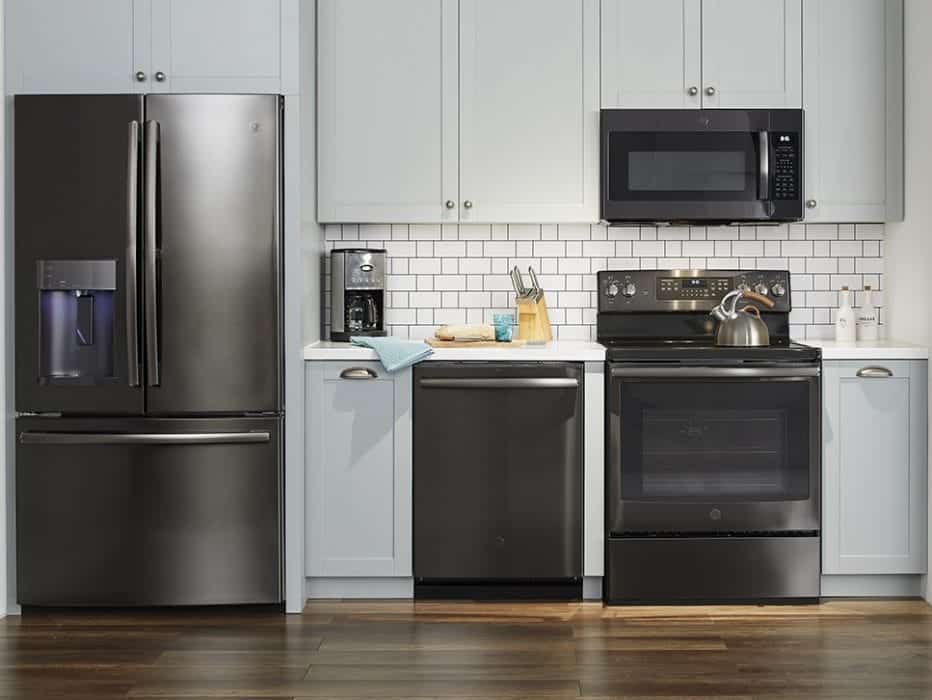 This post is in partnership with Best Buy. 
The past few years I have mentioned fixing up the kitchen every single spring. Eventually it will happen BUT I have to figure out what it is exactly that I want aside from getting rid of the awful 90's vibe that it currently has.
Best Buy currently has an awesome new line of GE Black Stainless Steel appliances. Look at them! Do you see how amazing they look with white cabinets. It is totally making me want white cabinets! I already have hardwood floors in the kitchen so it only makes sense that I go with white cabinets. Right?
GE Black Stainless Steel Appliances
Black Stainless was designed for those who want to make a statement. Combining a glossy, bold black hue and the contemporary brushed metal appearance of stainless steel. Black Stainless adds sleekness and originality. It wipes clean in seconds, remaining free from smudges, but full of character.
GE is the leader in premium finish options, giving shoppers the ability to design a unique kitchen package suited to personal needs and style.
Focus on Black Stainless Finish:
Bold and sophisticated appearance
High-gloss finish that makes a statement in any kitchen
Fingerprint resistant and easy to maintain and clean
I am all for making a statement but they totally had me at the idea of being free from smudges, especially with 4 kids in the house. I feel like the battle between myself and fingerprints on the fridge is never ending!
So who else is totally drooling these new GE black stainless Steel Appliances from Best Buy with me?!?! Seriously head on over here to check them out! You are going to LOVE them!
Disclaimer: The reviewer has been compensated in the form of a Best Buy Gift Card and/or received the product/service at a reduced price or for free.
Join the newsletter
Subscribe to get our latest content by email.
This post may contain affiliate links. Please read my disclosure policy here