I like to dream of my perfect living room, Oh how I miss my old living room from when we lived in New Jersey. When we moved in October we had to get rid of our couch and recliner (so we are on the hunt for new ones for when we move the next time we move) and our Entertainment center (that I LOVED) did not make the move well, it had been moved 3 times before the last move and the last one was it when it not so gently kinda sorta fell a bit when we were moving it out of the moving truck.
I really like the large Entertainment center furniture, you know those HUGE ones that take up an entire wall and they have tons of shelves and storage.  One that looks like this one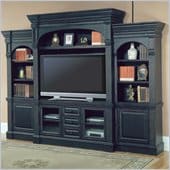 All the video games and movies can be nicely stored away, and the shelves are perfect for putting things like my plant that I got, that you can see here. Of course that means that I will be looking to matching rugs and couches to have a living room that I love like the one we used to.
Of course as you all know hubby is good at pointing out that just because it will look nice, does not mean it is logical. (I am glad hes the one who thinks and I am the ones who is spontaneous and uses my heart, he makes it so our house is balanced). So of course while talking about what I want and what we need when we get our new furniture he mentioned that we should probably get a dvd stand, since our movie collection is going to keep growing with 3 kids.
I am sure I will have no problem finding stuff that I like and I am looking forward to taking the dreaming I am having and being able to turn it in to a nice living room that I love, cost efficiently of course. I found our last couch on craiglist and it was in perfect condition so right now as I dream about all brand new stuff (that I can only dream about right now) I am looking on craigslist to see what I can find.
What does your living room look like? Do you like the big furniture or do you like the tv stands?
This post may contain affiliate links. Please read my disclosure policy here