We all know Lauren's love of Dyson vacuums and we also know that she is not allowed to vacuum in our house. I love her to death, but there are reasons for why she is not allowed to vacuum. :). Now I will admit that I love Dyson too, their vacuums are super easy to use and come in many different models for just about anything you need and I mean anything. We just got the chance to review one of Dyson's newest models- the Dyson v6 Mattress Vacuum. I didn't even know they made vacuums just for mattresses!! I had to fight Lauren for this one and in the end I prevailed (or she took pity on me, not sure which). I needed to win this one, I needed to try this one out for myself. I needed to try and show her that I can love Dyson too (I already do, but actions speak louder than words). What better way to show her that I can love Dyson than cleaning our mattress, our sanctuary and little retreat from the real world. It's time to journey in to a place where you probably never thought you would go- our bedroom!!!!!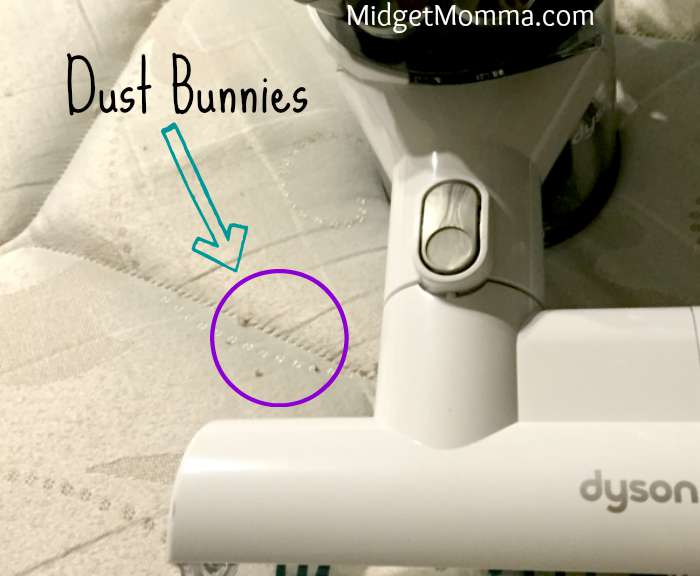 Mattresses can get really dirty, if you do a google search you will find a lot of articles telling you about all the dirty and creepy things that can happen to a mattress. Of course, we all contribute to that but still its gross! We tend to use our bed now as an extension of a couch and it has become more than just a place to sleep, as I am sure all of you do as well. I am sure you can probably think of plenty of things to use a bed for, including movie night, hiding to read a book you know normal things. So after arming myself with all of this knowledge, from articles I read, and knowing what our mattress is used for, I journeyed into unknown territory.
Gross info about your bed: Beds contain between 10,000 and two million dust mites. Why? Dust mites feed on our skin cells. On average we shed 28g of skin cells per month – the equivalent weight of a bag of potato chips. As you sleep, many of these skins cells become entrenched in your mattress. Squirming already? The dust mites that feed on your skin lay up to 40 million droppings a day, which we then breathe in.
Clean a mattress? Why? Thats what they have those cover sheets for right? That was how I felt before arming myself with the knowledge of just how dirty a mattress can get. Anyway back to my journey. We have a queen size mattress, I wish it was a king. No, a California king. One can dream right? Anyway I looked at the mattress something that made me feel all warm at night, something that made me feel safe.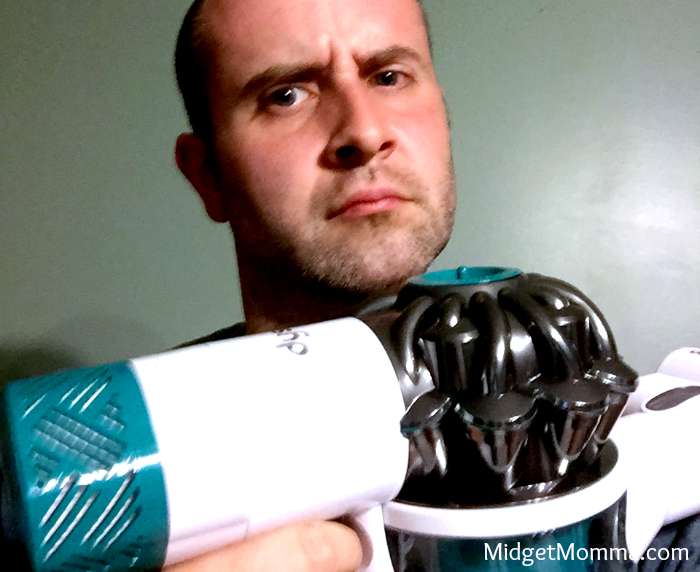 I now looked at it like we were at war! I looked at the mattress and I knew it had been accumulating an army of dust bunnies and the like for weeks. War, yes that is a good word for this. As I approached the mattress I knew this would not be an easy battle. It was just me and my Dyson v6 Mattress Vacuum against an army of dirt, I didn't have a choice. They stole my mattress, they have taken it hostage and I was determined to get it back, no matter the cost!!
I got to the mattress and quickly removed the cover sheet, for a moment I thought I heard my Dyson v6 Mattress Vacuum gasp. It was what I feared the most; an army of dust bunnies had set up camp on my mattress!!!!! I knew if I was going to win this war I would have to act quickly. With the cover sheet removed, I grabbed the only ally I had in this war, the Dyson v6 Mattress Vacuum. I quickly hit the switch and started it up.
The dust bunnies charged.
Armed with the Dyson v6 Mattress Vacuum in one hand and my courage in the other, we charged.
The Dyson quickly sucked the first batch of dust bunnies up.
The second wave came upon us quickly.
Again the Dyson v6 Mattress Vacuum prevailed.
The third and fourth wave of dust bunnies met a similar end. Finally there was hope that we would win this war. We made it to the dust bunny headquarters (or the center of the mattress). We stared each other down. Then the fight began, it was a short fight.
The Dyson v6 Mattress Vacuum destroyed them all.
The dust bunnies were defeated.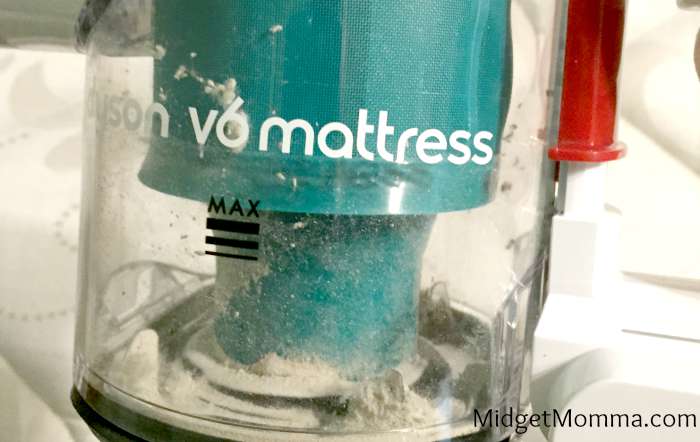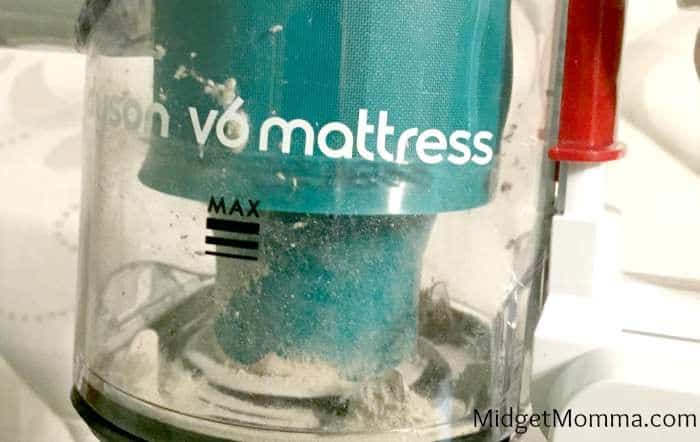 I sat down and wiped the sweat from my brow and I looked at my friend in this war, my Dyson. I looked at my mattress which was now mine again. We had won. I knew from this moment on that I would have to keep my wits about me. The dust bunnies would return, it was inevitable.
But I also knew that I would always have a friend in the fight against them now. So dust bunnies I will be waiting. And so will my Dyson v6 Mattress Vacuum.
And now I am off to battle again in the kids rooms, and I am sure the Dyson v6 Mattress Vacuum will help me win the dust bunny fight on the kid's beds too!
Dyson D6 Mattress Vacuum
2 Tier Radial cyclones capture more microscopic dust and allergens
Whole machine HEPA filtration captures 99.97% of particles as small as 0.3 microns
Motorized mattress tool agitates mattress fibers to release dust and allergens
Dyson engineered tools equipped to clean awkward spaces
Removes more allergens (and dust mites) than any other mattress cleaner. It also features the Dyson digital motor V6 and whole machine HEPA filtration that has been specifically engineered for powerful suction to remove allergens from your mattress.
You can purchase the Dyson d6 Mattress Vacuum on Amazon or in local retail stores.
Disclaimer: This post is sponsored by Dyson. All opinions are 100% my own. Unfortunately Lauren didn't get a video of the epic battle but I am sure it was a fun one to watch!